May 2009 Newsletter
Our monthly email newsletter reports on the state of the Melbourne Real Estate market, keeps you informed and up to date on what's happening at JPP Buyer Advocates, as well as presenting some of our recent success stories.
to Subscribe, send an email to: chris@jpp.com.au
to un-Subscribe, send an email to: chris@jpp.com.au

| | |
| --- | --- |
| | Market Overview |
Wasn't it fantastic to find out that our property market had fallen by 15%? Isn't it great that you can now buy property $75,000 cheaper than you could before? What the Herald Sun's headline on Saturday says is very true. In the December quarter of 2007 at the absolute peak of the market, in one quarter our median jumped by 12.8% to $485,000. It had been $430,000 the previous quarter. This was an abnormal jump and if you use this as the benchmark instead of an anomaly then it looks like Melbourne property is in freefall.
Nothing could be further from the truth. In fact if we look at September 2007 until now the fall has been only 4.6% according to the REIV figures. And these figures are very different from RP Data's figures. RP data is used by the Australian Stock Exchange and their figures indicated a rise last quarter to $426,423 which would equate to a rise of 2.4%.
Last week there were 1000 private sales. Looking back through REIV data, there has not been this many private sales in one week in either 2008 or 2009. There were 1298 total sales last week and you would need to go back to March 2008 to see that many sales in one week. Even the total turnover of $572M is reminiscent of the heady days of 2007.
When the market turns south as it has throughout the world, people tend to sell off anything they do not hold near and dear. This means properties that are average or below average tend to be sold off earlier than those seen as above average. This will reflect in the total figures put out by any research institution. Good properties will always return good prices; "less good" properties will always return "less good" prices. If there are more "less good" properties on the market then the statistics will show a lower median price.
In an upturned market everything sells well. People will pay over the odds for all property whether it is good or "less good". It is now those who payed over the odds for a "less good" property will feel the pinch. It is these people that may find themselves in a negative equity position. It is these people that will struggle to sell their properties for even what they paid.
If you are in the market for a property, now is a fantastic time to buy good property. So was yesterday and so was last year. Good property will always lease out well, it will always sell well and will usually show a better capital growth than a "less good" property.
You must identify good property from "less good", work out what the right amount to pay is, and then secure the property before someone else does. This is what JPP Buyer Advocates does for our clients. We do not work with vendors, we are not paid by any real estate agents; all we do is assist people to purchase good property.
Please feel free to contact us for a no obligation meeting if you are considering buying any property throughout Melbourne metropolitan area or Greater Geelong.
Anzac Weekend
Over the weekend some agents defied protocol and ran open for inspections and even auctions before 1pm on Saturday. I would have preferred to give the day its due recognition but others didn't. I think this is disappointing.
For the full week however sales were up dramatically over the same week last year. This year REIV has reported 865 sales and the corresponding week last year only 694. This is just short of a 25% increase. We can assume this trend will continue during the foreseeable future.
Last week there was talk of the First Home Owners Grant (FHOG) not continuing, then it was going to continue, then it was going to change form, then only the "boost" was going to change!!!!! When dealing with politicians, who knows what they will really do until its done, and then who knows what they will change when they have said they won't!!!!!
It is easier to work out what is likely to occur if the FHOG stays or if it goes. Firstly, if it stays in the same form there will be a continuing push for people to purchase property. This will continue to affect the sub $500k market the most. However, plenty of people who are selling their properties under $500k and are getting more than they had anticipated, and are now purchasing in the $500k - $1M range. These successful vendors now have a little more money than they anticipated and they are using it to purchase their second house. The flow on effect of the FHOG will be felt much stronger in this higher market, the longer the grant is in place. The other catalyst for this mid range is interest rates. Whilst I can remember paying 17.5% for my family home in the 80's, 5% that we pay now seems almost like free money.
If the grant stays in a changed format which only assists those who are building, and I believe this the most likely, then there may be a stabilisation of property prices of established properties under $500k but I doubt there will be any drop. First home buyers have gone from around 17% to nearly 25% of the market. The majority of these would have been buying new house and land packages in outer lying suburbs. These suburbs have shown large growth over the last six months almost solely due to the FHOG. If the grant does not continue it is these suburbs that will bear the brunt of any price decrease in property market.
In short; whether the grant stays or goes there will be little significant change to the established property market within 20kms of the CBD. Conversely, there could be a substantial drop in price for any of the outer lying (new estate) suburbs. It is not only first home owners that are driving the inner city market. Only last week we saw the population growth of Melbourne is still exceeding all other capital cities in Australia. We still do not have enough dwellings to house our existing population, let alone our growing population. We still have low interest rates and will have until we begin to come out of this recession.
Is it the right time to buy? Properties in the inner 20km will not drop in price in the near future, regardless of the FHOG. If you are secure in your job, have equity or a deposit, now, like always is a good time to buy property. If you would like more information, or you are in the market to purchase at the moment, please feel free to contact us for a no obligation meeting.
Ian James - Director
| | |
| --- | --- |
| | Frequently Asked Questions |
Q. Can you save us money?
A. Yes we can, however there are a lot of other important factors to look for when purchasing a property. We could go on for ever with this question. However you need to be sure the property suits your needs, once this is established, you need to be sure you have had a pest & or building inspection done on the property, if purchasing at auction make sure you have had the contract of sale & or the Vendor statement checked by a solicitor, when buying at auction it is unconditional on the day, so if you bid & win, you must fulfil the contract which you will sign on the day. IF the property is private sale, sale by set date then comes the negotiation, all of which our company does many of these every week successfully. Our goal is always to get the property at the best possible price, but in some cases getting a property under your terms is more important as this can also save you a lot of money. At JPP this is what we do best.
Q. What happens if I miss the first property we go for?
A. At JPP we begin our process again & continue until we successfully purchase a property for you that suits your needs. We have a large team working together to make all this happen smoothly & stress free for our clients.
Q. Can you recommend an agent to sell our house?
A. We don't do Vendor Advocacy, We are more than happy to recommend a couple of agents in the area you are selling which we have dealt with previously & found to be professional. This way the selling agents are more than likely to give you good service with out loosing any percentage of there fee........We buy all over Melbourne, therefore we are dealing with agents in all areas all the time.
| | |
| --- | --- |
| | Spotlight on Melbourne Suburbs |
In our regular spotlight section we examine a selection of Melbourne suburbs, highlighting what's happening in these areas right now.
Wantirna
Municipality: City of Knox
Population: 13,978 (2006 Census)
Postcode: 3152
Location: 23km from Melbourne CBD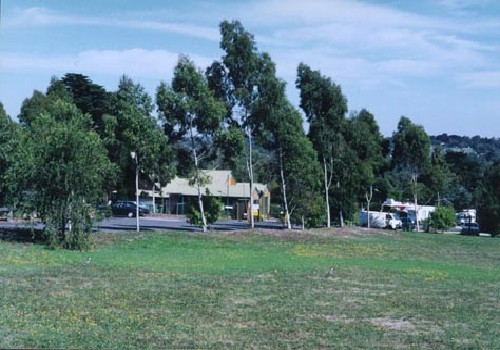 Wantirna is located on Melbourne's, outer east, at the base of the Dandenong's approximately 23km from the CBD. Its neighbours include Heathmont to the north, Bayswater to the north east, Boronia to the east, Wantirna South to the south and Vermont to the west. Wantirna has very good access to Melbourne and Frankston via the new Eastlink carriageway.
Wantirna is very much a family area with an abundance of great schools and shops. There are primary schools scattered throughout Wantirna and the fantastic Knox School on the Burwood Highway. Knox shopping centre is just on the outskirts of Wantirna. Knox is one of the largest Shopping complexes in Melbourne.
Transport in Wantirna is covered by a very good bus system with the buses going from most of the estates to the train stations in Mitcham, Bayswater and Boronia. They also go to Knox City and from Knox they run through most of metropolitan Melbourne.
With a median price in the December 08 quarter of $433,000 for a family home it makes it a very affordable area for families. It is an area that has attracted first homes buyers because of its many attributes that have been mentioned above. Homes in Wantirna are estate style homes usually 3 - 4 bedroom with 1 - 2 bathrooms. The look of the properties has not changed a lot in the last 40 or so years.
If you are looking in the outer east why not have a look into Wantirna and see if you can pick up a nice family home.
Median House Prices
Lower
Quartile
Dec 07
Median
Upper
Quartile
Dec 08
Median
Annual
Change
Wantirna
$385,375
$440,600
$450,050
$433,000
-1.72%
Source: REIV. December 2008
---
Torquay & Anglesea (Geelong)
Municipality: Surf Coast Shire
Population: 8,000 (Torquay 2006 Census) & 2,300 (Anglesea 2006 Census)
Postcode: 3228 (Torquay) & 3230 (Anglesea)
Location: 95km South-West of Melbourne (Torquay) & 111km South-West of Melbourne (Anglesea)
&nbsp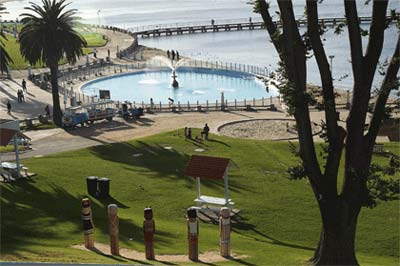 The City of Geelong is growing rapidly, as to is the Surfcoast.
Growth in Torquay has seen 200 homes constructed in the past 6 months and two new subdivisions developed. Prices are in general terms are in excess of $500,000 with developers having little trouble in selling off their products. Anglesea is of real interest to the investor as the town has very little vacant land available. The Ring Road is nearing completion which will make access to the town a much shorter trip in terms of driving time. It will be the first town to visit on the Surfcoast for those using the Ring Road and the expectation is that house prices will increase significantly in the near future. Please contact JPP if you would like a detailed report on Anglesea and all that it offers or on investment opportunities on the Surfcoast.
Median House Prices (Greater Geelong)
Lower
Quartile
Dec 07
Median
Upper
Quartile
Dec 08
Median
Annual
Change
Greater Geelong
$252,250
$334,000
$406,875
$326,500
-2.2%
Source: REIV. December 2008
Median Unit Prices (Greater Geelong)
Lower
Quartile
Dec 07
Median
Upper
Quartile
Dec 08
Median
Annual
Change
Greater Geelong
$195,000
$227,500
$287,500
$249,500
9.7%
Source: REIV. December 2008
*There is not enough data on the individual suburbs themselves for a median*
---
| | |
| --- | --- |
| | Technology Monthly |
The Zune is a failed attempt at Microsoft to produce an IPod killer...they entered the market too late, when everyone already had an IPod and weren't willing to shell out another $500 for a similar device, and being that now Apple have released the Ipod touch and IPhone, there isn't much chance of a comeback unless Microsoft do something really special, which they may be doing as there are now rumours of a new HD version.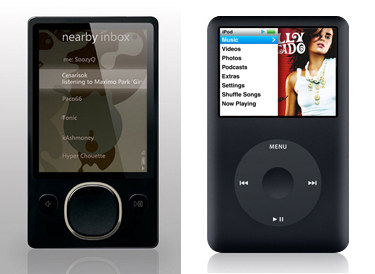 That's not to say that the Zune is a bad product....far from it in fact, with up to 120Gb of storage, support for pictures, music, video as well as games straight from Microsoft's own XNA development kit (meaning you can make your own), a larger screen and support for wireless syncing over WI-FI, it is quite a nice device...not to mention the fact that the bundled headphones are many times better that the ones that ship with the IPod and the Zune software for the PC is both better and easier to use.
The only thing that I don't like is the 'squircle' (button)....as well as being a button, it is also a track pad, meaning you might try to push the button to select your song and accidentally change your song choice by moving your finger slightly sideways on the button...the good news is that this feature can be turned off.
There is a comparison of the features of 2 different types of Zune to their IPod equivalents on a site called Zunescene (click for link).
| | |
| --- | --- |
| | Recipe: Hearty Beef Casserole |
Ingredients: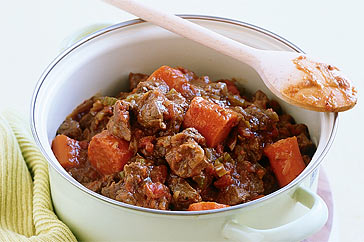 2 tablespoons olive oil

1.5kg diced beef chuck or blade steak

2 large onions, cut into thin wedges

2 leeks, white part only, sliced

2 garlic cloves, crushed

4 sticks celery, trimmed, sliced

2 large carrots, peeled, cut into 3cm pieces

2 x 425g cans diced tomatoes

1/4 cup red wine

1 cup beef stock
Method:
1. Heat 1 tablespoon oil in a large saucepan over high heat. Cook beef, in 4 batches, stirring, until browned. Transfer to a plate.
2. Reduce heat to medium. Add remaining oil, onions, leeks, garlic, celery and carrots to pan. Cook, stirring often, for 5 minutes.
3. Return beef to pan with tomatoes, wine and stock. Bring to the boil. Reduce heat to low and simmer, covered, for 1 hour. Uncover and simmer gently, stirring occasionally, for 30 minutes or until beef is tender.
4. Divide half the casserole between 4 plates. Serve with mashed potato or bread. Set aside remaining casserole for High Pie. Leftovers Allow reserved casserole to cool. Keep in an airtight container in the fridge for up to 3 days or freeze for up to 3 months.
| | |
| --- | --- |
| | Staff News |
Exciting News!
Ian, Sam & the Team would like to welcome Paul Murphy to the JPP Buyer Advocates team.
Paul comes to us with a wealth of Real Estate Knowledge & Management skills.
Our next newsletter will have more exciting news for our current & future clients.
---
Kind regards from the team at JPP.
Don't forget to comment on our blog