August 2010 Newsletter
Our monthly email newsletter reports on the state of the Melbourne Real Estate market, keeps you informed and up to date on what's happening at JPP Buyer Advocates, as well as presenting some of our recent success stories.
to Subscribe, send an email to: chris@jpp.com.au
to un-Subscribe, send an email to: chris@jpp.com.au

| | |
| --- | --- |
| | Upcoming Seminars |
Each seminar will include talks on Finance & the Property market including Negotiating in the current market,
Please register your interest mentioning which seminar you will attend, Limited seats.
Cost - Free
Tea, Coffee & light refreshments provided…
Seminar 1 - August 25th – Caulfield Cup Room – Caulfield Town Hall.
6:30pm onwards.
JPP Buyer Advocates, Ian James & Justin Lilburne talk about the Property Market.
Followed by informative talks from Mortgage Brokers
– Phoebe Blamey - Clover Solutions
- Jo Dawson -
If you are interested in attending one of our seminars, please let us know which location suits you best
Call 03 9523 1054 or email enquiry@jpp.com.au
Seminar 2 - August 31st – Level 10, 28 Freshwater Place,
Southbank VIC 3006
6:30pm - 8:00pm.
JPP Buyer Advocates, Ian James talks about the Property Market
Followed by David – Aussie Home Loans.
If you are interested in attending one of our seminars, please let us know which location suits you best
Call 03 9523 1054 or email enquiry@jpp.com.au
Top
| | |
| --- | --- |
| | Market Overview |
With Clearance rates well and truly entrenched in the mid to high 60's for the past several weeks, I think it is safe to say we can expect these levels to continue until the spring selling season begins in October. The REIV is reporting an increase of nearly 40% in turnover this year compared to this time last year.
In a robust economy, if we don't see a slowdown in property price increases then inflation will run rampant. We have already seen increases over the past 12 months above 20% but if you look over 5 years the rate is less than 10%. When looking at property price increases or decreases for that matter, you must look over a reasonable time frame.
To assume to buy somewhere that has not done well in the past 6 months on the assumption it must do better over the next 6 months is fraught with danger. This is what many property "spruikers" will tell you. They sometimes show you how easy it is to buy in a place where others are not purchasing or where there are a lot of people selling because they paid far too much. Think the reasons through very carefully before committing to a strategy like this.
With the market the way it is now, negotiation becomes your key to short term capital gains. Properties can sell 10% below comparables or 10% above comparables depending on how well the deal is negotiated. Once you have established what the property is worth, your ability to negotiate with the agent will become the most important part of whether you will be ahead of the capital growth curve, or behind it.
In a sellers' market, the selling agent will try to run to auction or wait until he has multiple offers and then try to play one prospective purchaser off against the other. In a balanced market he or she does not always have the luxury of waiting for multiple offers. When a selling agent is calling you on a Thursday before auction, to see whether you want to purchase the property prior to Saturday, you know he can't have too much competition. If you do not buy prior to auction and the property passes in then you are in a very good position, as long as you know how to press the advantage. If, however there is another competitor that the agent didn't even know about, then you may be in a much worse position than you would have been if you had started negotiations on Thursday. This is where a seasoned negotiator will save you tens of thousands of dollars.
Some selling agents have been practicing their craft for many decades and if this is only your tenth or fifteenth property you have negotiated, then you will probably be a distinct disadvantage. However, there are some ways to balance the playing field. I regularly speak at seminars and Home Buyers Expos about negotiating one on one with Real Estate Agents. We have three upcoming events across Melbourne that are free to attend. (See our home page at JPP )
Property purchasers should always be looked at as long term investment and as such the performance should be looked at in the same way. If you are interested in buying property please do not hesitate to come in for a chat or alternatively come to one of our upcoming seminars.
Ian James
Top
| | |
| --- | --- |
| | Homeshow |
Melbourne Home Buyers Show: 23rd - 25th July
WOW!! What a great response we have had.
Thank you to all our past clients who popped in to say hello & thanks to all the interested people we met.
The winners of our 3 iPod Nanos were:

- Friday's winner - Jessica Collins
- Saturday's winner - Charlotte Liu
- Sunday's Winner - Wayne Thomas
JPP Buyer Advocates had no less than 4 advocates on our stand & up to 9 at certain times of the show. All continually talking & meeting new people. It was fantastic to watch all the talks on the investor stage & see that almost every speaker got full crowds, including our own Ian James. Ian was discussing "How to negotiate in the current market". If you were unable to attend & would like Ian's talk notes, email chris@jpp.com.au and he will email you the notes. I am sure for a few people the show was a bit of information overload, with plenty of advice being given out from all different companies. But hopefully for many it allowed you to meet & greet a lot of professionals willing to help you with your biggest purchase. Buying a home or an investment is normally the biggest one off outlay anyone will make. So shows like this are important to help you decide who is right for you, each company has different methods, different ideas & different expectations!
Our Stand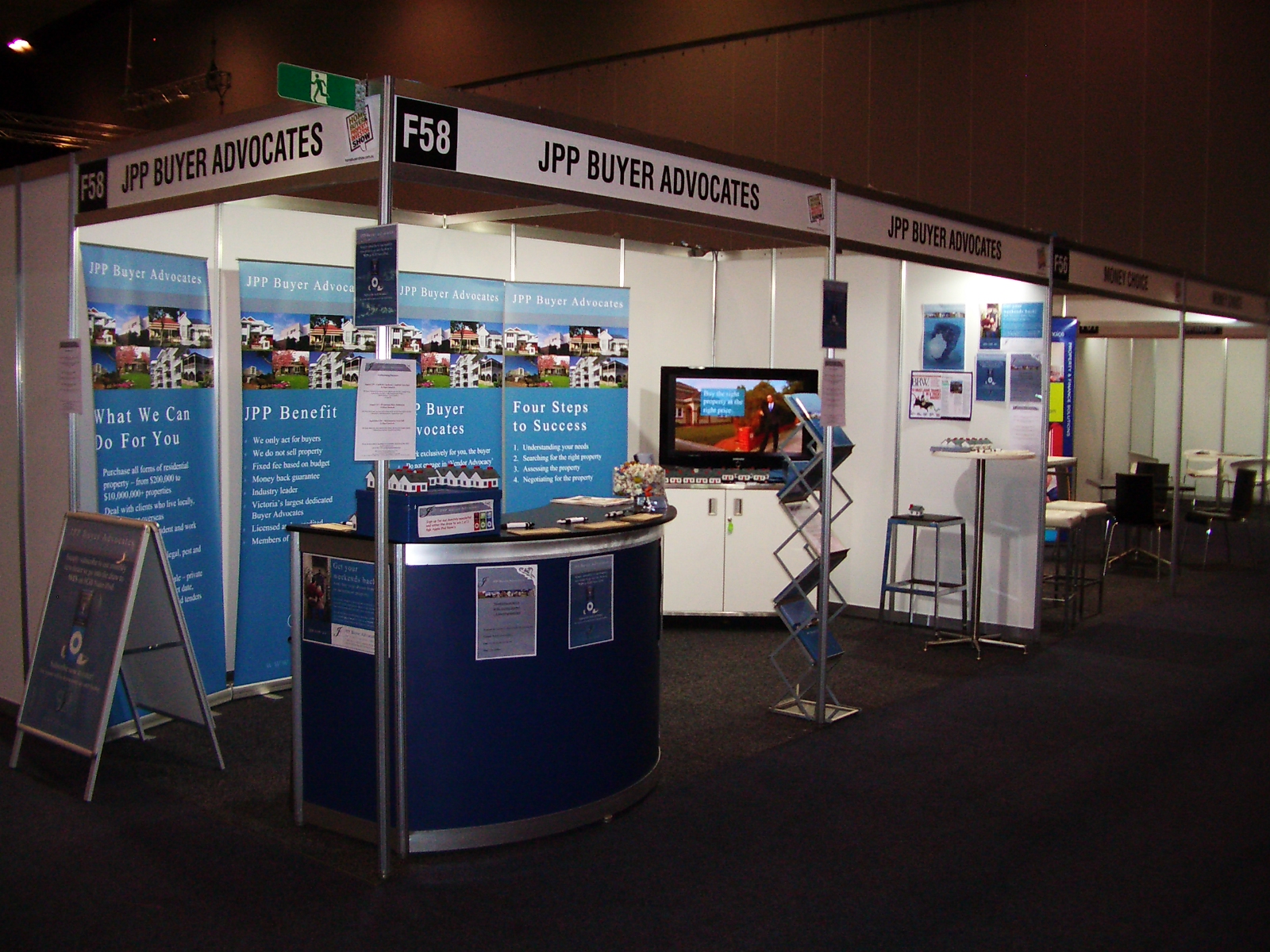 Sam James
Top
| | |
| --- | --- |
| | Recent Articles Of Interest |
Family Homes In Demand
The June quarter REIV median prices compared the levels of demand for homes according to their region and number of bedrooms.
This showed that while overall demand increased, there were types of homes in certain regions that recorded different levels of demand.
It is important to know this detail if you are in the market: all property is subject to a particular local market and awareness of this needs to inform your decision-making process.
Read the rest of this article here (Source: REIV)
---
Overview Of Market In July
As buyers and sellers prepare for the busy spring selling season it is timely to look at the performance of the residential property market. Whilst the Melbourne market has well and truly recovered from the effects of the GFC, 2010 is shaping up to be a very interesting year.
Let's consider some of the factors influencing current activity and prices, to date we have had six interest rate increases and there is speculation that there may be one more by the end of the year.
Read the rest of this article here (Source: REIV)
---
REIV Releases June Quarter Median Prices
The REIV has released the June quarter median prices which reveal that the median price of a house in Melbourne has increased by 8.5 per cent to $559,000 from a revised $515,000 in the March quarter.
REIV CEO Enzo Raimondo said that as the auction market has returned to a more balanced position, price growth is being driven by demand in the city's more affordable suburbs.
"The strong June quarter reflected the state's increasing population and wider positive economic factors and has resulted in higher housing prices in the middle of the market."
| | | | | | | | |
| --- | --- | --- | --- | --- | --- | --- | --- |
| | Jun Qtr 2010 | % chg Mar-10 to Jun-10 | Mar Qtr 2010 | % chg Jun-09 to Jun-10 | Jun Qtr 2009 | % chg Jun-05 to Jun-10 | Jun Qtr 2005 |
| Houses | $559,000 | 8.5% | $515,000 | 26.8% | $441,000 | 55.3% | $360,000 |
| Units & Apartments | $463,215 | 4.7% | $442,525 | 19.1% | $389,000 | 54.4% | $300,000 |
Read the rest of this article here (Source: REIV)
Sam James
Top
| | |
| --- | --- |
| | Spotlight on Melbourne Suburbs |
In our regular spotlight section we examine a selection of Melbourne suburbs, highlighting what's happening in these areas right now.
Sandringham
Municipality: City Of Bayside
Population: 8693 (2006 census)
Postcode: 3191
Location: 18km from Melbourne CBD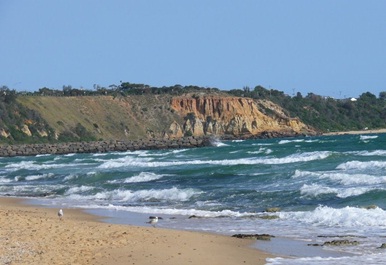 Sandringham is one of Melbourne's more prestigious Bayside pockets, which is constantly feeling the ripple effect from its neighbouring suburbs, Brighton and Hampton. Whilst the area continues to achieve constant capital growth Sandringham still offers good value for money when seeking large blocks and period homes. There are many style of homes on offer in Sandringham though the most common would be the Californian Bungalow. These large family houses offer great accommodation and a fantastic home to live in.
Sandringham offers very good schools with close proximity to its neighbouring suburbs with private schools such as St Leonards in Brighton and Mentone Grammar in Mentone. Sandringham itself does have its own government school - Sandringham Secondary College. The school is separated into lower school (7 - 10) and upper school (11 - 12) on two separate sites.
Located 18km from Melbourne CBD Sandringham is very well access by public transport. The train is very frequent and buses are constantly running around the hustle and bustle of the busy suburb. The main street in Sandringham has plenty of fine eateries as well as a fantastic pub on the beach. Sandringham's beach and foreshore is one of the most frequented beaches in Melbourne with access to the beautiful Half Moon Bay. The bike path that has been built along the bay now allows for safe easy access to Port Melbourne and Mordialloc.
Sandringham is a beautiful suburb for families to live and offers so much at an affordable inner Bayside area.
Comparison to
Median House Prices
Lower
Quartile
Jun 10
Median
Upper
Quartile
Mar 10
Median
Dec 09
Median
Annual
Change
Sandringham
$917,500
$1,185,000
$1,484,375
$1,400,000
$1,055,000
12.3%
Hampton
$935,000
$1,160,000
$1,545,000
$1,310,000
$1,050,000
10.5%
Brighton
$1,370,000
$1,700,000
$2,215,000
$1,925,000
$1,680,000
1.2%
Source: REIV.
Median Unit Prices
Lower
Quartile
Jun 10
Median
Upper
Quartile
Mar 10
Median
Dec 09
Median
Annual
Change
Sandringham
$517,375
$624,750
$930,750
$744,250
$505,000
23.7%
Hampton
$588,250
$679,500
$796,000
$709,500
$524,000
29.7%
Brighton
$625,500
$770,000
$1,630,000
$985,000
$603,648
27.6%
Source: REIV.
Photo from Picasa
Justin Lilburne
Top
| | |
| --- | --- |
| | Our two tier property market - Those who can, and those who can't. |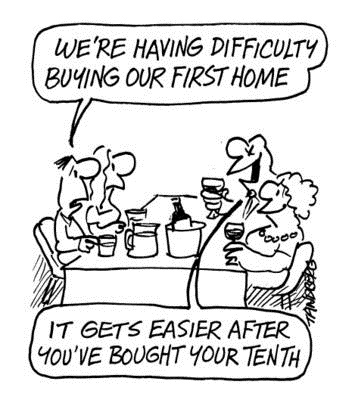 'Affordability' has been the proverb of the week. It's a nice timely election 'hot word'. One mention of affordability and everyone puts their hands up because no matter what our earning capacity we all hold debt and crave the unaffordable.
The one difference between our lives now compared to 30 years ago is, our attitude toward money. It was highlighted in the bestselling book 'Rich Dad Poor Dad'. Delve back into the history of finance and you'll see at the turn of the 20th century it was all but impossible for the average person to get a loan - the surge in leading which we've witnessed since the 1980's is the result of a gradual transformation in the socialization of credit and our inclination towards living on debt.
It was an expansion which had to take place. The natural progression of human evolution into the fast paced world of 20th century technology forced us to weave a new horizon of risk into our already over-burdened lifestyles. My father shuddered at the thought of borrowing large amounts of cash for anything other than the requirement to put a roof over our head - an essential need mankind has had since the beginning of time. Now we've progressed into a world where debt is either the yellow brick road to wealth creation or in some cases, a sheer cliff-drop into bankruptcy. Either way our enthusiasm to take advantage of this newfound love of credit isn't waning.
The recent publicity highlighting the pain felt by first home buyers unable to save enough for a deposit have been strong and forthright, Blame's placed in every field from foreign investment and immigration, to housing bubbles and lack of government spending. However evidence also points toward an inate inability to sacrifice lifestyle.
Back to 'Rich Dad Poor Dad' and the lesson of debt is clear. Borrowing to invest is wholly acceptable, however, taking on debt for the 'necessary' liabilities of life (computer, mobile phone etc.) is never recommended. However wherever we place that 'need' the bank happily hands us the equivalent of 'Charlies golden ticket', and foolishly 'expects' us to service our responsibilities - and service them we do! Veda Advantage' data points out the biggest increase in credit card ownership comes from those aged 18 to 24 - the new first home buyer age group. For this age group spending on credit this year alone has increased 6.1% and this has been mainly for dining out and entertainment. Going without for our 1980's baby boomers was a marker of every day existence. The voicing of 'once it's gone there's no more' was a common adage, and it's worth noting that this age group weathered the high interest rates when they were up around 17% in 1989. Generation Y have grown up in a world of 2 minute noodles where email now looks like snail mail. It's not that they can't save - for a large proportion their mental addiction to credit simply won't allow them to save. They want it now - or not at all. The need list for generation 'y' contains a registry of items only Harvey Norman or the local 'Apple' store would have under one roof.
I mention this because the latest market research shows the only way our younger generation feel able to purchase is by means of a 'gifted' deposit from family or friends (usually borrowing against equity on family assets). Roughly 70% of Australian's own property, however the larger proportion of this (80%) - are an older generation at the high end of the income stream. Of Gen y's 57% rent and 16% are still living at home. Therefore gifting or not, there's clearly an increasing number falling through the net. Results back this up - aside from a few false peeks resulting from the inflationary first home buyer stimulus packages, the RBA records new home loans falling to a nine-year low in April and further in June. At the same time applications for investment loans (largely from a 35 year plus age group) have been on the rise. First home buyers are not showing much commitment or inclination to save. Earlier this year the government launched its national first home buyer deposit savings scheme - a high interest no tax saving account set up specifically to assist first home buyers enter the market. If committed to save over a 4 year period, the scheme is well designed and should have been good encouragement for those harboring the 'Australian Dream'. However take up has been poor. From a predicted 750,000 accounts there have been just 15,300 created.
It's not that there aren't options out there. Although true that Australia's over all house price to debt ratio is substantially up in comparison to the recorded 3% 20 or 30 years ago All figures are based on the overall metro median and in my experience first home buyers rarely make their first purchase at this level. They either opt for apartment living or venture 15-20km outside the city and purchase in suburbs such as Frankston, Seaford, Boronia, Reservoir or Berwick to name but a few. In fact latest valuer general data shows well over 200 Melbourne suburbs with a median price between 300-500K. These locations might not sit at the top of the pile when it comes to entertainment and eating out, but they offer more affordable options in areas with a decent level of capital growth to start the process rolling. What's more, unlike previous generations rarely do today's first home buyers see their first property as their last. The first home is a stepping stone with potential leveraging power to upgrade further down the line. Purchasing in a middle or outer suburb doesn't equate to locking the door and throwing away the key.
Buying requires strict budgeting to save a deposit - something our 21 century lifestyle rebels against. If we don't get on top of this 20 years from now we could be looking at the European model of home ownership which is on an equal footing with those who rent. Already we're seeing a reduction in the number of Australian's who own their own home and a gulf forming between the asset rich and asset poor - 'those who can, and those who can't'. We need to educate first home buyers to save because those entering the market now are set to see a healthy return. Population growth will continue to under pin our market and no matter how much talk is aimed at restricting it, plans are already in place for Melbourne to reach 8 Million by 2050. A two-part report by the Committee of Melbourne has just been published arguing bigger is better and shows images of Melbourne thriving under the boom. Therefore buying and investing in property should be a priority for first home buyers over and above other forms of spending. Particularly if they want to reap the rewards for their future 'old age' lifestyle needs.
Cartoon by Ron Tandberg
Catherine Cashmore
Top
| | |
| --- | --- |
| | Off plan/brand new vs Established…… |
what will provide you more wealth in the long term?
For the average buyer, it can be a very daunting task to purchase an investment property. How can the average buyer, who has no knowledge of the property market, know they are making the most profitable investment choice? How can they know what type of property is going to give them the biggest return on their investment, with the least amount of risk?
There are so many property spruikers currently in the market place, both spruiking about off plan/brand new properties make the best investments, and also other experts out there buying established. Only an expert in both off plan and established investment properties can provide the best advice on this.
As with anything in life, there are pros and cons to each scenario. Let's take a look at the off plan/brand new scenario to begin:
Advantages
Savings in stamp duty;
Higher depreciation rates due to higher construction component of the sale, allowing higher tax write offs;
For an owner occupier, you are the first one to live there, its brand new;
Six and a half year structural guarantees by the builders;
Disadvantages
Paying for developers and builders profit margins;
You don't get to see the finished product until its complete, risk that quality or build may not be up to the standard that you were informed of at contract signing;
No guarantees that the builder will meet the deadlines, and projects could go on for a lot longer than previously anticipated;
No capital growth until all properties within the development are sold;
Many newer developments comprise of smaller sized apartments than the older established apartments, to allow for more on the block;
Some builders have been known to cut corners, to cut costs and increase profit margins;
Rental guarantees are factored into the price of property, and therefore you are paying for it at the beginning;
Many newer developers have higher body corporate fees.
Established properties
Advantages
The property is tangible and therefore you can see what you are buying;
Higher percentage of ownership in the land vs construction cost, in which allows for higher capital growth as land is the component that appreciates;
Older type constructions are usually more solid, bigger, and better built than many developments that are constructed these days (please note that this is not always the case and some developers do build with care and quality).
Depending on the age of the building, the property would have depreciated to some level, and therefore, not paying the premium cost of being brand new, (I always use the classic example, a brand new property is no different to buying a brand new car. The moment you drive a brand new car out of the caryard, you lose value. A brand new property is no different).
Disadvantages
You don't get the lovely brand new feel;
No structural warranties for properties older than six and a half years;
Higher ongoing maintenance costs;
Even more confused? I can understand why. Only an expert in the field would be able to read through the pros and cons, and determine which is the best way to go.
It is actually quite simple.
It can be proven that a property in a similar location, one being off the plan and the other being already established, will be worth roughly the same amount in ten years time. We have many examples to support this.
So why, at the beginning, would you pay the premium price which includes rental guarantees, developers profit margins and builders profit margins? Because of the depreciation benefits and stamp duty savings you say? In actual fact, the premium price you pay now, far outweighs the tax benefits you will receive later.
I have completed a case study, on two real properties in South Yarra. A two bedroom apartment in South Yarra, which was established, sold in 2001 for $273,000. The same property sold again in 2009 for $575,000. A similar type of property which was brand new, sold in 2001 for $410,000, and then sold again for $370,000 six months later (which demonstrates the example of driving a new car out of a showroom). The same property sold again for $585,000 in 2009. So in the initial purchase stage, an extra $137,000 was spent to get the same result 8 years later. Some of this outlay is offset by depreciation and stamp duty savings; however, additional costs are also outlayed due to higher borrowing costs. The end result was not enough savings to outweigh the $137,000 initial purchase outlay.
To Summarise, established properties, whose buildings have already depreciated, have a higher Land component in the sale price and therefore will tend to appreciate at a greater rate.
The case study is available for viewing in the office, please feel free to call for a no obligation meeting and I can run you through the details.
Top
| | |
| --- | --- |
| | Melbourne 2050 |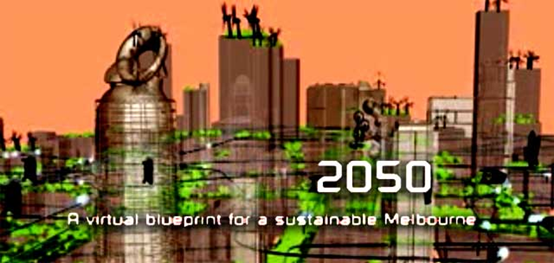 "At the local street level, high frequency public transport will be threaded through the entire city."
"In new growth areas, providing services in advance of growing populations will be standard practice."
"There will be significant improvements in the design of our urban spaces and places, buildings will be more efficient and self-sufficient in energy and water use, generation and capture."
"Respect for others and the tradition of a 'fair go' will live on strongly in our city, with affordable housing and basic necessities available to all."
Does this sound like a description of Melbourne to you? Does it sound like the kind of place you'd like to live? The kind of Australia you would like your children to 'inherit'? Well if so hold on for 40 years and your dream could come true. The above quotes are taken from The Committee for Melbourne's 2050 "Melbourne Beyond 5 Million" report. You may not have been aware such a committee existed - it's certainly not something widely promoted during an election campaign that's strongly focused on putting a cap on our booming population. Obviously the cries of 'stop immigration now!' have bypassed this committee, because plans are already in place for a predicted 8 million by 2050 with future visions showing Melbourne positively thriving under the boom.
The committee claims to be a not-for-profit member network funded by the private and public sector, and encompasses 'Melbourne's most influential businesses and organizations'. The luncheons and events have been graced by both John Brumby and Kevin Rudd and it's clear they have a fair amount of weight when it comes to influencing future Government decisions. In fact Jack Smorgon AO chairman of the Future Focus Group commented
"I would be hard-pressed to find someone in Melbourne who has not been touched by our work. If you have visited the Docklands, driven on CityLink, or flown from Melbourne Airport you have benefitted from one of the many contributions the Committee has made to Melbourne's community."
What's screamingly clear is that no matter how much Melbournians stamp their feet in protest at the implications of a booming population the pendulum's not going to reverse. Our city needs to grow and in terms of the housing market we fall back on the simple equation of 'supply vs. demand'. Less supply = more demand = higher prices.
Melbourne has approximately 1.6 million households but the report proposes we may need at least another two million by 2050. Rural Melbourne has also increased in density but the growth has been a lot slower than our Metropolitan regions. Undoubtedly this is due to a lack of facilities and infrastructure currently on offer in these areas. The populous 'enriching' Melbourne want to live inner city and this is rapidly changing the dynamics of our lifestyle. The VIF (Victorian Investment Framework) project the average number of persons per household in Melbourne in 2036 will be 2.41 and reduce to 2.36 by 2056. In the last 2006 census it was an estimated 2.6 persons per household and worryingly enough recent research by the ABS has shown this number is now on the rise. A vacancy rate below 2% for the last five years outlines how we're already short of appropriate dwellings.
Apartments are now outselling houses in many Melbourne suburbs confirming the high demand for smaller more affordable options close to the city. Land is also increasing in value with savvy developers snapping up blocks in the middle and outer suburbs which offering the prospect of future subdivision.
All in all vendors are set to reap the rewards. Latest Valuer General Data has the top third of Melbourne's suburbs growing an average 10-13% annually over a 12-30 year period.
Therefore if you're in a position to purchase, then now is the time to do so. Waiting a few more years could prove to be an expensive exercise. Not all areas & properties will grow at the same pace, so careful research needs to be taken before rushing headlong into the property market. However overall the outlook is good.
Image from Undergrowth.org
Catherine Cashmore
Top
| | |
| --- | --- |
| | Technology Monthly |
iPhone 4 follow-up part 1.
First some news: Last month there were a few changes made to the Millennium Copyright Act which is basically a blanket law for digital copyright making it illegal to crack DRM for digital media (DRM or Digital Rights Management is the access control used to impose limitations on digital media and devices). What this change means is that 'Jailbreaking' or unlocking your iPhone is now a legal process (don't misunderstand, this will still void your warranty with Apple), but this will open the way for businesses to offer an unlocking service for a price....just be careful not to pay a huge amount to anyone for what is essentially a 5 min process and is definitely something anyone can do with a bit of googling. You may also rip your own DVD's to any device you own. More info on the other changes can be found here: Gizmodo
On to the phone itself. Unfortunately all I have is negative comments about my initial experience with the phone as well as Apple themselves. To begin with I was not willing to line up at midnight for an iPhone so I had to wait an extra week for the phone, which is sort of understandable, but you would think Apple, having released the phone in the US a month before, would have had ample time to regenerate stock....some reports saying Australia only received 12,000 - 13,000 units and wait times of up to 4 weeks. When the phone arrived everything worked except the camera....the app would open but the shutter would stay closed. After some googling I discovered there were many people with the same problem, but there was no answer....frustrated I called Apple directly and was put onto customer support in a galaxy far far away, where he said "have you tried turning it off and on again" (it would have been funnier with an Irish accent like Roy from the IT Crowd) and then instructed me to try a system restore, both of which I had already performed...I ended the call there as it became apparent that he would be of little more help. I then proceeded to call Apple stores near my location in Caulfield and was told by 3 separate companies that I would need to go to the Chadstone store's "genius bar" to have it repaired (I was trying to avoid Chadstone if I could), Ok I thought, I will ring up and see when they could fit me in today, after dialing the number and navigating through the robotic tree of confusion (phone menu system) I was told that they do not accept reservations over the phone and bookings need to be made online. After slamming the phone down and shouting a few words that I cannot repeat here, I checked the website for a suitable time and saw a slot that I could make it to....just when my anger was subsiding I noticed that the time was not for today or even tomorrow, but a week away and this was the only 1 of 4 slots they had available....this is where I gave up.
Here is the bottom line....IF YOU ARE GOING TO SELL A PRODUCT, HAVE CUSTOMER SERVICE TO BACK IT UP!
I now have a phone that is only half functional as the main features: 5mpx camera, facetime chatting, 720p video and camera flash are now useless. I am and have always been a PC person, and lately Apple has been looking very tempting, with the ability to run windows, lack of viruses, very sleek UI and a phone and tablet PC that beats every other competitor out there....but with service like that I will definitely be remaining a PC person for the time being.
*UPDATE: it has now been a few days since I wrote this article and after a couple of 'non-standard' restores and a wee bit of jailbreaking I have managed to get the camera to function (most of the time), something I should not have had to do. I would like to now say what I think about the phone but I have run out of space.....SEE WHAT YOU MADE ME DO APPLE!
Next month I will do a proper review when I have had a bit more time with it.
Chris Thursfield
*Images from Apple
Top
| | |
| --- | --- |
| | Recipe: Osso Bucco |
Ingredients: (serves 4)
1/4 cup (60ml) olive oil
2 brown onions, chopped
2 carrots, chopped
2 celery sticks, chopped
2 garlic cloves, crushed
1/4 cup (40g) plain flour, for coating
Salt & freshly ground pepper
8 (about 1.5kg) veal osso bucco
1 cup (250ml) white wine
400g can diced tomatoes
1 cup (250ml) beef stock
Chopped fresh parsley, to serve
Creamy mashed potato, to serve
Method:
1. Preheat oven to 160 Degrees C. Heat half the oil in a large non-stick frying pan over medium heat. Add onions, carrots, celery and garlic to the pan. Cook, stirring occasionally, for 8 minutes or until softened. Remove from pan and set aside.
2. Season flour with salt and pepper. Coat osso bucco in flour, shaking off any excess. Heat remaining oil in the frying pan over medium-high heat. Add meat and cook for 2-3 minutes each side or until well browned. Transfer meat to a large ovenproof dish. Spoon over the vegetables.
3. Increase pan heat to high and add the wine. Boil for 2 minutes, scraping any tasty bits off the base of the pan. Stir in the tomatoes and stock. Bring to the boil. Pour over the meat in the dish. The meat should be covered by the liquid. Cover with a lid and cook for 1 3/4-2 hours or until the meat is very tender and the sauce thickens.
4. Serve sprinkled with parsley and accompanied by the mash.
*Recipe From Taste.com.au
Chris Thursfield
Top
| | |
| --- | --- |
| | Did you know? |
Not a Joke.....Just cool
Can you read this? - "The phaonmneel pweor of the hmuan mnid: I cdnuolt blveiee taht I cluod aulaclty uesdnatnrd waht I was rdgnieg. Aoccdrnig to a rscheearcr at Cmagbride Uinervtisy, it deosn't mttaer in waht oredr the ltteers of a wrod are, the olny iprmoatnt tihng is taht the frist and lsat ltteer be in the rghit pclae. The rset can be a taotl mses and you can sitll raed it wouthit a porbelm. Tihs is bcuseae the huamn mnid deos not raed ervey lteter by istlef, but the wrod as a wlohe."
Useless Fact:
1. A can of SPAM is opened every 4 seconds
2. If the population of China walked past you in single file, the line would never end because of the rate of reproduction
3. The earth weighs around 6,588,000,000,000,000,000,000,000,000 tons
Brainteaser:
Q. Twenty years ago, a plane is flying at 20,000 feet over Germany. If you will recall, Germany at the time was politically divided into West Germany and East Germany. Anyway, during the flight, TWO of the engines fail. The pilot, realizing that the last remaining engine is also failing, decides on a crash landing procedure. Unfortunately the engine fails before he has time and the plane crashes smack in the middle of "no man's land" between East Germany and West Germany. Where would you bury the survivors - East Germany or West Germany or in "no man's land"?
Site:
This months site is Scorpion Technology Computers. This is a computer store located in Clayton and Rowville, it is where I get most of my various parts and PC's for myself and JPP....They have a very quick delivery service (sometimes same day) and offer very good prices on almost anything you could want. Scorptec also often have some of the latest technology before many other places such as:

1. The New hybrid drives offering 500GB HDD and 4GB SSD in one drive - Hybrid Drive
2. USB 3.0 HDD enclosures and cards for your PC (gives up to 10x the performance of USB 2.0) - HDD Enclosure
3. And I haven't quite cleared this one with the boss yet - The 6 monitor multi-display - Multi-Display
*Answer to brainteaser - You don't, of course, bury survivors.
*Not Joke from Thefoolsday, Facts from funnyandjokes, Brainteaser from Yahoo Answers
Chris Thursfield
Top
---
Kind regards from the team at JPP.
If you have a friend or family member looking for property, please feel free to forward our newsletter on to them.
Don't forget to comment on our blog.
JPP are now on Facebook and Twitter...We will be updating them both frequently from now on.
For our overseas clients and visitors, JPP now has a website translator. Just scroll to the bottom of the homepage, click 'Translate this website' select your language and then click 'Click here to return to the homepage'.
Top