December 2010 Newsletter
Our monthly email newsletter reports on the state of the Melbourne Real Estate market, keeps you informed and up to date on what's happening at JPP Buyer Advocates, as well as presenting some of our recent success stories.
to Subscribe, send an email to: chris@jpp.com.au
to un-Subscribe, send an email to: chris@jpp.com.au

Our office will be closed from Tuesday 21st December until Monday 3rd January.

We then run the office on an appointment only basis until Monday 17th January.

There will be advocates available for meetings and on call negotiations throughout the summer break.

From Ian, Sam & The team at JPP Buyer Advocates we would like to wish you all a happy & festive break, Enjoy your time with family & friends, and we look forward to 2011 being another sensational year.

We would all like to wish Daniel James & Charlotte Hill all the best as they will be getting married over the break, and enjoying a well earned honeymoon in Hawaii.



| | |
| --- | --- |
| | Market Overview |
As 2010 finally draws to a close we can look back on a property cycle that has been as unusual to us as this year's weather. Following on from the last quarter of last year, where auction clearance rates were in the 80% range and volumes dramatically increased from the earlier "GFC" times, we saw a sharp rise in demand. March, April and parts of May this year saw dramatic price rises in almost all segments of the market place.
The Melbourne median price for houses had jumped a whopping 26.8% in the twelve months to June 30. The media was full of "bubble trouble" and the RBA were raising interest rates on a regular basis. But, as usual the media only look at "five minutes" of data and whilst there were cries of "40% drop in housing prices on the cards" there was never likely to be a "US style" property market crash.
Over the 6 months to December we have seen what most Real Estate experts actually knew would happen. There has been a softening on clearance rates, a softening on price of properties that weren't the "best of the best" and negotiations have become the norm. This is not unusual at this time of any year, and it will not change the fact that Melbourne property prices are steadily growing and the top third of suburbs will still probably double in value every 7 - 8 years.
Early next year, by about March or April, we should see a more balanced market, usually tipped slightly in the sellers favour. This is normal and should continue through most of the year offering a modest growth of somewhere near 7-8% for the year. People who are looking to purchase the family home or who are considering investment should look at the market, not with the thought that everything is too expensive, but with the thoughts that good buying will result in you and your families making the best financial decision of your lives.
On behalf of the team at JPP Buyer Advocates, I would like to take the time to wish everyone a very safe and happy festive season. Whilst our offices will be closed for a couple of weeks, we will be on call for anyone who needs assistance with a last minute negotiation and we shall be back, revved up and ready to go early in the New Year.
Ian James
Top
| | |
| --- | --- |
| | Suburbs We Have Purchased In Recently |
Below is a short list of some of our purchases of the last couple of weeks,
Our team of advocates are searching & negotiating in all suburbs over Melbourne Metropolitan & both peninsulas daily.
| | | | | |
| --- | --- | --- | --- | --- |
| Suburb | Property Type | | Suburb | Property Type |
| Keilor Downs | Townhouse | | Doncaster East | Family Home |
| Armadale | Family Home | | Bentleigh | Family home |
| Carnegie | Unit | | South Yarra | Unit |
| Elwood | Apartment | | Brunswick East | Family Home |
| South Yarra | Family Home | | Ivanhoe | Family Home |
| Mt Waverly | Family Home | | Brookfield | Family Home |
| Elwood | Apartment | | Richmond | Apartment |
| Prahran | Family Home | | Aberfeldie | Family Home |
| Rowville | Family Home | | Elwood | Apartment |
| Ringwood North | Family Home | | Forest Hill | Family Home |
| Ashburton | Family Home | | Kew | Family Home |
| Murrumbeena | Family Home | | Ormond | Unit |
| Elsternwick | Unit | | Carnegie | Unit |
| Coburg | Family Home | | Coburg | Family Home |
| Carnegie | Family Home | | Malvern East | Family Home |
| Richmond | Townhouse | | Chelsea | Family Home |
| Armadale | Townhouse | | Abbotsford | Townhouse |
| St Kilda | Apartment | | Ivanhoe | Family Home |
| Murrumbeena | Apartment | | Eltham | Family Home |
Top
| | |
| --- | --- |
| | Recent Articles Of Interest |
Channel Nine news ran with a lead story on Saturday night, saying the market in Melbourne has definitely faltered and talked about the bubble bursting. The "expert" they interviewed was a reporter from the Herald Sun. The talk of only 60% clearance rate shows the market in Melbourne is lost!!
There were more auctions held than any weekend since March 2008 and the clearance rate remained at the same level as it has been since October this year. I think it was a slow news day on Saturday. The market is tilted in the buyers favour for the moment. The market is hardly in free-fall. We will not see 40% drops in property values. We will not see people "giving" away their properties. In fact, I think we will see modest growth throughout 2011 in the top third of suburbs in Melbourne.
The consistent clearance rate of 61%, and a recorded 1210 total sales for the week, is indicating we have a market which is neither hot nor cold, but rather best described as a 'negotiators market'. This was fairly obvious when looking at the number of unreported results - 195. We purchased seven properties in the last 4 days with another 5 still under negotiation.
17 Northcliffe Rd, Edithvale- 3 bedrooms 2 bathroom house, renovated and on 822 sqm of land. Quoted $610,000 - $670,000, the auction opened on a vendor bid of 610K, however despite a good crowd there was zero activity from buyers. The agent worked very hard to get things started - going into see the vendors more than once and sending his agents into the crowd to chat with buyers whilst he did so. Finally someone offered 620K and this set the ball rolling. 2 bidders fought it out to 690K where it passed in, (despite the agent stating one more bid would probably put it on the market). The property sold via negotiation for 695K.
Taurus Rd, Doncaster East - a 4 bedroom, 2 bathroom house verbally quoting high 600K - low 700K. The auction opened on a genuine bid of 650K, In contrast to the other auctions, the pace was fast with 3 bidders and a lively atmosphere. The bidding slowed at 727K at which point the agent put it on the market and, with no other bids knocked it down at 727K.
8 Black St, Brighton - 4 bedrooms 3 bathroom, 2,000 sqm of land, and a vendor that had lived there for 38 years. A premium spot in Brighton, the agent was quoting 5Mil - 5.5Mil. There was a large crowd and seemed to be good interest, however another slow opening. I've never heard an agent go on so much about a properties potential before asking for bids. He seemed to be thoroughly enjoying the attention or just avoiding the inevitable pass in which was becoming an all too familiar pattern. Once he did stop talking, one buyer was willing to open on a bid of 4Mil. This opened the way for someone else to get involved, and for a moment there I did think it might just reach the quote range. However alas - no such luck. The house was passed in at 4.8Mil and was later sold via negotiation for $5,125,000.
And so the pattern continued throughout the day. Few properties sell under the hammer these days but good negotiators will make the difference in walking away from a good property and securing it for a good price.
If you are considering a purchase of property in Melbourne, please do not hesitate to give our office a call. We will be taking a short break after next weekend but our emails and office phones will be managed throughout the festive season.
This will be the last market comment for the year. We will start again early in the New Year. Our last newsletter will go out later this week. From the team at JPP, I want to wish you a safe and happy festive season.
Ian James

State stamp duty cut high on Premier's priority list
Victorian home buyers have reason to celebrate the election of Ted Baillieu as the state's new premier, as he looks to make good on the coalition's promise to cut Victoria's first home buyer stamp duty in half.
In his first public address since former premier John Brumby conceded defeat to the Coalition Government, Mr. Baillieu named the stamp duty cut as something his government would be moving quickly on.
In the lead up to the election, Mr. Baillieu promised that a 50 per cent stamp duty cut would apply to all first home purchases up to $600,000 across the state should he be elected.
Mr. Baillieu said his stamp duty cuts would be phased in over four years to prevent an interim freeze in the first home buyers market, estimating the $750 million plan would benefit about 160,000 first home buyers over this period.
Stamp duty would be cut by 20 per cent from July 1 next year and a further 10 per cent in January 2013, January 2014 and September 2014
"We believe this is a really essential step to ease the burden for families and make housing more affordable for first home buyers," Mr. Baillieu said.
Victoria has the highest rate of stamp duty in the country, while first home buyers in NSW, Queensland and WA pay no duty.
Source: Realestate.com.au
Sam James
Top
| | |
| --- | --- |
| | Looking Forward |
The housing crash in the USA understandably generated a lot of 'what ifs', even though it was based on conditions not experienced in Australia. However the RBA has repeatedly denied our market is overvalued with deputy governor Ric Ballentino outlining that the ratio of Australian house price to income "is not that different from most other countries."
Even Jeremy Grantham, Chief Strategist of Boston (US) based firm GMO - who earlier this year generated a raft of bubble headlines - recently clarified his comments with admission Australia's market was 'not a typical housing bubble'
In total the RBA raised interest rates 7 times in 14 meetings. Our economy is strengthening and there is no doubt there will be more next year. And let's not forget, this year has been unprecedented. We've had a long run out federal election with no clear outcome resulting in a hung parliament, a Victorian State election which also looked as if it was set to reach another ambivalent 50/50 spit. Talk of a double dip recession in the US - inflation worries surrounding the Government's ongoing stimulus, and the Aussie dollar at parity. We're not out the woods yet, and none of this instigated any sense of security. Considering all the above Melbourne's market has been resoundingly resilient! The total value of real estate sold this year has been in excess of 30 billion - more than recorded for the previous three years - and total sales for the year only marginally down from the 2007 boom.
Next year will be interesting!!
Add to this first home buyers will be getting some help from our new Premier. The Victorian election resulted in a win for Ted Baillieu and with a new face comes fresh optimism. As well as incentives to purchase in rural suburbs, Melbourne's metro prices are likely to see a boost when (and if) Ted Baillieu's promised 20% cut on stamp duty for first home buyers comes to play on July 1 for properties below $600,000.
The promise extends into 2014 with another 10% cut in January 2013, January 2014 and September 2014. But as a first home buyer is it worth waiting for the incentives to come in, or should you step into the market now?
On a purchase of $450,000 a 20% cut in stamp duty will save $3794. Not a massive amount, yet obviously every bit helps - especially when added to the existing home buyer grant of $7000 (if purchasing established). However remember what happened to property prices when 'bonus' home buyer incentives were introduced in 2008? The market experienced a surge of competition and prices hiked up considerably in some areas. Waiting for a $3794 saving, could result in paying at least that on the purchase price to secure a home amidst added competition - and with a possible decrease in the amount of stock on the market, it's likely to be a sellers haven.
Is it worth waiting for the full 50% cut in 2014? Let's use our $450,000 example again. With a 20% cut you'll save $3794 however wait four years, and with a 50% cut you'll save $9485. However in 4 years' time - assuming prices continue to rise the average of 10% per year for the top third of suburbs in metro Melbourne - a $450,000 property will be worth roughly $650,000 and the cut won't apply!
However if we assume you could still purchase that same property for $600,000 in four years' time, the total saving on stamp duty calculated on today's rates would be $15,535 which starts to look a little more attractive. (Total outlay being $615,535.) However you're still not ahead of what you would have made in capital growth if you had paid $450,000 with only the 20% stamp duty cut at today's prices. Calculating it on total initial outlay you would have made $134,824 in capital growth which makes a $15,535 saving look like pocket change.
All of this will make 2011 a very interesting year.
Catherine Cashmore
Top
| | |
| --- | --- |
| | Spotlight on Melbourne Suburbs |
In our regular spotlight section we examine a selection of Melbourne suburbs, highlighting what's happening in these areas right now.
Richmond
Municipality: City Of Yarra
Population: 22,475 (2006 census)
Postcode: 3121
Location: 2 km from Melbourne CBD

Richmond is a suburb in Melbourne, Victoria, Australia, 2 km south-east from Melbourne's central business district. It is a multicultural hub for all things food, fashion and lifestyle whilst still keeping it community atmosphere as a number of priority.
Richmond holds a number of festivals throughout the year catering for all cultures and ages along the Gleadell Street Market, which offers a huge range of fresh fruit, vegetables and almost anything your stomach desires.
Since the early 1990s Richmond has continued to evolve into a electric mix of expensively converted warehouse residences, public housing high-rise flats and Victorian-era terrace houses, along with a lively retail sector and a shrinking industrial and manufacturing base. And only now are we beginning to see large developments appear with the approval such sites as the GTV-9 (channel 9), Jacques, Green Square and the Ark.
Time will tell how these new developments will change Richmond, however for the time being it's a great place to live or invest!
Median House Prices
Lower
Quartile
Sep 10
Median
Upper
Quartile
Jun 10
Median
Sep 09
Median
Annual
Change
Richmond
$735,000
$857,500
$1,068,750
$875,500
$754,250
13.7%
Source: REIV.
Median Unit Prices
Lower
Quartile
Sep 10
Median
Upper
Quartile
Jun 10
Median
Sep 09
Median
Annual
Change
Richmond
$405,000
$525,000
$782,000
$505,000
$493,000
6.5%
Source: REIV.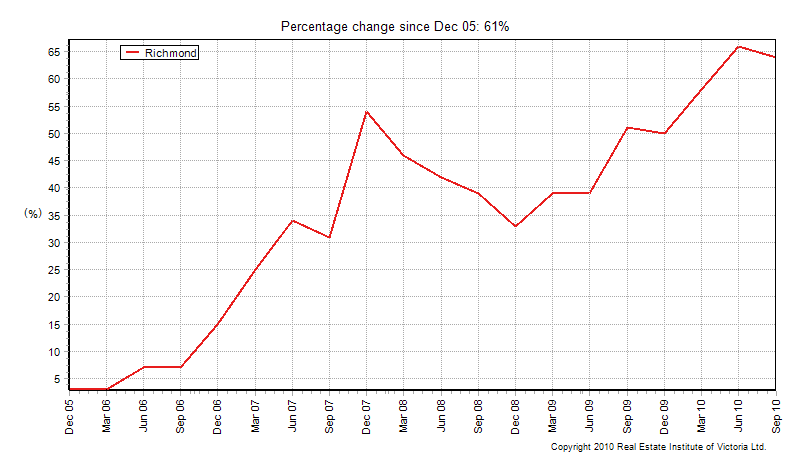 Source: Wikipedia
Justin Lilburne

Ashburton
Municipality: City Of Boroondara
Population: 7171 (2006 census)
Postcode: 3147
Location: 11 km from Melbourne CBD

Ashburton is a very nice eastern suburb of Melbourne. The area is approx. 11km from the CBD. Ashburton has plenty of schools, shops and is well located for transport to the CBD.
Ashburton has a large family population due to the 3 primary school in the immediate area and the large number of schools surrounding. The area offers great access to the private schools in some of the more blue chip areas while still living in a more affordable area.
The train now terminates in Ashburton at the Alamein train station with the old line that continues now made into a park with a bike track. The shops are also only a short stroll from here.
There are a range of home styles in Ashburton ranging from old commission homes that have been purchased by private owners or developers and are being updated and made into a lot more modern homes to beautiful Californian bungalows that have been restored to their former glory. The tree lined streets in the area mixed with the range of homes is what make Ashburton so sought after.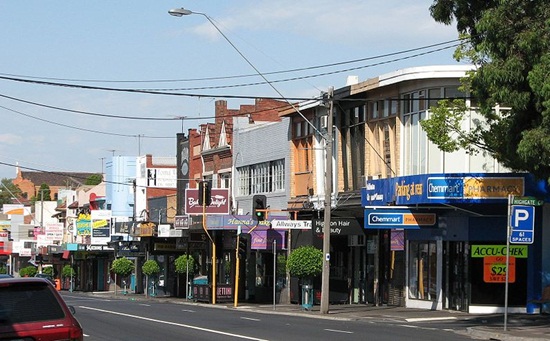 Median House Prices
Lower
Quartile
Sep 10
Median
Upper
Quartile
Jun 10
Median
Sep 09
Median
Annual
Change
Ashburton
$835,000
$948,000
$1,165,250
$1,075,500
$820,000
15.6%
Source: REIV.
Median Unit Prices
Lower
Quartile
Sep 10
Median
Upper
Quartile
Jun 10
Median
Sep 09
Median
Annual
Change
Ashburton
$593,750
$777,500
$1,055,000
N/A
$705,000
10.3%
Source: REIV.
Source: Wikipedia
Courtney James
Top
| | |
| --- | --- |
| | Purchasing Wisely In 2011 |
Some tips to maximise growth in your property portfolio
As an investor the aim should be to lower your risk profile whilst also maximising capital appreciation. In a strong market most properties sell well, however in the downward phase of a property cycle, only those properties that attract competitive buyer activity are likely to achieve maximum price. Therefore steer clear of the high rise culture and concentrate on homes that will always attract demand. Here are a few tips.
Find the rose amongst the thorns.
In a soft market high in supply, it's the scarcity factor that underpins growth. A unit in a high rise block of flats is unlikely to attract as much attention as an apartment in a small boutique development. Concentrate on homes that stand out from the crowd.
Unit or House?
Properties perform differently depending on suburb and it's important to understand the dominant buyer profile of the area you're searching in. For example -inner city suburbs are high in density with a landscape that features apartments and townhouses. Areas further from the city feature detached houses and generally attract families. Purchase a property that suits the suburb characteristics rather than following a set formula.
Location
A property sitting vacant costs money, so purchase one that will attract a long term tenant. Being close to transport and shops is important, but also think about position. No one wants to live on a main road, opposite a train line, or noisy school oval. Location is just as important to renters as it is to home buyers.
Renovated or Original?
Renovated properties attract interest from emotive home buyers and command a premium on price. If you're looking for an investment, interior design shouldn't be the primary focus. Remember the price you pay at the start will dictate the short term growth. An old or tired interior will give you 'value add' potential and with an in-expensive makeover you can still attract a good long term tenant.
Don't be afraid to seek advice.
Buying property shouldn't be stressful, however if you find yourself spending too many sleepless nights, don't be afraid to seek expert advice. Choose a 'buyer advocate' who specialises in purchasing property, avoiding those who also have a hand in selling property. (This includes the practice of 'vendor advocacy'). Make sure they agree to a fixed fee in advance - not one that's a percentage based on the amount you pay.
Leg work
Finally if you do go it alone be prepared for a lot of legwork! Attend as many open for inspections, auctions, and local events as possible and ask lots of questions along the way! Property investment isn't hard if you move forward armed with caution and education. Once you've made your first acquisition, you could be on your way to a multi-million dollar property portfolio.
Catherine Cashmore
Top
| | |
| --- | --- |
| | Technology Monthly |
Minecraft
Minecraft is a game I and many other gamers have been obsessed with recently, because although the graphics and gameplay are quite simple, there is something very deep and fun about a game with no real objective.
Minecraft was created in May 2009 by Markus Persson and is sold through his website Minecraft.net for about $15 Australian dollars....according to his site 708009 people have purchased the game so far (as of Dec 07 2010), so he has obviously come up with something pretty special.
Minecraft is essentially a survival game. When you start the game you are dropped in the middle of a map (which is up to 8 times the size of the surface of the earth) and are given no instructions, you have about 20 minutes (before night falls) to work out that you must build a shelter and create some torches so enemies can't spawn near you (as they only spawn in darkness)....so the first thing you do is go and chop down a tree, with the wood from the tree you can create tools, sticks and a workbench...then you must find some coal, so you need to look for a cave and mine until you find some, you can then create torches, and begin to construct a house out of mined materials....if you are quick enough and survive the first night, you pretty much spend the rest of the game mining the world for minerals and creating forts and castles to protect yourself from enemies. The great thing about Minecraft is that you can create pretty much anything you wish...I have even seen a rollercoaster and a working CPU created out of switches.
The game is set in the first person which can make for some fairly creepy moments where you are mining and turn around just in time to see a zombie attack from behind, and a recent update has allowed you to make a portal to what is called the nether (essentially hell) which is full of fire and monsters.
The best way to see what the game is like is to watch a 'Let's Play' video on YouTube....I would suggest videos from JX23, SeaNanners, Bananapielord or davidr64yt
The game can be bought at Minecraft.net, it is currently in Alpha so there are some bugs but it gets updated all the time...below are some pictures of user creations (the bottom left being a life-size model of the USS Enterprise, which is awesome!).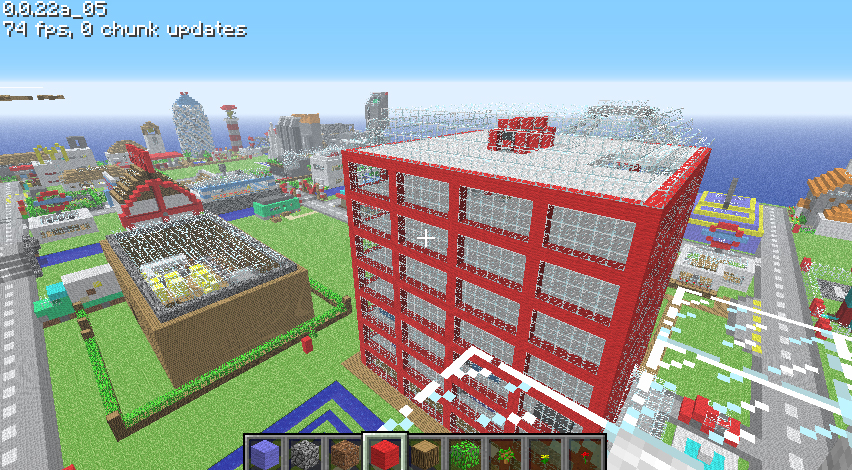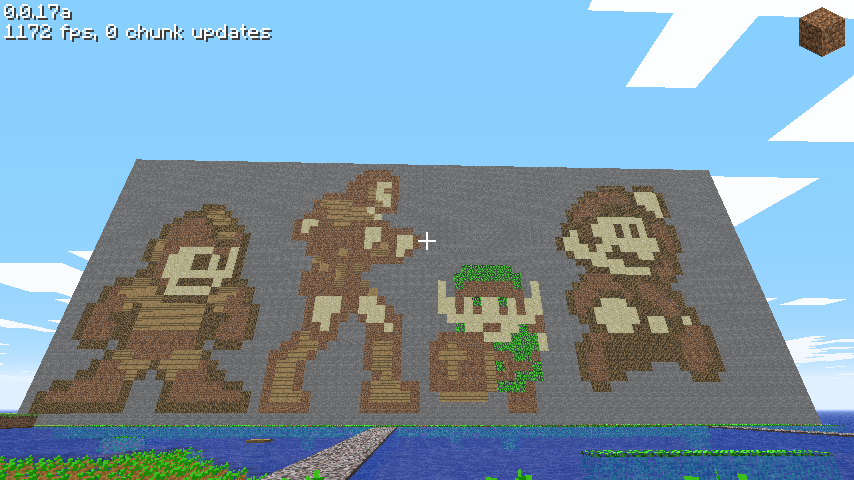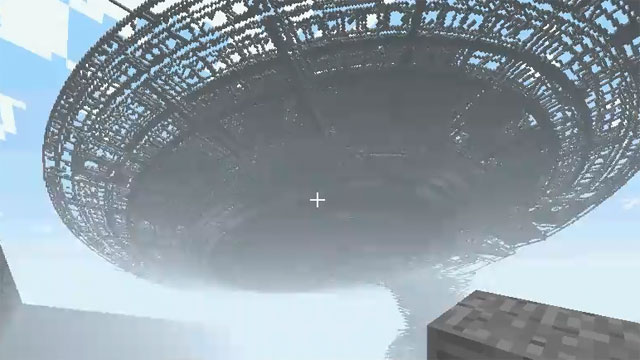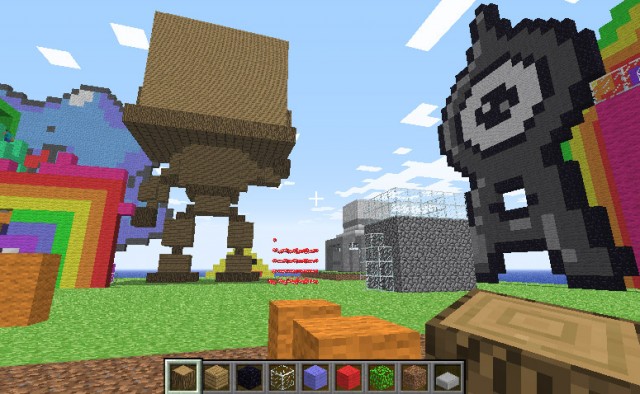 *Images from everyview.com, 2k3.org, arstechnica.com and mediamolecule.com
Chris Thursfield - Have a good Christmas everyone....If Santa is good to me, I should have some cool stuff to review in the new year.
Top
| | |
| --- | --- |
| | Recipe: Gingerbread Tree |
Ingredients: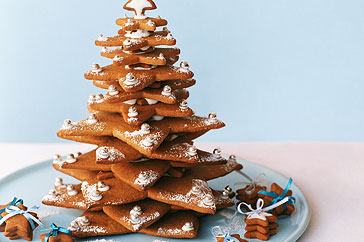 3 1/3 cups (500g) plain flour
1 tsp baking powder
1 tsp bicarbonate of soda
3 tsp ground ginger
1/2 tsp ground cardamom
150g unsalted butter, softened
175g dark brown sugar
150g honey
1 egg
1 eggwhite
1 1/2 cups (240g) icing sugar, sifted, plus extra, for dusting
Silver cachous, to decorate
Method:
1. Preheat oven to 180C. Sift flour, baking powder, bicarbonate of soda, spices and a pinch of salt into a bowl.
2. Using an electric mixer, beat butter and brown sugar until fluffy. Add honey and egg. Beat until combined. On low speed, beat in sifted dry ingredients until mixture comes together. Divide dough in 1/2. Wrap separately in plastic. Refrigerate for 30 minutes.
3. Trace 19cm, 15cm and 10cm stars on to cardboard and cut out. For 7.5cm and 4.5cm stars use cutters.
4. Roll out dough halves between baking paper until 4mm thick. Using star templates and 7.5cm cutter, cut out 3 stars of each size from dough. Using 4.5cm cutter, cut out as many stars as possible from remaining dough.
5. Place same sized stars together, 3cm apart, on baking paper-lined oven trays. Bake larger stars for 8-10 minutes; smaller stars for 5-7 minutes or until deep golden. Stand biscuits for 5 minutes. Transfer to wire racks to cool.
6. Place eggwhite in a bowl. Stir in icing sugar, 2 tbs at a time, until combined.
7. Stack the largest stars at offset angles, placing 2-3, 4.5cm stars in between. Glue each layer with icing. Continue stacking in decreasing size until all 7.5cm stars are used. Finish with one 4.5cm star flat and a second one upright. Use icing as glue to decorate tree with cachous.
8. Tie up remaining small stars to look like presents. Leave tree to set for 1 hour. Serve dusted with icing sugar.
*Recipe From taste.com.au
Chris Thursfield
Top
| | |
| --- | --- |
| | Did you know? |
Christmas Jokes
Q: What is the difference between the Christmas alphabet and the ordinary alphabet?
A: The Christmas alphabet has No L (noel)
Q: What do you get if Santa goes down the chimney when a fire is lit?
A: Crisp Cringle
Q: What do you call people who are afraid of Santa Claus?
A: Claustrophobic
Brainteaser
Can you decipher these common Christmas Carols?
1. Happiness to the Global Ecosystem
2. Small male percussionist
3. I am experiencing nocturnal visions of a colorless holiday
4. Festoon the Corridors
5. A Non-summer fairytale area
6. Oh holiday conifer
7. Ten plus two twenty-four hour periods of holiday festivity
8. Hey tiny city in Israel
9. In a remote location in a barn stall
*jokes from holidays.kaboose.com, brainteaser from braingle.com

Answer to brainteaser: 1.Joy To The World, 2.Little Drummer Boy, 3.I'm Dreaming Of A White Christmas, 4.Deck The Halls, 5.Winter Wonderland, 6.Oh Christmas Tree, 7.The 12 Days Of Christmas, 8.Oh Little Town Of Bethlehem, 9.Away In A Manger
Chris Thursfield
Top

Kind regards from the team at JPP.
If you have a friend or family member looking for property, please feel free to forward our newsletter on to them.
Don't forget to comment on our blog.

JPP are now on Facebook and Twitter...We will be updating them both frequently from now on.
For our overseas clients and visitors, JPP now has a website translator. Just scroll to the bottom of the homepage, click 'Translate this website' select your language and then click 'Click here to return to the homepage'.
Top