November 2010 Newsletter
Our monthly email newsletter reports on the state of the Melbourne Real Estate market, keeps you informed and up to date on what's happening at JPP Buyer Advocates, as well as presenting some of our recent success stories.
to Subscribe, send an email to: chris@jpp.com.au
to un-Subscribe, send an email to: chris@jpp.com.au

| | |
| --- | --- |
| | News |
With a few good buying weeks left until Christmas, there is sure to be some good buys out there, Negotiating is the key to a good price paid for a good property.
Well it is almost that time of the year again.
With everyone's thoughts starting to think about Christmas, we each have different thoughts & ways to celebrate, what we all have in common is that it is a busy time of the year, business, shops & roads...Please take care.
JPP Buyer Advocates will be slowing down over the Xmas break, therefore our office will be closed between Tuesday Dec 21st through until Monday January 3rd.
After these dates we will be running on minimal team members until late January.
If you would like to meet or catch up over this time, be sure to plan ahead & we will do our best to make sure we are available.
Sam James
---
Buyers' Market for the next 12 weeks
The next upswing in property prices will start about March 2011
There are several major factors driving the Melbourne property market both now and for the next 6 months. In short, it will be a "buyers' market" for the next 6 - 12 weeks before reverting back to a "sellers' market" and a sharp increase in property prices from approximately March onwards. This will be far more pronounced in the top third of suburbs in Melbourne. In fact we could even see a stall or drop in the overall Melbourne median house price due to falling prices in "New Estate" areas.
Most buyers who are informed about the property market from what they read in the media are sitting on their hands. Even though there are plenty of good properties out there to purchase at very good prices. Many people decide to do nothing when there is indecisiveness in big business. For the smart investor now is the time to buy a bargain.
We currently have a confluence of instability. Firstly, our federal government is still in turmoil. The Labor party is floundering around still trying to work out how to govern in such a difficult situation. Julia Gillard is losing massive public support and the honeymoon period from the media is definitely over. Further to this we have a State Election coming up shortly and most commentators are agreeing it is too close to call. The only real consensus of opinion is the Greens may end up with balance of power at both a State and Federal level.
Add to this the fact that for the first time in recent memory three out of four banks did not raise their own interest rates in the same week as the Reserve Bank raised the cash rate. With CBA having jumped and raising 20 basis points above the RBA, and not getting any back up from the other majors, many people are simply waiting to see what happens. Now the other three banks have joined in, exactly as the RBA predicted (according to their recent minutes), everyone is wondering when the next rise will occur.
We know that there is a massive shortfall in the total number of properties that are required in this state to keep pace with the rising population. We know that with interest rates rising the RBA believes the economy is doing well. Whenever the economy does well prices of all things tend to go up due to inflationary pressure. We also know that jobs growth is striving ahead, unemployment is incredibly low and the economies of our major trading partners, China & Japan, are growing very steadily. All this adds up to rising property prices.
I believe most of the short term instability will dissipate by early in the New Year and that after a stalling of price growth over the next 8 - 12 weeks, prices will again take off. March, April & May 2011 will probably run as hard as they did this year.
Anyone thinking of buying property in Melbourne now would do very well to take advantage of the lull before the next major upswing early next year.
Ian James
Director JPP Buyer Advocates
---
Changes To The Estate Agents Act
What exactly is Consumer Affairs Minister Tony Robinson thinking when it comes to protecting home buyers and sellers?
This month saw some extraordinary announcements. Firstly his proposal that a ban on 'price plus' advertising will somehow change the ball game for buyers 'heartbroken', as some emotively reported, for missing out on properties that sell well above the advertised price range. It seems we are supposed to be surprised and somewhat horrified that selling agents are able to get over and above the expected price range advertised - and yet this is exactly what they are employed to do.
His attempt to regulate pricing is a blatant cover up to cajole disillusioned purchasers into thinking that selling agents can be forced to quote fairly for both the vendor and purchaser. It would be foolish in the extreme for any buyer to trust a selling agent when it comes to advice on price, and yet this is exactly the impression Tony Robinson is trying to portray.
All sales industries are in the business of manoeuvring buyers to purchase products through manipulative advertising and quoting - let's face it, when we sell a car or other product on eBay, our aim is no different. Just as you wouldn't trust a vendor's solicitor to give unbiased advice to the purchaser, neither should you trust a vendor's selling agent to give unbiased advice to the purchaser. Tony Robinson should be open and honest with buyers and advise they seek independent assistance from a licenced buyer's agent before purchasing real estate. Suggesting differently is misleading and irresponsible at best.
However not satisfied fiddling with one aspect of the industry, come 2011 there will be new changes to section 55 of the real estate act. Section 55 is designed to prevent a vendor's selling agent unscrupulously purchasing properties they are selling under market value.
The rules previously required a Real Estate agent, his relatives, or employees, to undergo a full independent assessment by the director of CAV with supporting documentation involving a written valuation by an independent valuer if they wanted to purchase any piece of real estate their agency's selling. The process is long winded and penalties for breach are serious.
Under the amendments Real Estate Agent's relatives or employees will be able to purchase simply with the vendor's permission along with written consent from their lawyer, conveyancer or accountant. Furthermore, this written consent can come at any point - even after the sales contract has been signed or settled!
In other words, there is now no protection what-so-ever from a selling agent acting as both buyer and seller for one party. As an independent purchaser the agent still has to go through the Director of CAV, however there is nothing stopping inside family trading to side step the process altogether.
Tony Robinson's new rules also assume a lawyer or accountant would have the necessary industry experience to provide advice on the value of their client's property. Not only are they not educated to do so - neither do they carry the necessary professional insurance to give property advice.
The sales agent will still collect the sales commission resulting from the sale, however with the new changes this can no longer be amended to 'sweeten the deal.'
Tony Robinson is not doing his job in protecting public interest and providing responsible advice to either vendors or purchasers. It's no longer just a case of 'buyer beware' but also 'seller beware'.
Top
| | |
| --- | --- |
| | Market Overview |
We are starting to get used to the Saturday downpours. This is something we have not had to contend with often in the last 10 years. Although many people braved the cold and wet conditions, the clearance rate still remained relatively low at 61%. This is actually 2% higher than the revised clearance rate last week.
Properties still sold well for the week with over 1000 reported to the REIV (Private sales plus sold at auction). There are plenty of buyers but many of them are holding back much more than they have been over the past 6 months. Take Blessington St, a classically renovated art deco apartment in one of St Kilda's premier locations. It is the type of property that always attracts a good crowd in any type of market. Quoted at 580-630K, the rain wasn't going to deter anyone. Amidst a sea of umbrellas, 4 bidders immediately got involved. The property was announced on the market at $630k and sold under the hammer to an ecstatic owner occupier for $650k. Blessington Street Art Deco usually sells well in excess of this mark.
Further to this we did 4 deals Thursday & Friday where the agent pre-empted the negotiations and wanted to sell. This is more likely to happen when the agent is not confident of an auction outcome. Whilst the media is driving sentiment down, talking about property prices dropping, reporting the OECD thinks there is still a housing bubble, about interest rates "out of control", this will eventually drive some vendors out of the market: those that do not have to sell. What we will find then in March or April next year is a lack of supply. With rental yields on the rise, a lack of stock in the middle of the autumn selling season will drive prices up sharply, similar to this year in March and April.
Realistically, by March 2011, the Federal and State Election outcomes should have steadied itself. Interest rates shouldn't move much more than another 25 basis points and people will want to get back in the market. Prices will begin to rise around March or April and we should begin to see this is the figures released in Mid-year.
If you are considering purchasing a property anytime in the next 12 months, now would probably be a very good time to buy.
Ian James
Top
| | |
| --- | --- |
| | Recent Articles Of Interest |
REIV calls for stamp duty cuts and first home buyer assistance
The REIV has released its policies for the November 27 Victorian State Election, calling for improved housing affordability, reduced business costs, increased supply of housing and more assistance for all first home buyers.
REIV CEO Enzo Raimondo said that due to the healthy economy and growing population, housing affordability was under extreme pressure and steps need to be taken to help buyers and renters.
"With the right policies the state government can improve housing affordability, particularly for first home buyers."
Read the rest of the article here (Source: REIV)
---
Surging stamp duty income shows need for cuts
The release today of the Victorian Pre-Election Budget Update shows that income from stamp duty is already exceeding the budgeted amount, confirming that Victorian home buyers are paying more than their fair share of state taxes.
REIV CEO Enzo Raimondo said that the Victorian Pre-Election Budget Update shows an increase in land transfer duty of $149 million in 2010-11.
"The REIV again calls on all parties contesting the election to commit to improving housing affordability by reducing stamp duty.
Read the rest of the article here (Source: REIV)
Sam James
Top
| | |
| --- | --- |
| | Spotlight on Melbourne Suburbs |
In our regular spotlight section we examine a selection of Melbourne suburbs, highlighting what's happening in these areas right now.
Beaumaris
Municipality: City Of Bayside
Population: 12441 (2006 census)
Postcode: 3193
Location: 20 km from Melbourne CBD

Beaumaris is Located 20kms south East of Melbourne. The neighbouring suburbs are Black Rock, Sandringham, Cheltenham & Mordialloc.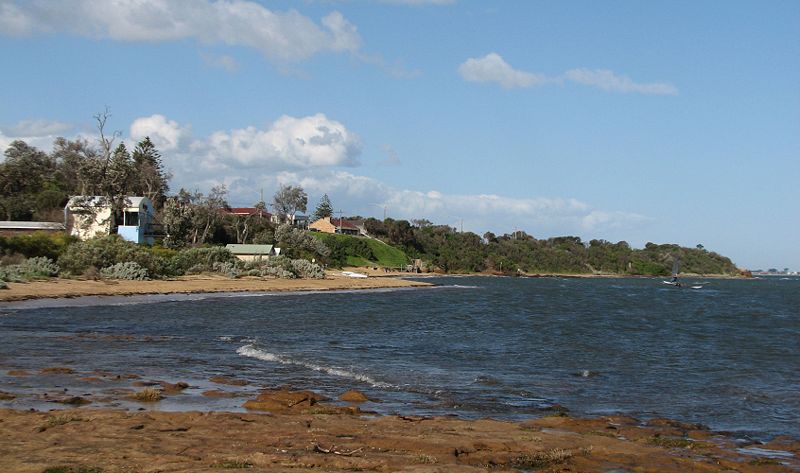 Beaumaris is also well known for its beautiful Beaches & landmarks such as Rickets Point, this is a beautiful place to walk & visit, or drop in for breakfast at the cafe or a cake & cuppa, weekends you will see plenty bikes riding along beach road past these beautiful beaches & stopping along the way at the spectacular views.
Beaumaris is also home to the The Royal Melbourne Golf Course. Well known overseas & very well frequented.
Housing in Beaumaris is a great mix of old & new, while most of the period homes in the area are beautifully presented Californian bungalows, there is also a great mix of modern homes built to use the land & slopes for spectacular water views. Many of the older homes are being currently developed into town houses which are a popular living alternative to having a large block when you don't have time to maintain it.
Property prices in this area are always strong as the want to live near the water is always popular. Making Beaumaris a great place to be.
Public transport to the area is via bus, as Sandringham is the end of the line from that point, or Cheltenham station if you live further from the water.
History:
From 1889 to 1914 the Beaumaris Tram Company conducted a horse drawn tram service from Sandringham to Cheltenham through Beaumaris. It closed due to high costs and low patronage. There are no remains to be found of the line, but it is remembered by the name of a suburban street that it once used - Tramway Parade, Beaumaris.
Median House Prices
Lower
Quartile
Sep 10
Median
Upper
Quartile
Jun 10
Median
Sep 09
Median
Annual
Change
Beaumaris
$975,000
$1,120,000
$1,255,000
$1,100,000
$921,500
21.5%
Source: REIV.
Median Unit Prices
Lower
Quartile
Sep 10
Median
Upper
Quartile
Jun 10
Median
Sep 09
Median
Annual
Change
Beaumaris
$657,500
$980,000
$1,250,000
$775,000
$805,000
21.7%
Source: REIV.
Source: Wikipedia
Sam James
Top
| | |
| --- | --- |
| | Investment Basics - What To Buy |
Buyers often want a solitary answer to the 'golden egg' of investment. Some 'experts' recommend apartments, whilst others swear by land. However there is no 'one size fits all' scenario in the world of real estate. Plans must be formulated for each individual based on long term objectives. If you're thinking of investment you probably fit into one of the three following camps.
Set and forget - You want something that appreciates in value with little or no maintenance.
Look for large one bedroom, or two bedroom apartments close to the city located away from main roads in boutique blocks of 8-12 with off street parking and an outdoor area.
Pros; - Units tend to attract a higher yield than houses and maintenance issues are generally taken care of by the property manager and owners corporation.
Cons; - There is little potential to value add to a unit hence the term 'set and forget'. Options are limited to renovating or updating the interior.
Value add - You like the idea of purchasing to renovate, extend or 'make over' a home.
Look for opportunities in middle-ring established suburbs with good facilities located on tree lined streets. A good example would be an older style villa unit or small house.
Pros; - renovating a property can add significant value to your investment increasing the on-sale price and improving rental yield.
Cons; - The property is usually vacant whilst renovations take place and if not careful, costs can blow over budget. Take care not to over capitalise. If you do not do the renovation the property may become a "maintenance nightmare"
Developers - Would be developers want subdividable blocks with the potential of '2 for the price of 1'. Sometimes the aim is immediate subdivision however an increasing number let the land appreciate in value for a few years and rent the existing dwelling in the meantime.
Search a little further from the city in suburbs that appeal to families with larger blocks of land close to schools and transport. Stick to established suburbs where land has already been built out and subdivision has started to occur.
Pros; - Development creates significant equity giving numerous options - sell for profit or refinance to increase your property portfolio & start on the next project
Cons; - Development is not for the feint hearted or inexperienced. The road is full of potential pit falls so it's vital to establish a good team of professionals before you start. Houses generally attract a lower yield than units because your initial outlay is higher due to the land size, however rent is only calculated on the accommodation offered.
Property investment can be extremely rewarding, however there are many shades of grey in-between the above examples, so research is essential. If you're not sure where you fit in, reduce the risk of making mistakes and seek expert advice.
Top
| | |
| --- | --- |
| | Technology Monthly |
MAME
MAME (or Multiple Arcade Machine Emulator) is a piece of emulation software designed to allow the running of arcade games/hardware in software on the PC, this has become more popular recently with arcades worldwide closing down as home consoles become more favorable....it is an easy way to preserve gaming history.
MAME was originally released in 1997 by Italian software designer Nicola Salmoria and supported 5 games - Pac Man, Mrs. Pac Man, Crush Roller, Pengo and Lady Bug...since then it has grown to support 4510 unique games (9012 if you count multiple versions of games) and there are still 1391 games that aren't supported
Arcade machines differ from consoles as most store data on a built in memory chip (hence the term ROM (read only memory)) and these are quite easy to copy to a PC, so most games can be found on the internet, but the law is a bit of a grey area when it comes to downloading ROMS. Owning and distributing the MAME software itself is legal in most countries, but most ROM's are still under copyright although some free ones may be downloaded from the official MAME website.
Most people (as I am) will build their own MAME system as all you need is an empty arcade cabinet and a PC with some software to set it up, but you can also buy pre-made units that have up to 1066 games burned directly to a JAMMA board or a PC version with many more from places like eBay or Bumper Action....I prefer the PC as it is much easier to change and add to, plus it can be upgraded quite easily.
MAME can be found at Mamedev.org and legal ROMS can be found in the ROMS section
Chris Thursfield
Top
| | |
| --- | --- |
| | Recipe: Ginger Beer |
Ingredients: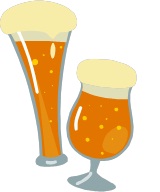 280g ginger root
1 & 1/2 cups water
1 teaspoon mixed essence
5 cloves
2/3 cups sugar
Method:
1. Grate ginger root
2. Bring water with cloves in it to a boil
3. Pour water over grated ginger root and leave to sit for half an hour.
4. Strain ginger and throw away, mix in essence and sugar to liquid.
5. Pour over ice and serve.
*Recipe From Bestrecipes.com.au, Image is Microsoft Clipart
Chris Thursfield
Top
| | |
| --- | --- |
| | Did you know? |
Jokes
Two peanuts walk into a bar.
One was a salted.
Once upon a time there were two muffins in the microwave. Suddenly, on of the muffins says:
"Man it's hot in here!!!!"
The other muffin exclaims,
"Look a talking muffin!!!!"
A magician was driving down the road..then he turned into a drive way..
What do you call a fish with no eyes?
A fsh
Brainteaser
A group of four prisoners were held captive by the enemy and each prisoner was to be shot each day through the week. As natural disasters were common in this specific part of the world, the group of prisoners decided to make up a plan of distracting the guards. Before each prisoner would be shot, they would shout out a natural disaster, which would cause chaos and distract everyone to give enough time for each prisoner to escape. As three days passed the first three prisoners escaped by shouting out their chosen natural disasters and running away, however the final prisoner shouted out a disaster and was shot dead on the spot.
What was the natural disaster he shouted?
*jokes from thejokeyard.com, brainteaser from arkarthick.com

Answer to brainteaser: "FIRE!"
Chris Thursfield
Top
---
Kind regards from the team at JPP.
If you have a friend or family member looking for property, please feel free to forward our newsletter on to them.
Don't forget to comment on our blog.
JPP are now on Facebook and Twitter...We will be updating them both frequently from now on.
For our overseas clients and visitors, JPP now has a website translator. Just scroll to the bottom of the homepage, click 'Translate this website' select your language and then click 'Click here to return to the homepage'.
Top