August 2008 Newsletter
Our monthly email newsletter reports on the state of the Melbourne Real Estate market, keeps you informed and up to date on what's happening at JPP Buyer Advocates, as well as presenting some of our recent success stories.
to Subscribe, send an email to: chris@jpp.com.au
to un-Subscribe, send an email to: chris@jpp.com.au

| | |
| --- | --- |
| | Market Overview |
Another fairly lacklustre weekend for auctions saw the "Clearance Rate" slip to 63%. But there were still over 800 property sales in Melbourne last week. Just because auction numbers slip a little doesn't mean the market is shutting down. At the same time, the major banks are coming as close to saying they will cut rates if the Reserve Bank does. Investors and Owner occupiers are beginning to re enter the market. Purchasers are still looking for "the bargain of the century" and just as stubbornly vendors are still looking for a 20% increase on last years prices. The market must come to a balance.
And the market will balance. There are always a variety of factors which have an effect on the market. There are economic effects, such as interest rates, inflation, vacancy rates and confidence levels. There are social factors, such as migration - currently standing at 60,000 people a year entering Melbourne. And there are always political factors. I don't have enough room here to start talking politics. But the market will always go back to the fundamentals. SUPPLY VS DEMAND. Demand is increasing after a very low turnover throughout the first half of the year and the potential lowering of interest rates. If supply does not increase as well then prices will go up. Just as there will always be death and taxes, if supply is low and demand is high property prices will increase.
For any of you looking to get into the market over the next 12-18 months, the next three months will be crucial. Owner occupiers tend to try and purchase in October and November, in order to settle in before the new school year. Investors will have just got their tax returns after negatively gearing their last investment. This can nicely form their next deposit. There is also a normal increase in property sales and this should allow prospective purchasers some good choices.
The key to a good purchase, especially in a balancing market, is assessing the market value of the property as accurately as possible. There are three magic numbers to try to ascertain before negotiating. What's the property worth to you? What's the property worth to the average purchaser? (Market value) And finally, what is the lowest amount the vendor will accept? Have these three figures worked out as accurately as you can before you begin the all important negotiation. If you cannot work out these numbers, seek advice from a professional Buyers Agent. The vendor's agent is not allowed to assist you with these numbers. He is contractually obligated to get the most money out of you that he can. It does not make any difference to him if your financial institution values your purchase 20% below what you paid, but it will make a big difference to whether you can fund the purchase of the property. A small error in estimating the value up or down will mean the difference in overpaying by $20,000 or not buying the property.
Before you go and spend half a million dollars, consider paying someone for some advice. I don't know of anyone who would go to court without legal representation; even if it is a $5000 dispute with a neighbour. Our government chooses to try and curb some of the habits of selling agents and then say they are assisting people who are purchasing property. This will never be a successful. Selling agents cannot help the purchaser - that would be unlawful. Before you purchase your next property at least talk to us. The first meeting is free and without obligation.
| | |
| --- | --- |
| | Home Buyers Show |
Thank you to all those who visited the JPP team at the Home Buyers show over the August 15-17 weekend.
It was great to talk to so many people who are intending to come back into the market place sooner rather than later. The mix was fairly well spread over investors and owner occupiers. Thank you also to the hundreds of people who attended my question and answer sessions on Saturday and Sunday.
Throughout the weekend whilst speaking to many people who are in the market to purchase, I noted a similar thought. Most have waited until they were sure the interest rates weren't going up any further. None were too sure whether they would come down due to the banks, but all were happy to take the plunge as of now. Most were comfortable with their own economic outlook and nearly all pointed to migration as the largest catalyst causing them to buy now.
| | |
| --- | --- |
| | Sam's Facts |
Did You Know this White House Fact?
First occupied by John Adams in 1800, the White House has witnessed one presidential wedding, five first-family weddings, 11 births, and seven presidential funerals. Recent additions include John F. Kennedy's swimming pool, Richard Nixon's bowling alley, and Bill Clinton's running track.
The answer to the question in the July newsletter is:
Question : How many medals did Australia achieve at the Athens Olympics in 2004?
Answer : Gold - 17, Silver - 16, Bronze - 16, for a total of 49 medals.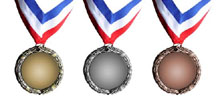 Congratulations to all of our athletes who competed in the Beijing Olympics. What a wonderful achievement, it was fantastic to see so many Australians be good sports with winning or not. (there were no losers, every sports person competing is already a winner)!!!!!!
Final Result for Beijing Medal tally
Gold - 14, Silver - 15, Bronze - 17, for a total of 46 Medals... Great effort!!!
August Question: How many rooms are there in the White House?
The answer to this question will be published in the next newsletter.
| | |
| --- | --- |
| | Changes to Conveyancing laws |
From 1 July 2008, new laws apply for conveyancing businesses in Victoria. Unlicensed conveyancers are liable for significant fines and/or two years imprisonment. Both companies and individuals must be licensed. Companies must have least one individual licensed director.
Conveyancers must be covered by professional indemnity insurance up to the value of $1.5 million;
Unless you are an Australian Legal Practitioner or Incorporated Legal Practice, you must be licensed to conduct a conveyancing business;
To be eligible for a licence, a conveyancer must have the relevant academic qualifications and/or at least 12 months conveyancing experience;
There are prescribed processes for carrying on conveyancing work including handling clients' money, managing a conveyancing business, disclosing information to clients and keeping records;
There are rules of professional conduct which all conveyancers must abide by.
There are two types of individual licences:
a full licence where you have both the academic qualifications and conveyancing work experience;
a provisional licence where you have not completed the required academic qualifications but have the relevant conveyancing business and/or work experience.
There is a transitionary period currently in operation, which ends on 30 September 2008. Existing conveyancers must either apply for a licence, or cease operation by this date.
The main change worthy of note, is that a full licence holder is now permitted to give legal advice in relation to conveyancing work only.
Provisional licenses will last for quite some time and as of last weekend when I spoke to the Victorian Division of the Australian institute of Conveyancers, there were no licensed conveyancers.
Personally, I believe having a fully qualified solicitor watching over the largest purchase most people will make in their lifetime will be safer than an unlicensed conveyancer. Once conveyancers become licensed and experienced there will be more options available.
| | |
| --- | --- |
| | To Buy, or not to Buy (That is the question) |
It's a question that we address often here at JPP. Buyers who are thinking about stepping into the market have been shaken by global talks of recession, the 'crash' of the real estate market in the USA, and significant losses in super funds. On top of that the media loves to provoke the extreme, and there have been many articles heralding rumours of dramatic drops in property prices and provoking the idea that it's a continuing phenomenon.
The stories affect the first home buyer who has a tight budget and little experience in real estate. There is a temptation to hold off and see if the market drops further, or wait to see if the banks will pass on any promised interest rate drops before taking that step into the 'great unknown'.
For those of us that are more experienced and understand how the real estate market works it's not so difficult to see that the present market is one for the buyer to take advantage of. It's a market where negotiation has come to the fore front of buying well, and that's what we are experienced in here at JPP.
As buyer advocates we understand that negotiation is the key to purchasing good real estate for a good price. Last there was a rise between 20-30% throughout 2007 - a trend rarely seen and not sustainable over the long term. Negotiation became crucial in securing property listed for auction before someone else did. Clearance rates were consistently in the 80% range. The market has predictably 'righted' itself, and we are now experiencing the Melbourne norm. Clearance rates have settled in the low 60% range and well located property is performing - in most instances - as expected.
Obviously vendors who put their homes on the market this year expecting prices to continue rising on a steep path will have been disappointed. However property investment is a long term commitment and an average 10 - 12% rise in property prices each year is normal for most suburbs over the past 25 years.
It's easy to take a short term look at prices achieved between last year and this year and throw your hands up in dismay exclaiming the end of real estate as we know it. But let's take a more realistic stance. Results show that from June last year to June this year the market has gone up. This means that although there may be changes that have affected the purchase price in some instances (such as the opportunity to negotiate), the Melbourne market is resilient, and over the long term there is nothing to suggest it won't continue to rise.
I recently met a couple who had sold their home in Elsternwick. They had expected to achieve a higher price than the one they had to settle for. However in retrospect they took a long term view and realised that considering what they paid in the first place, over the 5 years they had lived in the home they had done 'very well'.
There is nothing to suggest that property prices are going to continue on a downward trend - in fact just the opposite. So the story is the same today as it was yesterday. The best time to get into the market is now.
| | |
| --- | --- |
| | Upcoming JPP Property Seminar |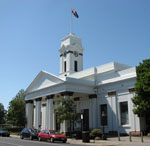 Our next Property Seminar will be held on Wednesday, October the 8th at 6:30pm, at the Glen Eira City Council Town Hall, corner Hawthorn and Glen Eira Roads, Caulfield.
The main topic will be Negotiation: A Buyer's Perspective.
Our seminars are free of charge and carry no obligation. Tea and coffee will be served.
Bookings are essential as places are strictly limited, so please register your intention by emailing enquiry@jpp.com.au or calling us on (03) 9523 1054.

| | |
| --- | --- |
| | Spotlight on Melbourne Suburbs |
In our regular spotlight section we examine a selection of Melbourne suburbs, highlighting what's happening in these areas right now.
Mitcham
Council: City of Whitehorse
Population: 14,221 (2006 Census)
Postcode: 3132
Area: 6.8 km²
Location: 22 km East from Melbourne
Mitcham is fast becoming a very sought after area. Access to Melbourne via the Eastern Freeway has meant you can be in the CBD in less than half an hour. Going the other way, you can be at some of the best beaches in Melbourne in less than 40 minutes. Mitcham itself has a lot to offer. Along the shopping strip is your choice of cafes, restaurants, specialty stores and a supermarket. There are parks and gardens spread around Mitcham giving it a very suburban feel, with a direct train line into Melbourne.
Mitcham has a mix of older style period homes, estate style homes, units and new houses and townhouses. With good proximity to many primary and secondary schools, Mitcham is a very good area for families, 2006 Census data shows that 67.1% of homes are in fact occupied by families.
Capital growth in Mitcham has shown over the last 10 years a growth of 11.5%, based on Valuer General Data. A median price of $468,500 for houses in Mitcham, makes this area a very good investment.
Median House Prices
Lower
Quartile
June 08
Median
Upper
Quartile
March 08
Median
Annual
Change
Mitcham
$426,200
$468,500
$570,000
$472,750
6.5%
Source: REIV.
Rental Analysis:
Median Advertised weekly rent
Gross rental yield (%)
$310
3.6%
Figures for 12 months to End of March 2008. Source: Australian Property Monitors.
---
Williamstown
Council: City of Hobsons Bay
Population: 12,733 (2006 Census)
Postcode: 3016
Area: 5.5 km²
Location: 7.5 km South West from Melbourne
Williamstown is located south west of Melbourne. If you look out across the bay from Port Melbourne, you're looking straight over to Williamstown. With access via car, train, ferry and sea plane, Williamstown is very well located. It is approximately 15 minutes from the CBD by car. In Williamstown you will struggle to walk down one of the main streets and not find what you are looking for, there are many restaurants, cafes, specialty stores and supermarkets. The foreshore at Williamstown is a tourist attraction in itself. From exploring the HMAS Castlemaine at the Gem Pier to swimming in the lifesaver patrolled beautiful beaches.
Once you step back from the foreshore and do a little exploring, Williamstown has many beautiful period buildings which are heritage listed. The homes in Williamstown range from being more than 100 years old to being brand new. There are Victorian gems spread throughout Williamstown, while there are some new amazing million dollar beachfront homes.
Williamstown has shown growth in the past due to its location to Melbourne, and as mentioned earlier it access. Over the past 25 years Williamstown has increased by 11.36%, based on Valuer General Data. This increase makes Williamstown a great to place to invest or settle down in.
Median House Prices
Lower
Quartile
June 08
Median
Upper
Quartile
March 08
Median
Annual
Change
Williamstown
$610,000
$810,000
$1,200,000
$735,000
15.9%
Source: REIV.
Rental Analysis:
Median Advertised weekly rent
Gross rental yield (%)
$410
3.0%
Figures for 12 months to End of March 2008. Source: Australian Property Monitors.
| | |
| --- | --- |
| | Recipe: Pumpkin Soup |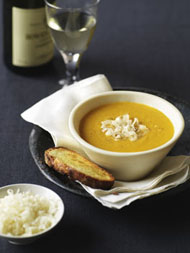 Preparation Time: 20 Minutes.
Cooking Time: 40 Minutes.
Ingredients (serves 6)
1 tbs olive oil
2 medium brown onions, diced
1 tsp ground cumin
1 tsp ground coriander
1/4 tsp ground cinnamon
1kg peeled, deseeded, butternut pumpkin, cut into 2.5cm pieces
1L (4 cups) vegetable stock
125mls (1/2 cup) thin cream (optional)
Salt & ground black pepper, to taste
Method
Heat the olive oil in a large wide-based saucepan over medium heat. Add the onions and cook for 4 minutes or until softened.

Increase heat to medium-high, add the cumin, coriander and cinnamon and cook for 1 minute or until aromatic. Add the pumpkin pieces and stir to coat well in the spice mixture.

Add the stock and bring to the boil. Reduce heat to medium-low and simmer, covered, for 30 minutes or until the pumpkin is soft.

Use a potato masher to mash together the pumpkin and stock until the soup is almost smooth. Stir the cream through the soup (if using) and season with salt and pepper. Serve with a fresh crusty roll.
Source - Australian Good Taste, August 1998.
---
Kind regards from the team at JPP.
Having trouble viewing this newsletter? The online version with pictures is available Here