September 2008 Newsletter
Our monthly email newsletter reports on the state of the Melbourne Real Estate market, keeps you informed and up to date on what's happening at JPP Buyer Advocates, as well as presenting some of our recent success stories.
to Subscribe, send an email to: chris@jpp.com.au
to un-Subscribe, send an email to: chris@jpp.com.au

| | |
| --- | --- |
| | JPP Property Seminar |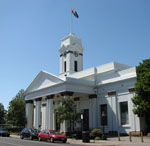 Just a quick reminder that our next Property Seminar will be held on Wednesday, October the 8th at 6:30pm, at the Glen Eira City Council Town Hall, corner Hawthorn and Glen Eira Roads, Caulfield.
The main topic will be Negotiation: A Buyer's Perspective.
For more information, please refer to our seminar information (PDF File).
Our seminars are free of charge and carry no obligation. Tea and coffee will be served.
Bookings are essential as places are strictly limited, so please register your intention by emailing Courtney at courtney@jpp.com.au or calling us on (03) 9523 1054.
| | |
| --- | --- |
| | Market Overview |
Again the market moved up sharply this week and moved back over the 1000 sales mark. This is the fourth time since March this has occurred. And again the drop in clearance rates is virtually meaningless. Next weekend is virtually a non event for auctions due to the AFL Grand Final; it will be interesting to see the number of private sales that still proceed.
For those of you perturbed about little things like the world economy, and such other trivial matters as stock market crashes and resurrections and what it will do to the Melbourne property market, you may have missed a small article quoting RP Data. They believe rental returns will increase by 14% over the next year. If this trend is continued for five years, a good $500k investment property returning average rent, in a good location, with average depreciation could easily be revenue neutral within about 5 years. If this occurred and the average trends of the last 25 years continued, you could have a property appreciating at better than 10% pa and the tenant is paying for the whole thing.
Add to this the supply vs. demand issue which is always the dominant influence on price movement. With building approvals not keeping pace with increases to our population, the price over the long term must rise. Add the fact that investors are returning to the stability of property and the possibility of being revenue neutral in a relatively short time frame, and you have the basis for excellent long term outlook in the Melbourne Residential property market.
Owner occupiers are starting to consider their position in the market as well. As investors continue to come back to the market, this will put a lot of pressure on the first home buyers especially.
Prices will begin to climb, slowly at first; the spring selling season is upon us and the total number of sales is rising. By February or March next year, with perhaps one or two interest rate reductions and the prospects of revenue neutral properties even closer at hand, property prices in Melbourne have nowhere to go but up.
| | |
| --- | --- |
| | Sam's Facts |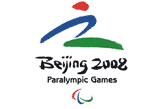 Congratulations to all our athletes who competed in the Beijing 2008 Paralympic Games.
What a success - 23 Gold Medals, 29 Silver Medals & 27 Bronze Medals. To see what events our great athletes succeeded in, click on this link.
Fact: Matthew Cowdrery won 5 gold medals & 3 Silver in the 2008 Paralympic Games. He carried the Flag for Australia in the closing ceremony!!!!!! What a star!!!!!!
The answer to the question in the August newsletter is:
Question : How many rooms are there in the White House?
Answer : There are 132 rooms in the US White House.
September Question:
What are the dates of the London Olympic Games and Paralympic Games?
The answer to this question will be published in the next newsletter.
| | |
| --- | --- |
| | Spotlight on Melbourne Suburbs |
In our regular spotlight section we examine a selection of Melbourne suburbs, highlighting what's happening in these areas right now.
Camberwell
Population: 19,637 (2006 Census)
Postcode: 3124
Area: 5.8 km² (2.2 sq mi)
Location: 13km east of Melbourne
LGA: City of Boroondara
State District: Hawthorn, Burwood
Federal Division: Kooyong, Higgins
Camberwell is in the local municipality of the City of Booroondara and is located approximately 13 kilometres from the city in Melbourne's east. Covering around 6 km², it received its name as a result of an early settler being reminded of the way three roads intersected in the south London district of Camberwell (Camberwell Junction). Camberwell is bounded by Glen Iris and Burwood in the south, Hawthorn East in the west, Kew in the north and Canterbury and Surrey Hills in the east.
Camberwell has easy access to transport with train stations and access to the tram along Camberwell Road and Toorak Road, together with a number of bus routes covering the area.
The Prospect Hill area is adjacent to the railway station and is the oldest part of the suburb with many Victorian and Edwardian houses. Due to its hilly topography, many east-west streets in the Prospect Hill area have excellent views of the city.
A feature sight is Camberwell's retail heart - the Burke Road shopping strip. Although Burke Road is the boundary with Hawthorn East, this precinct is effectively the 'centre' of Camberwell. In the late 1990s, the precinct east of Highfield Road and north of Toorak Road – spreading to Warrigal Road – was rezoned to become Camberwell (previously Burwood).
Some notable residents of Camberwell include: Barry Humphries (Comedian, aka Dame Edna Everage, grew up in Camberwell), Geoffrey Rush (Australian Actor), and Kylie & Danii Minogue (both grew up in nearby Burwood and attended Camberwell High School).
House prices in the city of Boroondara are well-above the metropolitan median and those in the Prospect Hill precinct are several times the Boroondara median; however Camberwell offers diverse living, catering for both first home buyers right through to the upmarket, luxurious living.
Median House Prices
Lower
Quartile
June 08
Median
Upper
Quartile
June 07
Median
Annual
Change
Camberwell
$919,000
$1,175,000
$1,520,000
$1,013,000
16.0%
Source: REIV.
Rental Analysis
Median Advertised weekly rent
Gross rental yield (%)
$470 per week
2.5%
Figures for 12 months to End of March 2008. Source: Australian Property Monitors.
---
Queenscliff
Population: 3,018 (2006 Census)
Postcode: 3225
Location: 30km SE of Geelong
LGA: Borough of Queenscliffe
State District: Bellarine
Federal Division: Corangamite
Queenscliff is situated some 20 minutes from Geelong and approximately 75 minutes from Melbourne on the western shore of Port Philip. The township was developed in the late 1800's and has a rich history of fishing, cargo trade and military roles. The harbour precinct reflects the Victorian ambience of Queenscliff.
Hesse Street boasts cafes, award winning restaurants, boutique shopping, galleries and museums. A great place to live, with surf beaches nearby and a range of walking tracks on offer.
Queenscliff has its own golf course and another nearby at Pt. Lonsdale. Major Tourist Attractions include Fort Queenscliff, the Marine Discovery Centre, and the ever popular Sorrento-Queenscliff Ferry.
Residential Property is always in demand and with Melbourne buyers predominant in the market place. Properties can be purchased for $400,000 upwards. Capital Growth was 13.85% annually during the period 1996-2006, and this figure equates to properties doubling in value every 5-6 years.
Median House Prices
March 08
Median
Annual
Change
Queenscliff
525,000
22.1%
Source: Australian Property Monitors.
Rental Analysis
Median Advertised weekly rent
Gross rental yield (%)
$285 per week
9.5%
Figures for 12 months to End of March 2008. Sources: REIV & Australian Property Monitors.
Note: Rental figures are difficult to determine accurately due to holiday rentals.
| | |
| --- | --- |
| | Fishing Westernport |
Dean Tolra is 3rd Generation Westernport Fisherman, with over 35 years personal experience on these waters. He started tying rigs for himself & fishing buddies and soon realised he was very good at it. It grew from some mates to a great online tackle store. I have personally bought from Dean and his gear is great - Ian.
Westernport - what a great place to fish! Many Fishermen can be put off by the strong tidal waters and the many exposed mud and sand banks. In the coming Fishing Report we will try to dispel some of these fears, and give you tips and hints to greatly improve your success.
The Snapper are only weeks away. Last year's Spring Snapper run of BIG Snapper was amazing; the best some say for over 50 years. 5kg average, our biggest went 11.2kg and was released. This year is expected to be even better. When targeting these monsters we use 23lb to 37lb Braid with a 60lb leader. High Quality Bait Runner Reels in the 4000 to 6000 size range. Replace last year's line as these fish hit so hard in strong currents they will destroy anything less. Once the water temp hit 14 to 15 degrees its game on.
The King George Whiting have been going all winter with fish up to 54cm and the average in the 30cm to 40cm range. Pippies and tenderized Squid are the stand out baits. The Salmon have been solid all winter so I hope you have been stocking up on Gummy bait as Salmon and Squid / Calamari are the best baits by far for the "Grey Subs".
The big news Calamari, have been in abundance since late July. HUGE over 2kg. Best Jig is the Pink Tiger Prawn "With Rattle" that one is by far out fishing all others. The best spots any weed beds but most reports are from Warneet all the way around the Western shore to North of Stony Point. You just can't miss, there are millions of them. So we don't need to tell you what the best bait for the Spring Snapper run will be.
See ya out there, Dean.
Website: www.rigmastertackle.com Email: sales@rigmastertackle.com
| | |
| --- | --- |
| | Staff News |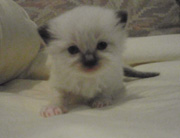 My latest family addition
She is a beautiful 3 week old ragdoll kitten. She will stay with her mum until she is twelve weeks old. She will grow up to have a seal coloured face and tail with seal points on her ears. Some of these markings are already present. Ragdolls are placid big cats that are comfortable just lying around.
I haven't chosen a name as yet; your suggestions would be most welcome! I will keep you updated with her progress in the coming newsletters.
| | |
| --- | --- |
| | A Buyer Advocate is an essential ingredient to successful property purchase |
Numerous questions go un-answered while buyers struggle through the maze of the Melbourne real estate market. Here are a few I have been asked just this past week from clients and personal friends.
How do you place an offer prior to auction, and more importantly what should you offer?
Will the agent disclose your offer to other buyers in an attempt to get a few thousand more?
What's the best strategy to use during an auction, and if no one else has made a bid should you?
When should you get the vendor statement checked by a solicitor and does getting it checked make a difference during a private sale negotiation?
What does a 'lapse' time mean?
What does a 'counter signed' contract mean and how can it help during negotiation?
Why do so many potential property purchasers find buying real estate stressful and difficult? - One of the most important skills employed by a buyer advocate is the ability to listen to a clients 'needs & wants' and find a balance between the two. It outlines areas where we can positively influence their choices and smooth the path to success. More importantly it enables us identify 'gaps' in the clients knowledge which may have prevented them making successful purchase in the past.
Many buyers have un-realistic expectations. Un-realistic expectations mean missing out on properties that do fall into budget, and also wastes a lot of time chasing an un-affordable dream. It amazes me that property buyers will often do more research comparing electrical appliances or mobile phone specs than property.
The difficulty assessing the information concealed behind the selling agent's patter is a further confusion. The selling agent has been employed by the vendor.
I am not a solicitor and I would never consider purchasing property without an expert to advise me on the documentation. Neither would I make a choice regarding a large investment of cash without seeking advice from a qualified financial consultant.
So why, when making the biggest purchase many make in a life time, is seeking a buyer advocate's assistance not considered essential to success?
| | |
| --- | --- |
| | Recipe: Chinese style Pork Chops |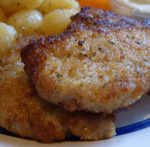 Ingredients
4-6 large pork chops
1 onion, sliced
1/2tsp chopped garlic
100g cooked green peas (petis pois)
4tbsp plain flour mixed well with 1tbsp corn flour
bread crumbs
1 egg
Marinade
salt and pepper to taste
4-5 small drips of sesame oil
Sauce
1tbsp light soy sauce
1 1/2 tbsp Worcestershire sauce
2tbsp tomato ketchup
1tsp sugar
some cornstarch solution for thickening the sauce.
1/2 cup water or chicken stock.
(Remember to adjust your sauce to the taste before adding to the chops)
Method
Marinade the pork for about 10mins.
Now, coat the pork in flour mix, followed by eggs, then onto the breadcrumbs.
Deep fry till golden brown.
While deep frying, prepare the sauce. First, with about 1tbsp butter, sauté the garlic and onions, followed by the peas. Add stock, bring to boil and add the sauce. Adjust to taste. Thicken it with cornstarch. When done, pour over the cooked pork.
Serve with some fried potatoes.
---
Kind regards from the team at JPP.
Having trouble viewing this newsletter? The online version with pictures is available Here