October 2008 Newsletter
Our monthly email newsletter reports on the state of the Melbourne Real Estate market, keeps you informed and up to date on what's happening at JPP Buyer Advocates, as well as presenting some of our recent success stories.
to Subscribe, send an email to: chris@jpp.com.au
to un-Subscribe, send an email to: chris@jpp.com.au

| | |
| --- | --- |
| | JPP Property Seminar |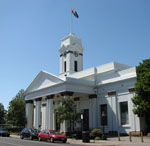 Just a quick reminder that our next Property Seminar will be held on Thursday, November the 13th at 6:30pm, at the Glen Eira City Council Town Hall, corner Hawthorn and Glen Eira Roads, Caulfield.
The main topic will be Negotiation: A Buyer's Perspective. Our special Guest Speaker will be Grant Rheuben from X-Inc finance, who will also be able to answer questions regarding recent changes in interest rates & the First Home Owners Grant.
For more information, please refer to our seminar information (PDF File).
Bookings are essential as places are strictly limited, so please register your intention by emailing Courtney at courtney@jpp.com.au or calling us on (03) 9523 1054. Our seminars are free of charge and carry no obligation.
| | |
| --- | --- |
| | Market Overview |
This opinion of the market has taken me nearly four hours to write this morning. I have had about 6 phone calls from clients, past clients, reporters and friends asking me "what is happening in the market?"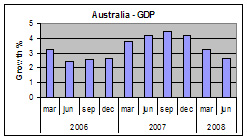 The current market is being driven by two opposing forces. One, similar to the stock market, is falling confidence. All the papers are talking "recession" with one analyst in the paper this morning saying Australia will be in recession by Christmas. Last time someone explained economics to me, a recession is two successive quarters of negative growth. Growth in Australian GDP was 2.7% in the quarter to June 30 and this means it is technically, as well as unlikely, for Australia to be in Recession by Christmas.
The other influence on the property market is Supply and Demand. Supply is very low for good properties throughout the Melbourne Metropolitan area at the moment. Demand is getting stronger for good property. Therefore prices should go up as demand outstrips supply. We also have a dramatic a rental crisis, long term serviced apartments have exceptionally high occupancy rates, a growing population and a reduction in new housing approvals.
These two opposing influences are keeping the property market buoyant. As interest rates are dropping, and rents are rising, we can see investors who are looking for some stability of investment, heading back to the safety of bricks and mortar. We also know that if there is a choice between an over $1M investment and under $1M that offers a better return and a similar or better capital growth then it is obvious to go after the properties that show excellent long term growth, and are cheaper to purchase and offer a much lower volatility in price.
In my opinion, this can only lead to a growth in property prices. It will start in the sub $700k category and then move, slowly, into higher price brackets. Within the next 6 - 12 months, properties below $700 will begin to sell strongly. And, if we add to this the government incentive of doubling and / or tripling the First Home Owners Grant, we should see very good growth in this sector. Properties over $1.5M will always sell depending on whether the agent and vendor pitch to the correct price. Good property always sells well, average or poor properties sell at the right price and tend to fail when marketed above their correct price range.
Investors or owner occupier's main dilemma is now getting good advice on what they will have to pay at any given time in the market. Prices will fluctuate dramatically in the next 12 months. Buyers can save tens of thousands of dollars by knowing the market and having a professional negotiator on their side. Remember, the vendor will be using a professional to negotiate – so should you.
If you have any comments or would like to have a chat, please do not hesitate to email or give us a call.
| | |
| --- | --- |
| | Sam's Facts |
Fact No 1: Numerous First home buyers are NOT getting new home contracts looked over by licensed solicitor or conveyancer OR not using a licensed Buyer Advocate.
Fact No 2: There are some Shonky building companies happy to rip off our first home buyers & scare them from one of the biggest enjoyments they should have - purchasing their first Home!!!!!!!!!
And this is a shame!! ( Our first home owners are our future property moguls - if they have the right advice to start with)
The answer to the question in the September newsletter is:
Question : What are the dates of the London Olympic Games and Paralympic Games?
Answer : Olympic Games: 27 July - 12 August, 2012. Paralympics: 29 August - 9 September, 2012.
October Question: When purchasing a new home is a fixed contract price fixed???
If you don't know this answer - Don't guess? GET ADVICE!!!! Call us for a free no obligation meeting.
| | |
| --- | --- |
| | Melbourne City Romp |
Part treasure hunt..., part 'Amazing Race'..., part puzzle...A report From Sam's perspective!
If your co-workers come to you and ask if you want to do the Melbourne City Romp (which I had no idea what it was) ... Look into it before you say yes!!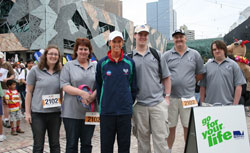 Prior thoughts of this event were, lets help raise funds for the Burnet institute... JPP Buyer Advocates donated funds & were lucky enough to have Renae Hallinan from the Melbourne Vixens netball team join our team.
After meeting at Federation Square for 10am start we were given our first clue, which was to get to Melbourne University.
Onto the tram we went - After getting to the uni you had to find the meeting place, then given challenges & clues to solve in order to continue on. Each challenge was worth a number of points, so of course since we had a high profile sports player on our team who was used to winning, our aim was to try to win!! Which meant we had 4 hrs to get as many meeting points as possible via clue sheets. (56 possible meeting points, spread all over Melbourne, AND I MEAN ALL OVER MELBOURNE)! You were allowed to use public transport, But no taxis...You were not allowed to Run (this suited me fine!!)
I have added some of the photos which were taken; having one of the three celebrities available on our team meant we had paparazzi (not really - only 2 photographers) following us everywhere.
Not always a good look as we WALKED in excess of 10km up hills, down hills, through the Melbourne Museum, through the Fire brigade museum, through the Fitzroy gardens ( I will go back there one day & spend more time), Down to the Swan St bridge, the MCG, through Birrarung, through MYERS Melbourne, through China town, through City Square, The national Gallery of Victoria, seriously I saw more of Melbourne in 4hrs than I think I have seen in many years!!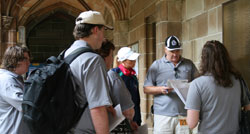 Do I remember much of it? Well I remember our fearless leader - Courtney (Team Captain) kept the team together & kept us all on track, she was a great leader: even Ian took direction from her...............
Are my feet sore - YES!!!!!!!!!!!!!!!!!!!!!!!!!!!!!!!!!!!!!!!!!!!!!
We will be doing this again next year & looking for more people to join us, it was really a great day to get workmates, family & friends together!
This year 15,000 participants raised more than $219,000 for the Burnet Institute!!!
| | |
| --- | --- |
| | Spotlight on Melbourne Suburbs |
In our regular spotlight section we examine a selection of Melbourne suburbs, highlighting what's happening in these areas right now.
Brunswick
LGA: City of Moreland
Population: 20,780 (2006 Census)
Postcode: 3056
Area: 5.2 km²
Location: 6 km North from Melbourne
State District: Brunswick
Federal Division: Wills, Melbourne
Brunswick was originally a stopover for those in search of gold heading to Bendigo and Ballarat. With many people moving through the town business began to pick up meaning more shops and businesses were needed. According to Moreland City Council's history information, by 1891 Brunswick had a brickworks, nail and rope factories, two banks, three schools, two newspapers, five railway stations, a Mechanics Institute and three fire brigades; much more than any of the towns nearby.
With such a strong start, Brunswick became a great location for immigrants to settle. It became home to many Italians, Greek, Turkish and Lebanese just to name a few. To this day Brunswick is still very multicultural; you just have to walk down Sydney Road to witness this.
Brunswick is home to two fabulous shopping strips; Lygon Street and Sydney Road. Lygon Street has cafes, restaurants, clubs, pubs and many boutiques all in the one place; but Sydney Road is the real heart of Brunswick. There is an abundance of choice when it comes to restaurants and cafes, not to mention fresh foods at the Brunswick Market. Sydney Road is also fast becoming a one stop shop for everything wedding and formal.
There is access to Brunswick via trains, trams and buses. There is a tram running up and down to get you up to Moreland Road or down to Toorak Road in Toorak. The 'Upfield' suburban train line services the area, with no less than three railway stations: Jewell, Brunswick and Anstey.
Brunswick is made up of a mix of beautiful period homes; predominantly Victorians and Edwardians; townhouses and apartments. There are also a variety of modern homes spread throughout.
With everything Brunswick has going for it, it has become a very trendy, eclectic suburb to live in.
Median House Prices
Lower
Quartile
June 08
Median
Upper
Quartile
June 07
Median
Annual
Change
Brunswick
$469,000
$563,750
$680,000
$510,000
10.5%
Source: REIV.
Rental Analysis
Median Advertised weekly rent
Gross rental yield (%)
$360
3.6%
Figures for 12 months to End of March 2008. Source: Australian Property Monitors.
---
Prahran
LGA: City of Stonnington
Population: 10,651 (2006 Census)
Postcode: 3181
Area: 2.1 km²
Location: 5 km South East from Melbourne
State District: Prahran
Federal Division: Higgins, Melbourne Ports
Founded in 1837, and nestled neatly between the suburbs of Windsor, South Yarra and Toorak, Prahran derives its name from two aboriginal words meaning 'land partially surrounded by water'! During the early 1900's the famous Chapel Street shopping strip developed to such an extent that it rivalled Melbourne's Business District. It remains one of Prahran's main attractions and contains a large number of commercial buildings on the Victorian Heritage register. These include Prahran Arcade (built 1889), Reads emporium (1914), Big Store (1902), Maples Corner (1910), and Love & Lewis (1913) - to name but a few.
Chapel Street isn't the only attraction Prahran offers. Geville St is another shopping location full of trendy bars, restaurants, and small boutique shops that suit the ethnically diverse population Prahran attracts.
Small gardens such as "Grattan Gardens' and 'Chapel off Chapel' are scattered around the suburb and further add to its character and appeal.
Consisting mostly of single fronted Victorian and Edwardian terrace homes, land sizes are generally small and expensive. Typical buyer profiles for the area come from single couples and young professionals who enjoy the 'yuppie' atmosphere and an easy commute into the CBD. As of June 2008 the median house price for Prahran was $825,000, with an 11 year growth of 13.05% (2007 – 1996 REIV & Valuer General Data.) Prahran is amongst the top suburbs in Melbourne in terms of long term capital growth trends.
The streets are generally narrow with limited street parking. Properties that have parking available from a right of way at the rear or in some cases at the front are rare and therefore attract greater buyer interest. With land sizes so small, many of the properties have been extended to create a second level. However, because of the pretty architecture, most of the homes are heritage listed and therefore restrictions are in place to ensure the area maintains its street appeal.
In terms of investment criteria the location ticks many boxes – particularly for those buyers looking for a low maintenance 'set and forget' option.
Median House Prices
Lower
Quartile
June 08
Median
Upper
Quartile
June 07
Median
Annual
Change
Prahran
$725,000
$825,000
$1,125,000
$783,500
5.3%
Source: REIV.
Rental Analysis
Median Advertised weekly rent
Gross rental yield (%)
$475
3.3%
Figures for 12 months to End of March 2008. Source: Australian Property Monitors.
| | |
| --- | --- |
| | Fishing Westernport |
The fishing column is kindly supplied by Dean Tolra of Rigmaster Tackle.
The Snapper are in!!! Reports of catches are starting to flow in ranging from 3kg to 5kg; the odd 8kg+ fish are also around. The best bait (as we already knew it would be) is fresh Squid followed by the humble Pilchard and Salmon fillets. The best time to get them is the last two to three hours of any run out tide, day or night. Anchor your boat right over the bottom gutters of channels. They move in the same patterns as the Gummies this time of year, so sitting out off Lysaght's in the middle of the main cannel with the other 2000 boats is not the place to be. For the big Snapper move over to the gutters. Or, take a drive around to the Joe Island area of the Port, Bolton and Bourchiers Channels or the back of Joe Island "North side".
We have been going out at night to escape the crowds and the added bonus is a Gummy or two is almost a certainty; best baits for Gummies is Salmon fillets and Fresh Squid. If you want to buy some Salmon they also call it Bay Trout in fish shops you can get them in Springvale "Fresh" at around $4/kg. Grab some fresh Pilchards and Squid while you are there. Make sure it is fresh as they defrost frozen and call it fresh.
See ya out there, Dean.
Dean has kindly sent us a lot more tips on catching snapper; you can read the rest of his tips here.
| | |
| --- | --- |
| | Negotiation - A Buyer's Perspective |
After several requests from some of our overseas readers, who have not been able to attend any of our current seminars, here are Ian's notes from his talk about negotiation. These are notes and not a template for a "do it yourself" negotiation - these notes are meant to form the basis of discussion.
Definition:
Negotiation is a dialogue intended to resolve disputes, to produce an agreement upon courses of action, to bargain for individual or collective advantage, or to craft outcomes to satisfy various interests.
Real Estate:
In order to purchase property you must NEGOTIATE with an agent. If he or she is the auctioneer he is likely to be the agency principal. This would put them in the same league as a "Queens Counsel".
Ask questions that you may know the answer to:
Once you have assessed the property and carried out all legal and building due diligence and know what it is worth (this is a whole other topic on its own – get professional help) then ask the agent what he would sell the property for. If he low-balls, he may need interest in the property. If he high-balls he may have interest up to a certain level, so he doesn't need any more low offers, he only wants to deal with you at a higher level. If he is genuinely accurate, his vendor might just want to do a quick quiet deal and move on. This is not an exact science and you do not get to know everything about the agent through one question.
Some other questions

What are the settlement terms – are these negotiable
What deposit – will the vendor take a deposit bond
Is a finance clause OK?
When is the right time to put in an offer?
When is an offer an offer? – When it is in writing on a prescribed form and is accompanied by the signed vendors' statement. Without a vendors statement the only person that can be bound by contract is the vendor. A good selling agent will not allow this.
Can I offer during an auction campaign?

"The agent told me that the vendor wants to go to auction, so I can't put in an offer" – There are two things to note here. The vendor "never" runs the sales campaign, whether an auction or private sale. Secondly, as soon as the vendors' statement is available any offer put before the agent will be passed on to the vendor. They don't have to accept it, but there is a 99.9% chance they will see it

Timing of the offer:

Assuming an average vendor and an average agent, running a normal campaign.

First week – both agent and vendor are feeling very confident.
Second week – agent hasn't made many offers above reserve and vendor starting to wonder how things will go. Agent knows what will happen and remains confident but allows some doubt to creep into Vendors psyche.
Final week before auction – Agent will be "unconfident" of reaching above expectation. They will be trying to limit the vendor's expectation so it will be possible to achieve a result. Vendor will be wondering whether they will have spent $6000 on advertising for "no result". PUTTING IN A STRONG OFFER IN THE LAST WEEK OF A CAMPAIGN HAS ACHIEVED STELLAR RESULTS FOR OUR COMPANY
How long do you leave an offer open for
Having an offer open during an open for inspection is not a good idea. It gives the agent the best possible chance to "shop" the offer amongst people who are drawn by advertising to the property.
The length of time before your offer lapses should be relevant to the strength of your offer. The stronger the offer – the shorter the time for the vendor to consider.
Your lapse time can set the "tone" for the whole negotiation.
What is the strength of my offer
This is not how much!!!!!!!! The strength of your offer depends on

The amount
The settlement terms
The deposit amount and whether or not it is in cash
Any conditions such as finance or building inspection
When you are making the offer
How long it is open for
Whether you have changed any special conditions
Are you wanting vacant possession or receipts of rent
What do I do if my offer is rejected
During the entire negotiation process you must remain credible
If you have already said this is "everything I have" and you have lied!! Then where do you get the next $5k so you can make a further offer
Ask for a counter offer – get it signed by the vendor. (special caution – we are getting close to needing to understand contract law of "offer and acceptance"
Change terms rather than price. $567,000 may have been rejected on 30 days but might be accepted on 60 days settlement
If you offer more – say you got some money from a relative – remain credible.
How many offers can I make
Legally you can offer as many times as you like. But if you offer more than twice without the vendor moving you are seriously losing credibility.
Opening offer – if rejected consider another if the second is rejected you need to get the vendor to make an offer to you.
What to do when asked – "is this all you have"
Some agents will ask you to sign a form stating this is your top amount – Ask them to sign a form where the vendor states they will never accept anything less than this offer.
No Matter What – the vendor's agent must understand that you can easily walk away. Making a second offer before the first one is rejected is not showing an exceptional "poker face".
| | |
| --- | --- |
| | Recipe: Whole Baked Snapper |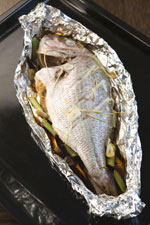 As Dean mentioned the snapper are in, and nothing can beat snapper that you have caught yourself.
Preparation time: 15 minutes
Cooking time: 40 minutes
Serves: 4
Ingredients:
1 snapper, (about 1kg)
2 large cloves of garlic
ginger, walnut-sized piece
5 spring onions
1/2 tablespoon reduced-salt soy sauce
1/2 tablespoon sesame oil
Italian parsley or chopped coriander
black pepper
Method:
Make large double-layer of tin foil to wrap around fish like a parcel.
Pat the fish dry. Make three diagonal cuts across the fish with a sharp knife.
Chop up two large cloves of garlic. Cut a walnut-sized piece of ginger, cut into thin slivers (julienne). Cut spring onions into 2-inch pieces.
Place the fish in the foil, sprinkle the onions, the ginger and garlic over the fish and rub some into the cavity.
Pour ½ tablespoon of soy sauce over the top along with ½ tablespoon of sesame oil and a twist of black pepper. Seal package and bake in oven at 180C for 30-40min.
Open foil carefully and sprinkle Italian parsley or chopped coriander over the fish.
Serves 4 people with rice or vegetables. (Or if you are like me, this serves one on its own very nicely!!!)
| | |
| --- | --- |
| | Staff News |
JPP Welcomes Sue Blyth to the team; Sue will be looking after our accounts department. Sue is taking over from Kathy, who has decided to move on in order to concentrate on teaching accounting classes full-time. We wish Kathy well in that role and thank her for her valuable contribution in keeping things operating smoothly 'behind the scenes' at JPP.
Courtney's new kitten will be coming home soon (16/11 - Wooohooo) and still no decisions on names. I am standing my ground with no on "The Falcon" (From the ANZ ad). She is a little girl and I do not believe it suits. She is now about 8 weeks old and I just heard from the breeder that she is eating and investigating everything and everywhere.
If anyone has any better suggestions than "The Falcon" that would be greatly appreciated!!!
---
Kind regards from the team at JPP.
Having trouble viewing this newsletter? The online version with pictures is available Here