November 2008 Newsletter
Our monthly email newsletter reports on the state of the Melbourne Real Estate market, keeps you informed and up to date on what's happening at JPP Buyer Advocates, as well as presenting some of our recent success stories.
to Subscribe, send an email to: chris@jpp.com.au
to un-Subscribe, send an email to: chris@jpp.com.au

| | |
| --- | --- |
| | Market Overview |
The "clearance rate" continues its course towards 50%. The government is talking more gloom and doom than the media and the "R" word is being talked about more openly than the previous whispers in the corridors of our politicians.
Interest rates around the world are dropping sharply; our own Reserve Bank dropping 0.75% off the cash rate and the Bank of England 1.5% last week. Our big banks are grabbing a small slice of the profit each time the reserve does this. Most of the banks passed on 0.58% - 0.65%. If the banks continue to profiteer on each deduction the Reserve makes, the government and the Reserve Bank will need to come up with another solution to stimulate the economy.
It can also be said that, whilst most people that were polled by the Herald Sun last week, wish to see a drop in Australian immigration, more and more people are still travelling to Melbourne from other states and settling in the "Most liveable city in the world". This is continuing to put pressure on our infrastructure, our accommodations and our property prices. With more and more people looking for houses either to rent or buy, our demand for housing is still rising. Our supply, whilst slowly increasing thanks mainly to the First Home Owners Boost, is still falling short.
All of the above factors will lead to an increase in housing prices and will make it nearly impossible for future generations to afford to buy property. In the market under $700,000 we can see that every well located property, that is presented well and marketed accurately, tends to sell very well. We attended an auction in Murrumbeena that was a great 2 bedroom villa unit, in an excellent location. 9 different people bid on this property and it sold above where it should have. The Agents, Gary Peer and Associates, did a good job on behalf of their vendor. Another property we purchased on the weekend in Northcote was bought under the hammer just shy of $700,000. This property was extremely well located and presented and had several potential purchasers.
The first home owners grant is beginning to kick into play. Good properties around $300k - $500k are becoming scarce. If you can get into the property market, now is the time to do it. "Find" the right property, "Assess" it accurately and then have a professional "Negotiate" it for you. The best properties will not be bought without competition, nor will they be given away by the Real Estate Agents.
If you have any comments or would like to have a chat, please do not hesitate to email or give us a call.
| | |
| --- | --- |
| | Sam's Facts |

Fact: Andre Rieu
Andre Rieu, world famous violinist, pays a fulltime security person to guard his 1667 hand-crafted Stradivarius violin, which is valued at $11 million.
Quote: "Only those who will risk going too far can possibly find out how far one can go." - T.S. Eliot.
| | |
| --- | --- |
| | Some of what we have bought recently |
Elwood - Investment Apartment
Carnegie - Townhouse
Sunshine - Investment Property
Beaumaris - Family Home
Reservoir - Townhouse
Mitcham - Townhouse
Belmont - Investment Property
Elsternwick - Family Home
Geelong East - Family Home
Elwood - Investment Property
Belmont - Investment Property
Abbotsford - Period Home
Wheelers Hill - Family Home
Belmont - Family Home
Surrey Hills - Townhouse
Kyneton - Acerage
Lara - Investment Property
Albert Park - Family Home
Glen Huntly - Investment Unit
South Melbourne - Investment Property
Newport - Townhouse
Thomastown - Family Home
Macleod - Family Home
St Kilda East - Investment Property
Prahran - Family Home
Footscray West - Investment Property
Newtown - Investment Properties x 2
Toorak - Family Home
Carrum - Investment Townhouse
Prahran - Investment Period Home
Brunswick - Townhouse
Murrumbeena - Townhouse
Elwood - Investment Property
Chelsea - Family Home
Geelong West - Investment Properties x 2
Frankston - Investment Property
Northcote - Family Home
Burwood - Townhouse
| | |
| --- | --- |
| | Spotlight on Melbourne Suburbs |
In our regular spotlight section we examine a selection of Melbourne suburbs, highlighting what's happening in these areas right now.
Caroline Springs
LGA: Shire of Melton
Population: 10,880 (2006 Census)
Postcode: 3023
Area: 4.9 km²
Location: 22km West from Melbourne
State District: Keilor, Kororoit
Federal Division: Gorton
Caroline Springs is a large residential suburb that was launched in 1999 by the Urban Land Corporation. It is located 22km west of the Melbourne CBD, off the Western Highway. Map Link.
Caroline Springs is situated on 800 hectares and is made up of 8,000 lots with over 120 hectares of open space, including formal parks and gardens as well as 20 hectares of lakes and waterways. Schools, sporting facilities shopping centres, parks & gardens & all that is necessary to raise your young family are all with in the suburb. The population of Caroline Springs is expected to reach 23,000 by the year 2013.
Due to the recency and style of development (mainly newly constructed house & land packages), the suburb is home to a large number of younger families. 39% of the population is aged under 25 years, and another 54% are aged 25-54 years. (2006 Census figures).
No Rail transport available to this suburb, however it is well served by major roads and also several bus routes: e.g. a 5 min drive (5km) West of the Western Ring Road – via the Western Highway, or a 2 min drive South of the Melton Highway – via Gourlay Road.
Buses run to or from the CBD (Route 216), St Albans (Route 418), Sunshine (Route 216), Footscray or Yarraville (Route 215/223), and Albion (Route 218).
Median House Prices
Lower
Quartile
Sep 08
Median
Upper
Quartile
Sep 07
Median
Annual
Change
Caroline Springs
$285,000
$323,000
$372,500
$301,950
7.0%
Source: REIV.
Rental Analysis
Median Advertised weekly rent
Gross rental yield (%)
$280 pw
4.7%
Figures for 12 months to End of June 2008. Source: Australian Property Monitors.
---
Albert Park
LGA: City of Port Phillip
Population: 5,827 (2006 Census)
Established: 1860s
Postcode: 3206
Area: 3.2 km²
Location: 4 km South from Melbourne
State District: Albert Park
Federal Division: Melbourne Ports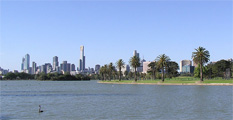 The first thing that comes to mind when you think of Albert Park is the lake. The area around Albert Park Lake and the lake itself cover approximately 225 hectares of land. Albert Park is home to the Australian Formula 1 Grand Prix: every year for one weekend in March, much of Albert Park stops for "the race". The weekend of the Grand Prix books our hotels, restaurants and brings thousands of people to Albert Park.
Albert Park itself borders South Melbourne, Middle Park and South Yarra. Map Link. It is a very affluent suburb located approx. 3kms from the Melbourne CBD. Many tram routes run through Albert Park, and the historic light rail link services the park and lake. The Number 1 tram runs from Victoria Avenue, through Bridport Street and up Park Street heading towards the CBD - this tram passes Albert Park's very well known shopping area on Bridport Street.
Albert Park does not only have the appeal of the lake; it also borders Port Philip Bay to the south. The swimming beach is well known in the area and is supported by the lifesaving club.
Albert Park's homes mainly consist of beautiful period homes. These are predominately early Victorians and Edwardians. In some of the streets you can drive down and see ten homes that have identical facades but step through the doors and they all tell a story of their own.
Albert Park has one of highest dollar per square foot prices in Melbourne. This makes property prices in this suburb some of the most volatile in Melbourne. The area has had a significant increase in the past 10 years. According to Valuer General Data the 1997 median price for Albert Park was $318,000. In 2007 the median price was $986,250. This shows an average growth of 11.98%pa over a ten year period. Within this time and of late, when we look at interim data from REIV we can see that the numbers can look vastly different to the long term results. 2007 – 2008 shows the volatility of Albert Park – in the September quarter of 2007 the median price was $1,140,000, the 2008 September quarter median was $929,000.
This is typical of top end suburbs. They are always the first to go down, and nearly always the first to go up when the market turns.
Median House Prices
Lower
Quartile
Sep 08
Median
Upper
Quartile
Sep 07
Median
Annual
Change
Albert Park
$790,000
$929,000
$1,300,000
$1,140,000
-18.5%
Source: REIV.
Rental Analysis
Median Advertised weekly rent
Gross rental yield (%)
$450 pw
2.0%
Figures for 12 months to End of June 2008. Source: Australian Property Monitors.
| | |
| --- | --- |
| | Fishing Westernport |
The fishing column is kindly supplied by Dean Tolra of Rigmaster Tackle.
The Big Spring Snapper have started to thin out early this season lets hope they have a second run, last year there was a second run in early December: fingers crossed.
The water temp is up around 17deg and this has brought the Pinkies in early this year. They are all very fat and healthy and put up a great fight for their size. It has been hard to get one under size and most around the 2kg mark. This is a great sign for the future of this magnificent species. (PLEASE take a photo and put the Big Breeders BACK). Best baits are the humble Pilchard and FRESH Squid, also another good bait is chicken fillets soaked in tuna oil. (Give it a try). The best spots; well just about any where there is a hard bottom or reef as there is billions of them it is going to be harder not to catch some.
Gummies are going well, the last full moon was very productive with good number of large fish taken. (Again take photos and put the big females back).
The Whiting: well we haven't been chasing them of late, however there has been some very good reports on good size fish taken off the Middle Spit, Tortoise Head and Gentle Anne Channel.
We have just received a new shipment of Quiver Tip Whiting Rods perfect for these tenacious little buggers at a crazy low price of $19.95 made by Silstar and branded in our name. Drop in and say hello to our team at Bait and Tackle Direct, 175 Cheltenham Rd Dandy.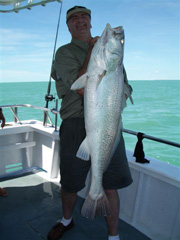 If anyone is going North for Christmas, Jewfish should be on everyone's wish list!!
Dean has kindly sent us some more tips for the coming weeks; you can read the rest of his tips
here
.
| | |
| --- | --- |
| | Wise Buying |
A common and somewhat over used adage when talking real estate is 'location location location'. It's often heralded as the most important aspect of any potential purchase. However the priority should be on another common three word phrase: 'education education education'.
Where and how do you educate yourself in the subject of 'wise buying'? You may think it's easy - after all there is plenty of free advice out there isn't there?
Numerous property magazines written by the 'rags to riches' elite who made their millions from property investing.
The friendly local real estate agent - expert in the area - always willing to throw in his 'two bobs worth'.
Friends are always experts. Their stories pour out over a Saturday afternoon BBQ, as they recall their own experiences.
It's like talking politics, everyone's got a conflicting opinion and most think their way is best. So how do you sort the wood from the trees and more importantly who do you trust?
I recently had a conversation with a selling agent who told me he advised a friend to purchase a unit because it was listed at the 'right price and in a good location'. However a couple of surprising facts arose. First of all the friend did not negotiate on the price. No need to argue - the local expert had told him it was well priced. The location was a busy 'cut through' road. Is this a deal breaker? Well it may be if he needs to sell in a 'soft market' – (in other words a buyers market) - where purchasers can afford to be fussy about the 'location location location'.
Another piece of expert advice I recently happened upon was a newspaper article about the benefits of buying serviced apartments offering a 7%+ rental return. It cited a case study of an investor who covered his loan and enjoyed a small rental yield in his pocket as a result. What the article didn't address was how he could have potentially made a better long term investment weighing up the benefits of capital growth verses rental return. He was in need of good 'education education education'.
Usually people have a motivation behind the advice they give. A sales agent is of course going to promote his own listings. Newspaper articles write a story to sell a story. And the neighbour or friend will have limited experience based on their own needs, not yours.
We ONLY BUY PROPERTY: the only person we work for and advise is YOU!
We negotiate hundreds of deals each year – we're property buying experts and we know how to SAVE YOU MONEY!
Our opinion is biased in your favour, and the only one that should count. That's why we should be the first port of call in your 'education education education.'
| | |
| --- | --- |
| | Recipe: Warm Potato Salad |
Very few of us eat healthy enough at this time of year. So, coming into BBQ season a nice potato salad is always good. You'll feel better having a bit of salad on your plate when it is mounded up with chops and snags. Enjoy!!
INGREDIENTS
500g cocktail potatoes
2 tablespoons oil
2 chorizo sausages, sliced thinly
1 onion, sliced thinly
1 heaped teaspoon seeded mustard
2 tablespoons red wine vinegar
2 tablespoons extra virgin olive oil
½ cup parsley leaves
½ cup chives, chopped into 3cm lengths
Salt and pepper, optional
METHOD
Boil potatoes in large pot with salted water, drain.
Heat medium frying pan. Add half of the oil and fry chorizo and onions until browned and crisp, tossing pan often.
Combine mustard, vinegar, olive oil, parsley, chives and salt and pepper in large serving bowl. Add warm potatoes that you have chopped or lightly crushed, onion and chorizo and toss gently to combine.
Recipe from Fresh - The Australian Womens Weekly.
| | |
| --- | --- |
| | Staff News |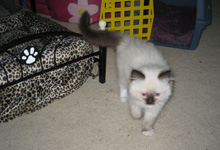 Courtney's kitten finally has a name: Dax
Dax is finally home and settling in. She is 12 weeks old and has the appetite of a horse. Her colouring has changed since the last photo and as you see she looks a lot more grown up. Her colours should now stay the same - she has seal on her face and she has white mitts.
Dax has taken over at home and she already knows how to get away with anything.
Courtney
| | |
| --- | --- |
| | Christmas Holidays 2008-09 |
JPP's office will be unmanned for the festive season between December 17, and January 12, 2009. Messages, emails and mobiles will be answered.
Further details will be sent out as we near the end of the year.
---
Kind regards from the team at JPP.
Having trouble viewing this newsletter? The online version with pictures is available Here