Welcome to our first newsletter for 2008: Sub Prime issues, stock markets falling all over the world, interest rates going down in the US and potentially up in Australia. We have a ten year drought seemingly coming to an end with FLOODS which may well reinvigorate our massive primary industry. The Chinese and Indian economies are becoming the dominant force throughout the world and they are major trading partners of ours. Chris Richardson from Access Economics has been reported to have said Iron Ore price increases for the year will inject more spending into the national economy than our stock market losses of last month. So what is going to happen to the Melbourne property market??
MARKET OVERVIEW
We have just seen the results of the first weekend's auctions that carry some importance. Next weekend has over 1100 scheduled auctions. We can take the results from last weekend and analyse them effectively as there were over 600 properties on the market. We know from the results published in the Herald Sun that less than half the properties offered for Auction on the weekend were eventually sold. Even though clearance rates talk about 72% this includes all properties sold before, sold after and passed-in then negotiated on the day. The amount sold under the hammer would probably be closer to 25% - 30%.
Prices over the weekend were exactly as expected. Those properties with excellent location, amenities, good accommodation, a little bit or a lot of "WOW" and priced and quoted correctly sold very well. For example a 3 bedroom unit in Lorranne Street Bentleigh was quoted $570k - $630K and was well built, presented well and is in a fantastic location. We had estimated $720 - $730K to our client and it sold $735K. It was "on the market" at $650k. This was slightly above expectation and although there were three other bidders we counselled our client to pass and move on to the next one.
Alternatively a 4 bedroom renovated family home in Chapel Road Moorabbin on 820sqm was quoted $600k - $660k sold for $646K. Comparable sales last year are around this price and if it were this time last year that would have meant a significant jump in price.
Agents are asking us to do deals in some instances and others are rejecting our offers. Next weekends results will either signal another year of unprecedented growth or a tempering of the market. We will see a lot of stock on the market in the new estate areas but they will again most likely be facing single digit capital growth. This means they are struggling to match CPI. There will also be more total stock come onto the market as people try to cash in on growth over the last few years. GOOD PROPERTY WILL STILL SELL EXTREMELY WELL BUT AVERAGE PROPERTY WILL NOT. Property selection, assessment and negotiation will become far more crucial than ever before.
Melbourne has about 1000 people per week moving into the most liveable city in the world. There is a finite amount of property on the market and if we look at every major city on the planet, all good property goes up, average property has average growth and poor choices can cost you a lot of money. Professional assistance should be sought by all prospective property purchasers this year.
SOME INVESTOR TIPS
Property Investors, don't wait until tax time to get prepared.
Remember to keep all receipts of monies spent on your investment through out the year. An Excel document is an easy solution to keep your list through out the year & it saves you time. This can be given to your accountant at the end of the financial year.
Have a reputable quantity surveyor do a depreciation schedule on your property, such as Washington Brown. There are several others; look up on the web, or email us for more info and we can give you more companies.
Have bank account statements available for the accountant. (Accounts receiving rent & interest). Your property manager should be able to give you a statement of what they have received.
If you have added to your portfolio or sold a property in this financial year, all bank documentation with regards to this for capital gains purposes will be needed.
If you haven't added to your portfolio as yet, now is as good a time as ever. Give us a call or email us we can give you the latest information with regards to the capital growth over the last 12 months in the areas you have already bought in, and suggest some other areas you may not have thought of.
Finally, be sure to check out our website for all the latest news at www.jpp.com.au
Look forward to hearing from you.
SPOTLIGHT ON MELBOURNE SUBURBS
In our regular spotlight section we examine a selection of Melbourne suburbs, highlighting what's happening in these areas right now.
Glen Huntly
Population: 4085 (2006)
Postcode: 3163
Area: 0.9 km² (0.3 sq mi)
Location: 13 km (8 mi) from Melbourne
LGA: City of Glen Eira
State District: Caulfield, Oakleigh
Federal Division: Goldstein, Melbourne Ports
(Source: Wikipedia)
Glenhuntly is a suburb that should begin to change. It has a shopping strip, train line and tram and has close proximity and similar feel to Caulfield. Whilst Caulfield is seen as trendy, has excellent cafes amongst its many shopping strips, Glenhuntly has yet to come of age.
However, the growth that Glenhuntly has seen in the past few months has been phenomenal. The unit change in the September quarter was 44.3%*. Overall from September 2006 – September 2007, the annual change in units was 26.8%*. With this growth through the suburb, you can see the improvements. There are new apartments being built, the shops are slowly getting dressed up to show that they can compete with Caulfield and Carnegie.
Whilst 39.8% of properties in Glenhuntly are rentals ** owner occupiers wishing to live closer to the CBD will begin to compete with the investors and this should again dive prices throughout the area upward. In September 2006 the median price for a unit was $330,000*; in September 2007 the median price for a unit was $418,500*
Glenhuntly has many fairly average villa unit and flat developments and this offers a good 'set and forget' option for many overseas and local investors wanting to get into the market around $400k.
*Source – September Quarter 2007 Property Update from the REIV
**Source – 2006 Census data
Reservoir
Population: 45,970 (2006)
Postcode: 3073
Area: 19.1 km² (7.4 sq mi)
Location: 13 km (8 mi) from Melbourne
LGA: City of Darebin
State District: Preston, Thomastown
Federal Division: Batman
(Source: Wikipedia)
Reservoir is in the Darebin City Council and is located approximately 12-13 km north of the CBD. Reservoir is well supported by public transport as it has access to 3 train stations – Regent, Reservoir and Ruthven – and 2 tram lines along Gilbert Rd and Plenty Rd.
Reservoir is an established suburb with a variety of property types and has the many of the ingredients that we as property professionals consider important when purchasing good property - transport, schools, parks and shops. Reservoir has all of those and is steadily increasing in value as more and more people flock to the area, particularly those who have been outpriced in suburbs such as Coburg and Preston.
Over the last 12 months, Reservoir has performed extremely well with a 40.8% increase in the median price. The median price in December 2006 was $292,250 and in December 2007 it was $411,500.
Table of comparison with some neighbouring suburbs
Suburb
December '06 Median
December '07 Median
Annual Change
Preston
$370,500
$510,000
37,7%
Coburg
$367,500
$540,000
46.9%
Coburg North*
$338,000
$435,000
28.7%
Fawkner
$270,000
$350,000
29.6%
Reservoir
$292,250
$411,500
40.8%
* less than 30 sales
Source: www.realestateview.com.au
SAM'S FACTS
DID YOU KNOW?
A kilogram of spider's silk is stronger than a kilogram of steel.
Porcelain...
Porcelain is a ceramic material made by heating selected and refined materials, often including clay in the form of kaolinite to high temperatures. Porcelain was named after its resemblance to the white, shiny cowry, called in old Italian porcella (little pig), because the curved shape of it's upper surface resembled the curve of a pig's back. The earliest porcelains originated in China possibly during the late Eastern Han dynasty 25-220 AD.
The answer to the question in the December newsletter is:
Question: How much did it cost to develop Federation Square in Melbourne?????
Answer: Total cost: $450 Million dollars, paid for by the State Government, City of Melbourne, private sector operators, sponsors & tenants.
Question: If it wasn't Salt, what was the "gold" in the 18th Century Europe?????
The answer to this question will be published in the next newsletter.
WHY INVESTING IN PROPERTY IS STILL A GOOD LONG TERM PLAN…
Last year we saw three interest rate rises, and there was a further 0.25 percent rise a few weeks ago (05/02/08). Many may be expecting this to have an impact on the overall strength of the market and dampen property prices.
Last year we saw a dramatic rise in property prices - particularly in the inner city suburbs. There were 30% more auctions last year than in 2006. Overall, the yearly clearance rate was 82% (that is 15% higher than the previous year). And the Australian Property Monitors study of housing prices found Melbourne's median house price rose 25.2 per cent. (This was the fastest highest median in the nation).
Clients often ask if they should wait for the market to 'drop' or 'level' in price before they purchase. The current economic climate has understandably made investors nervous. However there are good reasons why property should continue to be a sound long term investment in Melbourne.
While it's true that interest rates are at an 11 year high, with another rise expected in March, NAB chief economist Alan Oster said the Reserve Bank of Australia (RBA) would begin easing rates in 2009, with the official cash rate tipped to fall to 6 per cent next year, to help bring back business confidence.
Melbourne is experiencing a population boom. The biggest growth spurt since the 1960s. The official figure for the year from June 2005 to June 2006 was 49,000 - far more than Sydney, Brisbane or Perth. This brings Melbourne's budding population to over 3.68 million. (An increase of almost 1000 people a week!) In response to these figures the ANZ property outlook for 2007 predicted a record housing shortage by 2010 of nearly 200,000 homes. Supply and demand are one of the major driving forces in the property market. And therefore likely to be one of the biggest instigators affecting continual price growth. This doesn't pose much hope for those expecting the market to 'drop' or even 'level'.
A roll on effect of this means rental demand is at an all time high. The need for rental homes has vastly outgrown supply. Vacancy rates have hit an all time low - less than 1%. Add this to the rising cost of development, and predictions for those savvy property investors remains positive.
While residential property continues to achieve prices above expectations, and arguments over low price quoting continue, those wanting to invest in property, or even get a foot in the property market are often left confused and frightened when it comes taking on the long-term financial commitment.
We can't all be experts in property, and no one has a crystal ball to predict the unexpected. However with careful buying and the 'right' advice, property is expected to maintain its reputation as a good long-term investment.
FISHING WESTERN PORT
For those of you with the fatally compulsive love of fishing in Victoria, The last 8 weeks should have been very satisfying. I mainly fish Westerport and if you know these waters well you would understand that once fished it is hard to return to Port Phillip Bay. With the channel deepening it may well put a dampener on the fishing around the rip and indeed into the fantastic snapper fishery or Corio Bay. But that's for others to work out.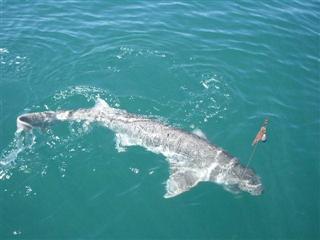 My beloved Westernport turned it on over the break. In two days out my brother in Law and I landed 5 sharks to 9ft (the largest around 100kgs). We kept one and returned the rest to grow for next year. We ended up with about 50kgs of flake which was enjoyed by all our friends and family… and neighbours and friends of neighbours… and people we didn't know who were just passing by. There was a lot of fantastic eating in just one shark.
Salmon running in schools pushing up bait fish on a scale I had never seen before. One morning there would have been an acre of bubbling water and hundreds of birds working for scraps as the salmon burst through the baitfish schools to feed. This is fantastic fun, especially for novice fisherman. You can troll through the schools but this is very impolite if there are other boats and can push the bait schools from the surface. It is just as easy to pull up alongside the schools and cast flick baits and lures amongst them. Salmon above 2 kg on light gear is fantastic fun. We kept enough salmon for bait and a feed and returned the rest to the water. We would have caught well in excess of 60 fish in an hour or so, but your arms begin to get tired once the adrenaline rush has finished.
Pinkie snapper to 60 cm are fantastic table fair and great fun to catch. They school and sit in reefs for quite a while before moving on. They are great fun for anglers as the bite is unmistakable, watching a rod sitting in a holder on the side of a boat begin to dance a touch before buckling over half way to the water. The distinctive head shake of the fish making the rod dance in your hands tells the experienced fisherman he has a nice feed for the evening. Once you have found the schools on your sounder it is relatively easy to reach bag limits, but only take enough for you and your friends to eat fresh. Freezing bucket loads of fish is not the reason we catch them, its fun to catch, great to eat but leave enough there for next time.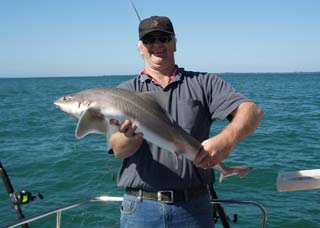 Even the gummy sharks were about for some fun for those who were patient and presented their baits correctly.
For those of you that watch the calendar, Elephant fish are due in the Port any time from now until April. Again, for novices these are great fun as they will fight hard on light gear and will school up so they are relatively easy to find.
Good luck with your fishing.
Anybody wanting tips and hints on where and when to fish in Westernport please don't hesitate to email fish@jpp.com.au
RECIPE
Sausage Casserole
This is my favourite dinner to cook if I've got home from work late or feel like something quick and yummy. Best thing about this recipe is that there is always leftovers.
Ingredients
1 packet of Chipolata Sausages
1 tin of Tomato Soup
1 tin of Crushed tomatoes
1 packet of penne pasta
Lots of grated cheese
Method
Boil a large pot of water, add pasta to boiling water
Brown sausages on all sides
Once sausages are browned add tomato soup and crushed tomatoes, allow to simmer for 5 minutes
Add sausages and sauce to the cooked pasta
Stir through cheese while everything is still hot
Pour the whole mix into a casserole dish, top with grated cheese
Cook in over for about 5 minutes, until cheese is golden brown.
Put a big scoop in everyone's bowl and watch it go down.
Kind regards from the team at JPP.
Having trouble viewing this newsletter? The online version with pictures, is available here
Contact Us
JPP Buyer Advocates
368 Hawthorn Road
Caulfield South 3162
P: 03 9523 1054 F: 03 9523 1082
E: enquiry@jpp.com.au W: www.jpp.com.au