August 2009 Newsletter
Our monthly email newsletter reports on the state of the Melbourne Real Estate market, keeps you informed and up to date on what's happening at JPP Buyer Advocates, as well as presenting some of our recent success stories.
to Subscribe, send an email to: chris@jpp.com.au
to un-Subscribe, send an email to: chris@jpp.com.au

| | |
| --- | --- |
| | Market Overview |
Two weeks ago we were asked to give a comment for the Neil Mitchell radio show. We were then asked about three properties. One sold prior to auction and with an undisclosed price. The other two sold on the weekend.
Manningtree Road: Sold $1.92
We estimated between $1.9M - $2M and would have refined this after property inspection.
2/156 Dean Street Moonee Ponds: Passed in VB $580K reserve $600k
We assumed this was worth mid $500's maybe a little higher, but as the location was poor we assumed a good chance of a pass in.
Without even visiting the properties it is not difficult to know what is likely to occur.
The issues here are did the agents do the wrong thing. The answer is simple: They had no choice but to do exactly what they did.
Had Jellis Craig marketed Manningtree Road at $1.9M - $2.0M they would not have got anywhere near as many people to the auction. The bidding would not have been as strong. If the bidding had stopped the vendor would have sold at $1.48M (On the market).
How else could the agents have quoted this property? Should they have been telling people that $1.48M will buy it but we expect it to go to $1.9M?????????????.
If buyers genuinely want to be at the right auction at the right time then they should be hiring a buyers advocate. We would have told our clients, Dean Street is a very ordinary property due to its location and that its right price would be around mid to high $500's. We would have counselled to wait for the auction and hope it passes in.
Manningtree Road - We would have counselled any client to offer strongly - somewhere in high $1.8's on the Wednesday or Thursday last week. This may or may not have been accepted, but at least we would have forced Jellis Craig to adjust their quote to above our offer and hopefully, for our buyers' sake, scared off some of the competition. Remember it is our job to work for the buyer!!
At the moment the media and the government, as well as a few agents are saying they wish to control how an agent deals with purchasers. There are already guidelines in place for this.
Would you suggest to someone to go to court without a solicitor on their side so they can save some money?????????????? Especially when they are going to be going up against a "Queens Counsel".
You will never be able to legislate that the vendor's agent is to assist the purchaser in any way shape or form. They have a contractual duty to their vendor and the vendor is shelling out a considerable amount of money for the agents' expertise. It's not feasible and it's not fair to the vendor.
This is an issue I believe very strongly about. In my opinion, selling agents are hired by vendors to assist them to get the best possible outcome for their property sale. A purchaser, who is going to make the biggest financial decision of their life, who doesn't get independent professional advice, has absolutely no reason to blame anyone but themselves if they continually miss out on the good properties.
To get a loan, most people will ask a mortgage broker, their accountant, their financial planner or at least go to a bank branch and ask for some help. When a property is purchased most people will seek assistance from a solicitor for their conveyance. If the building they are buying is old many will spend money on a building inspection, but the quintessential piece of information and the most difficult questions of all: "What is this property worth and how will I secure it against all the competition" is left to asking the counsel for the seller to answer.
How can our government continue to stick its head in the sand? The REIV is a peak industry body that exists to help the well being of selling agents. The media seems to think if under-quoting becomes a legislative issue then it will be fixed. If you wish to purchase good property, and pay a good price in a reasonable time frame then hire a professional buyer's agent (Buyers Advocate). They will make sure you know where all the available properties in your search area are, they will be able to appraise a property with a great degree of accuracy and also be able to professionally negotiate on your behalf. Be careful that your advocate is a licensed professional, who specializes in purchasing property and doesn't work for any vendors and that they give you a professional report showing comparable sales and their reasons for recommending a price on a given property.
Come in and have a chat or give us a call. If you are thinking of buying property it will do no harm to talk to a professional buyer of property.
Ian James
---
A Recent REIV Article

Melbourne housing market recovers with nine per cent increase

The REIV June quarter medians have revealed that the metropolitan median price of a house has increased nine per cent from $405,500 to $441,875...Click here to read more

Top
| | |
| --- | --- |
| | Spotlight on Melbourne Suburbs |
In our regular spotlight section we examine a selection of Melbourne suburbs, highlighting what's happening in these areas right now.
Cheltenham
Municipality: City Of Kingston
Population: 19,523 (2006 census)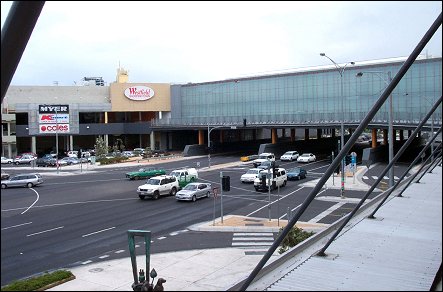 Postcode: 3192
Location: 18km from Melbourne CBD

With the growing medians of bayside suburbs some of the lesser know areas are becoming very popular. Cheltenham is about 18km from the CBD, about 25 – 30 minutes off peak. It is well serviced by Nepean Highway and the Frankston Train line, with a station in the Main Street of Cheltenham, Charman Road.
Charman Road has had an upgrade in past years which has brought people from surrounding suburbs to the area. Shopping in the area has also been helped by the ever changing Westfield Southland. Southland was built in 1968 on a block of land on the East side of Nepean Highway, corner of Karen Street. Over time it has expanded over Nepean Highway to become one of the largest shopping centres in Melbourne. It is a large drawcard for people to the area.
Most people do not think of Cheltenham as a bayside suburb, though it is less than 4km from Port Philip Bay and some of Melbourne's nicest beaches, making it a very affordable bayside area. Something Cheltenham is know for is it choices of Golf Course, including Cheltenham Golf Course, Sandringham Municipal Golf Links and The Victoria Golf Club. The area surrounding is also well known for its world renowned Golf Courses.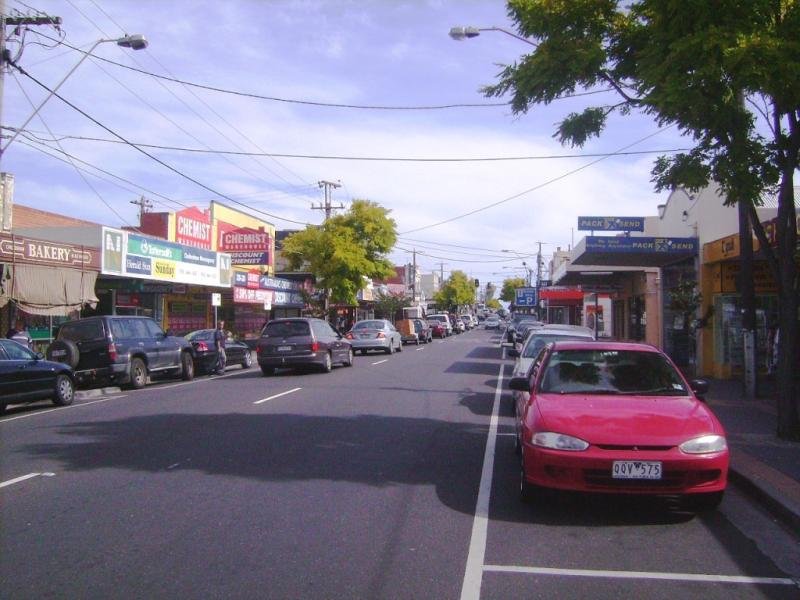 Cheltenham is very much a family area with schools scattered through out the suburb. They range from local public schools Cheltenham Primary and Cheltenham Secondary to schools that people come to the area for like Our Lady of Assumption Primary School. With parkland scattered through out the area along with some great schools the area is becoming more and more popular for families.
Median House Prices
Lower
Quartile
Mar 08
Median
Upper
Quartile
Mar 09
Median
Annual
Change
Cheltenham
$470,000
$545,000
$580,875
$503,250
-7.7%
Source: REIV. March 2009
Median Unit Prices
Lower
Quartile
Mar 08
Median
Upper
Quartile
Mar 09
Median
Annual
Change
Cheltenham
$330,000
$410,525
$435,750
$382,500
-6.8%
Source: REIV. March 2009
Photo's from Kingston.vic.gov.au & Realcommercial.com.au
Courtney James
---
Parkville
Municipality: City Of Melbourne
Population: 4980 (2006 census)
Postcode: 3052
Location: 4km from Melbourne CBD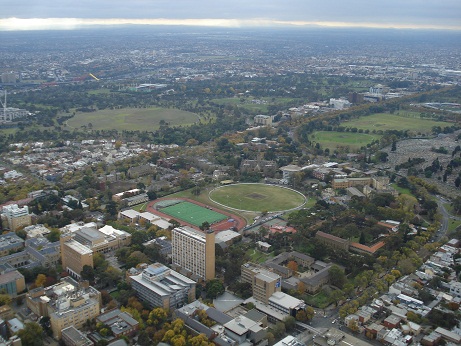 Parkville is a small inner city suburb on Melbourne's CBD fringe. A lot of Parkville is taken up by Melbourne University, bordering Carlton to the East and the CBD to the South. The Precinct includes The University itself as well as numerous other Secondary Colleges and Universities.
Parkville is also home to the Melbourne Zoo, in Royal Park. The zoo is well known in Australia and adds a tourism boost to the area. In 2006 the grounds of the old Royal Park Physichiatric Hospital were turned into the athlete's village for the Commonwealth Games. This area has now been converted to a residential area known as Parkville Gardens.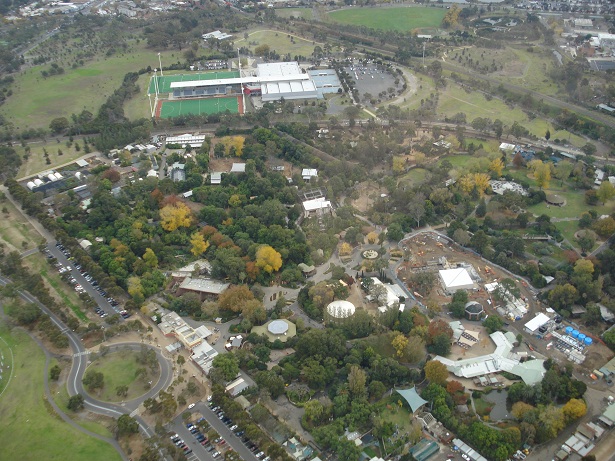 Parkville also houses some of Melbourne's largest hospitals, including the Royal Children's Hospital and Royal Melbourne Hospital. The Children's Hospital is currently being upgraded and expanded dramatically. A lot of the surrounding houses are owned by Ronald McDonald house and these homes house families of sick children while they are in Hospital.
The schools, healthcare facilities, parks and gardens and the proximity to the CBD make this area one of the most sought after locations in Melbourne and it is very easy to see why.
Median House Prices (Data Not Available)
Lower
Quartile
Mar 08
Median
Upper
Quartile
Mar 09
Median
Annual
Change
Parkville
-
-
-
-
-
Source: REIV. March 2009
Median Unit Prices
Lower
Quartile
Mar 08
Median
Upper
Quartile
Mar 09
Median
Annual
Change
Parkville
$340,125
$537,500
$415,000
$381,750
-29.0%
Source: REIV. March 2009
Courtney James
Top
| | |
| --- | --- |
| | What Does The Median Price Mean To You? |
Northcote, Thornbury, Preston, Reservoir
Below are the median prices (source REIV) of Northcote, Thornbury, Preston and Reservoir followed by an example of what the June 2009 median house price will buy you in each of the suburbs compared with the "upper quartile" median.
Generally speaking, as you move further away from the CBD, you are likely to get more 'bang for your buck' in terms of property size. Interestingly, Preston has a higher 'upper quartile' median than Thornbury (both houses and units), which is closer to the CBD. That says something about Preston.
Preston is less than 10 km from the CBD and has a variety of property styles. Not only does Preston have the Preston market, but it also has the High St shops and Northland shopping centre. Together with train and tram routes, and parks and schools, Preston is becoming a very highly sought after area for those who can't afford to buy in say, Northcote.
As many of our clients would be well aware, if you are looking to purchase in Northcote or Thornbury, why not consider Preston. At the very least you should go and have a look at the area to determine if it is suitable for you. Equally, first home buyers and investors with a budget of $450-500k should consider Reservoir as an option.
Suburb (km to CBD)
Lower Quartile
June 09 Median
Upper Quartile
Houses
Northcote(6)
$594,641
$698,750
$807,500
Thornbury(7)
$522,500
$551,500
$558,000
Preston(9)
$451,750
$498,500
$600,750
Reservoir(12)
$387,000
$425,000
$482,000
Units
Northcote
$345,000
$390,000
$495,000
Thornbury
$267,625
$323,250
$384,750
Preston
$312,338
$375,000
$403,000
Reservoir
$300,000
$327,500
$357,500
Source: REIV
Northcote
Source:
Colin Simms
Date:
May 2009
Address:
28 Gordon St Northcote
Price:
$697,500
Comments:
3 beds (or 2 + study), 1 bathroom single fronted Victorian on approx 198sqm
Source:
Nelson Alexander
Date:
May 2009
Address:
12 Grandview Grove Northcote
Price:
$800,000
Comments:
3 beds (or 2 + study), 1 bathroom period style weatherboard on approx 480sqm in need of update/renovation
Thornbury
Source:
Barry Plant
Date:
July 2009
Address:
144 Flinders St Thornbury
Price:
$550,500
Comments:
3 beds, 1bathroom weatherboard on approx 460sqm
Source:
Ray White
Date:
May 2009
Address:
89A Shaftesbury Parade Thornbury
Price:
$555,000
Comments:
Renovated 3 bedroom, 1 bathroom single fronted Edwardian on approx 252sqm
Preston
Source:
Barry Plant
Date:
July 2009
Address:
69 Madeline St Preston
Price:
$495,000
Comments:
2 bedroom, 1 bathroom period house on approx 535sqm
Source:
Nelson Alexander
Date:
November 2008
Address:
4 Symons St Preston
Price:
$605,000
Comments:
3 beds (or 2 + study), 1 bathroom Californian Bungalow on approx 642sqm
Reservoir
Source:
Ray Mascaro
Date:
August 2009
Address:
39 Henty St Reservoir
Price:
$426,000
Comments:
2 bedroom, 1 bathroom brick home on approx 504sqm in need of an update inside
Source:
Barry Plant
Date:
July 2009
Address:
51 St Vigeons Rd Reservoir
Price:
$480,000
Comments:
3 bedroom, 1 bathroom weatherboard home on approx 888sqm. Potential development opportunity
Antony Bucello
Top
| | |
| --- | --- |
| | School Zones |
School Zones, - the impact they have on the prices of the suburbs they are in.
Below are just a couple of samples to show suburbs with well know schools, with school zones, then there neighbouring suburbs which are not included in the school zones.
Glen Waverly School Zone
Suburb
Lower
Quartile
Jun 09
Median
Upper
Quartile
Mar 09
Median
Jun 08
Median
Quarterly
Change
Annual
Change
Glen Waverly House
$571,000
$645,000
$715,000
$625,944
$611,000
3.0%
5.6%
Glen Waverly Unit
$440,000
$490,444
$656,250
$450,000
$456,000
9.0%
7.6%
Suburb
Lower
Quartile
Jun 09
Median
Upper
Quartile
Mar 09
Median
Jun 08
Median
Quarterly
Change
Annual
Change
Mulgrave House
$448,020
$489,000
$613,000
$435,000
$485,000
12.4%
0.8%
Mulgrave Unit
Not enough unit sales to give an accurate figure
---
McKinnon School Zone
Suburb
Lower
Quartile
Jun 09
Median
Upper
Quartile
Mar 09
Median
Jun 08
Median
Quarterly
Change
Annual
Change
McKinnon House
$757,750
$943,750
$1,145,250
$770,888
$858,250
22.4%
10.0%
McKinnon Unit
Not enough unit sales to give an accurate figure
Suburb
Lower
Quartile
Jun 09
Median
Upper
Quartile
Mar 09
Median
Jun 08
Median
Quarterly
Change
Annual
Change
Ormond House
$652,500
$745,000
$838,000
$716,000
$890,000
4.1%
-16.3%
Ormond Unit
$341,750
$410,475
$467,875
$380,000
$345,100
46,6%
18.9%
(Above data is from the REIV)
Above is just a sample of 2 zones in the south & East, each area with good schools show similar differences. These school zones can & do change dependent on numbers to the school, so always check with the school prior to purchasing. Most of the schools do have maps on their websites with the zones.
JPP has calls daily with regards to overseas, Local & Interstate families wanting to move into these & other areas to get the best education for there children. The interest in good properties in the school zones area is always very competitive.
These 2 samples are public schools, we have not even touched base on the areas of the private schools which have excellent reputations for getting the best education.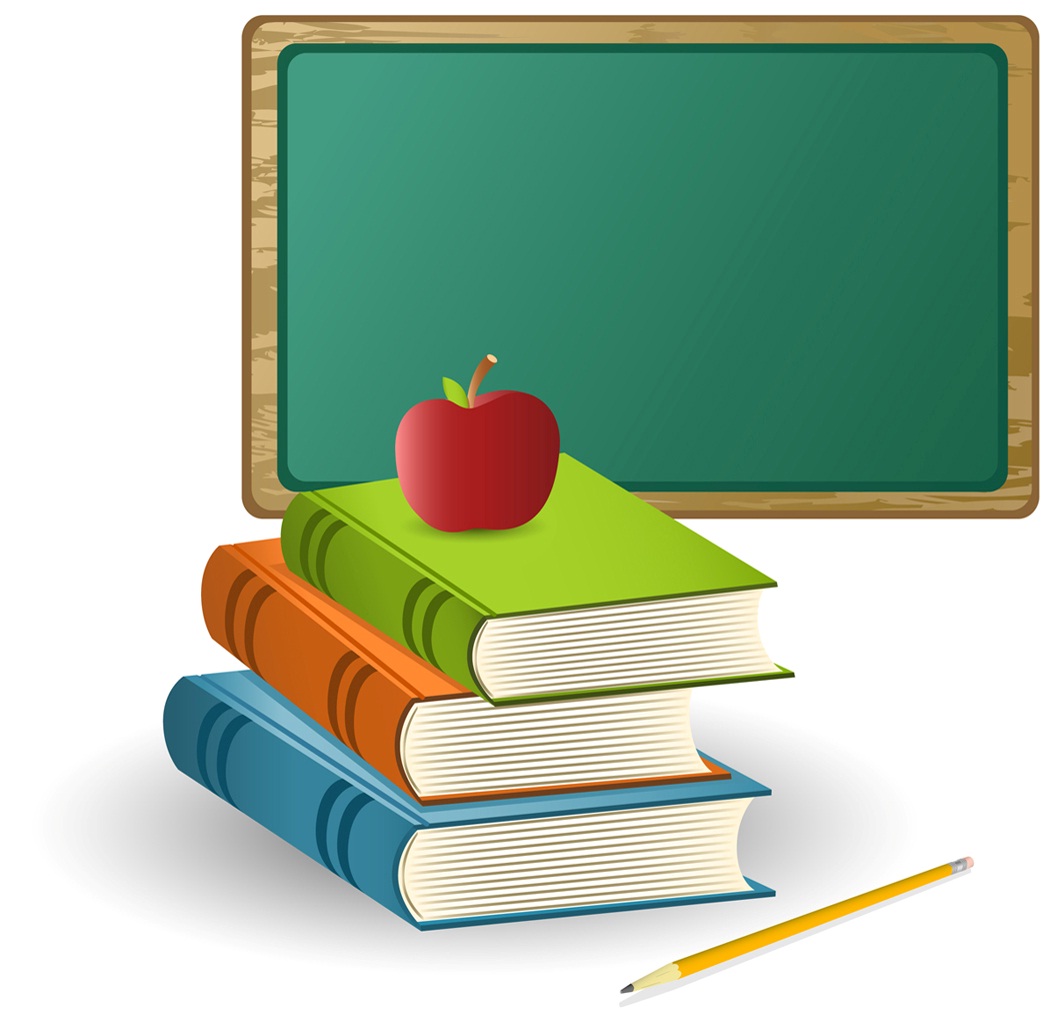 Sam James
Top
| | |
| --- | --- |
| | Finding That Perfect Investment Property |
There are many factors to take into account for this.
Firstly work out what a comfortable budget is for you & your family.
Seek advice from a financial planner if you are unsure of what your best financial situation may be.
Once comfortable with a budget & you have sought pre approval from a bank / broker, now is the time to come to get advice from a buyer advocate / buyers agent. Once engaging a buying agent, they will be able to suggest areas with in your budget that have proven capital growth in the past, (not just in the last month – which is what most papers & marketing material will tell you.) You need to know that the budget you have chosen will be able to purchase a property, be it a unit or a house on land with in your reach & will perform long term for you.
If you are looking for a good long term property investment the things to look for are:
An area which has long term proven capital growth.
Close to transport (train is usually the best, but buses & trams are also a good thing).
Close to GOOD schools, Public & Private.
Close to Shops / Supermarket.
Close to sporting fields, families renting like the idea of keeping the children fit & active, also good areas to walk the dog.
1. If you are looking for a property which is a set & forget scenario, (get the tenant to pay the rent, and get the managing agent to organise the rest,) look for a property which has been updated, with little or no maintenance issues arising. This can be house with land or an apartment.
2. If you are hoping to increase the value of your property & be able to use the equity to purchase another sooner than later, look to buy a value add potential. (not necessarily a renovate or detonate!!). It is amazing how you can update a property with a fresh bathroom, fresh kitchen, polish some boards, do a good clean up & not only will you increase your rental return & potentially get a better quality of tenant, you will increase the value of the property, enabling you to use the good capital growth you will get if you have bought in the right location to start with, you will also get the depreciation for the works you have done & hopefully make the house more likely to a larger group of buyers.
3. The third option is to buy a great piece of land with a rentable house on it & in time sub divide the block into townhouse / units. This can be very rewarding & begin an interest in property development. It can also be very stressful if you have not done the homework to begin with, so always seek advice before planning to do this…. Some areas are covered by covenants which are only single dwelling others will have building overlays on them, & many other reasons why you can not subdivide, so this is so important to contact the councils, & again seek all the expertise you can.
At JPP Buyer Advocates, we have achieved all these scenarios for our clients. We have been able to successfully begin first time investors & many who have come back for 2, 3, 4, 5 + properties over time.
Sam James
Top
| | |
| --- | --- |
| | Technology Monthly |
Pandora
The Pandora is a portable gaming/work/internet device made by a group of people who wanted to try their hand at building a portable computer without sacrificing function for cost, and it looks like they may achieve this.
Using the input from thousands of users on their forums, they have built the Pandora from the ground up, not to go head to head with Sony's PSP or Nintendo's DS, but as a more serious device, designed to interest hobbyists and retro gamers, as well as programmers and modders, promising that this will be the most powerful handheld in the world, with great battery life and open source functionality.
Unfortunately, as time goes on, and with the speed that technology is increasing, they may find that by the time they launch this device, there will be something similar on the market. I hope this is not the case as the popularity of the Pandora will hopefully inspire the future 'garage designers' to come out of hiding and show that you don't have to own a multi-million dollar company to compete in the portable market.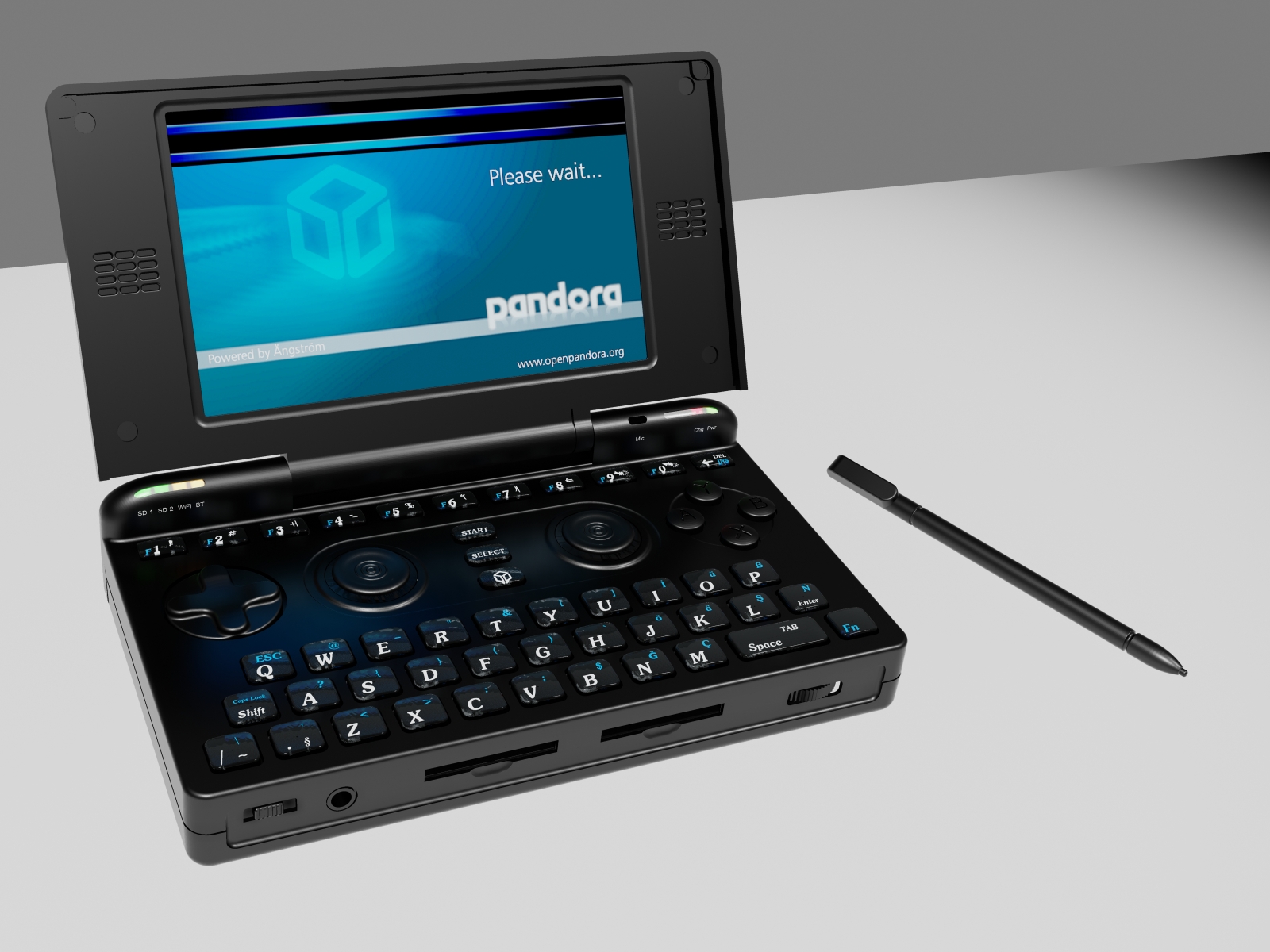 ARM® Cortex™-A8 600Mhz+ CPU running Linux
430-MHz TMS320C64x+™ DSP Core
PowerVR SGX OpenGL 2.0 ES compliant 3D hardware
800x480 4.3" 16.7 million colours touchscreen LCD
Wifi 802.11b/g, Bluetooth & High Speed USB 2.0 Host
Dual SDHC card slots & SVideo TV output
Dual Analogue and Digital gaming controls
43 button QWERTY and numeric keypad
Around 10+ Hours battery life
The initial run of 4000 units is now sold out (although if you email them, they may be able to let you know if a pre-order is cancelled), and the manufacturers are running a few months behind, so if you are interested it may be a while until you can order one (I have pre-ordered mine, and will do a full review when it eventually arrives).
Chris Thursfield
More info can be found at Openpandora
Top
Ingredients: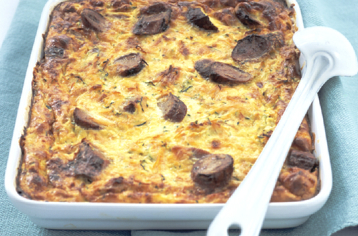 3 teaspoons olive oil
1 brown onion, coarsely grated
6 thin beef sausage
1 carrot, coarsely grated
2 zucchini, coarsely grated
1 cup grated tasty cheese
1/2 cup plain flour
1 1/2 cups milk
3 eggs
Method:
1. Preheat oven to 160°C. Grease a 4cm deep, 17.5cm x 24.5cm (base) baking dish.
2. Heat oil in a frying pan over medium heat. Add onion. Cook, stirring often, for 2 minutes or until soft. Remove to a bowl. Add sausages to frying pan. Cook for 6 minutes, turning, or until cooked through. Set aside to cool for 5 minutes. Thinly slice. Spoon sausages, onion, carrot, zucchini and cheese over base of baking dish.
3. Whisk flour and milk in a bowl until smooth. Add eggs, and salt and pepper. Whisk until well combined. Pour over sausages. Bake for 50 to 60 minutes or until set. Stand for 5 minutes before serving.
*Recipe From Taste.com.au
Chris Thursfield
Top
| | |
| --- | --- |
| | Did you know? |
Jokes:
Pleasing I.T. (A personal favourite of Chris's)
01. When you call us to have your computer moved, be sure to leave it buried under half a ton of postcards, baby pictures, stuffed animals, dried flowers, bowling trophies and children's art. We don't have a life, and we find it deeply moving to catch a fleeting glimpse of yours.

02. Don't write anything down. Ever. We can play back the error messages from here.

03. When an I.T. person says he's coming right over, go for coffee. That way you won't be there when we need your password. It's nothing for us to remember 700 screen saver passwords.

04. When you call the help desk, state what you want, not what's keeping you from getting it. We don't need to know that you can't get into your mail because your computer won't power on at all.

05. When I.T. support sends you an E-Mail with high importance, delete it at once. We're just testing.

06. When an I.T. person is eating lunch at his desk, walk right in and spill your guts right out. We exist only to serve.

07. Send urgent email all in uppercase. The mail server picks it up and flags it as a rush delivery.

08. When the photocopier doesn't work, call computer support. There's electronics in it.

09. When something's wrong with your home PC, dump it on an I.T. person's chair with no name, no phone number and no description of the problem. We love a puzzle.

10. When an I.T. person tells you that computer screens don't have cartridges in them, argue. We love a good argument.

11. When an I.T. person tells you that he'll be there shortly, reply in a scathing tone of voice: "And just how many weeks do you mean by shortly?" That motivates us.

12. When the printer won't print, re-send the job at least 20 times. Print jobs frequently get sucked into black holes.

13. When the printer still won't print after 20 tries, send the job to all 68 printers in the company. One of them is bound to work.

14. Don't learn the proper term for anything technical. We know exactly what you mean by "My thingy blew up".

15. Don't use on-line help. On-line help is for wimps.
Useless Fact:
An ant always falls over on its right side when intoxicated
Brainteaser:
Q. What is an eleven letter word, which is spelled incorrectly by some of the most brilliant students of Ivy league schools?
Solution »
*Joke from lotsofjokes.com, Fact from extremefunnyhumor.com , Brainteaser from buzzle.com
Chris Thursfield
Top
---
Kind regards from the team at JPP.
If you have a friend or family member looking for property, please feel free to forward our newsletter on to them.
Don't forget to comment on our blog.
For our overseas clients and visitors, JPP now has a website translator. Just scroll to the bottom of the homepage, click 'Translate this website', select your language and then click 'Click here to return to the homepage'.
Top