March 2009 Newsletter
Our monthly email newsletter reports on the state of the Melbourne Real Estate market, keeps you informed and up to date on what's happening at JPP Buyer Advocates, as well as presenting some of our recent success stories.
to Subscribe, send an email to: chris@jpp.com.au
to un-Subscribe, send an email to: chris@jpp.com.au

| | |
| --- | --- |
| | Market Overview |
Market Comment: 02 March 2009
Everyone will tell you the stock levels are low, everyone will tell you the "clearance rate" is down from last week, everyone will tell you there is gloom and doom on the horizon and we are following the United States into the depths of despair. Is it true: NO its not.
REIV figures show us that total sales this week have increased by more than 22% over last weeks figures. Although turnover figures are still down on the same time last year, there are plenty of properties to purchase and plenty of buyers out there trying to buy them. Of the seven properties we purchased in the past eight days all were under competition, or bought within the first few weeks of being on the market.
There are plenty of doomsayers talking about us following the USA into an economic state we will never recover from. This is rubbish. Australia is nothing like the US. And everyone will eventually recover from this economic downturn. In fact history shows us that now is one of the best times to secure new assets, as the growth coming out of a recession is usually quite strong, whilst the cost of borrowings is relatively cheap.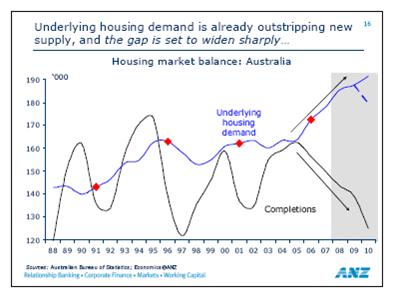 Underlying housing demand is rapidly outstripping building completions. So much so that the gap may be insurmountable for new home buyers in the future.
Whilst there are plenty of people that require somewhere to live, builders and developers are becoming scarce as financial institutions are reluctant to gamble on them with finance.
Fundamentally, overseas residential property markets are vastly different to that of Australia. Our nominal Gross Domestic Product is above and still going in a positive direction compared to both the UK and the US. Our population growth is soaring above Britain and the US. The UK is almost static and the US has begun to slow, but Australia, due mainly to migration, has increased steadily and is still going that way. The government will most likely reduce overall migration in the coming years. This will be solely a political stance based on opinion polls of voters. This will be a negative economic step in my opinion. Australia has a massive labour shortage and when we move out of the doldrums, we will require even more people. Skilled migrants don't take the jobs of average Australians! Skilled migrants don't detract from our economy! Australia is the best country in the world to live. And it is because of all the incredibly diverse ethnicity of ALL our migrants, over the past 200 years or so, and our native Australians who have been here much longer.
The US rental vacancy rates are exceptionally high and therefore deter investors from the market place. Ours are incredibly low and therefore attract the investors who can just about get neutrally geared property in excellent locations throughout the Melbourne suburbs.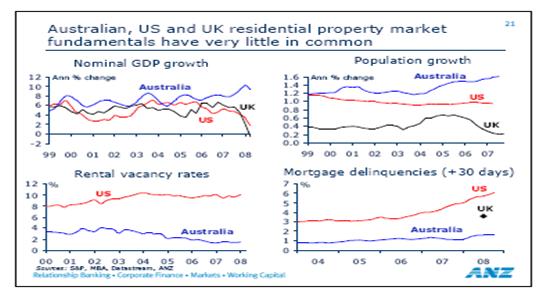 We also have a totally different system with mortgages. As you can see from the above graph, Australia's delinquencies are far below that of the US and much of this has to do with the fact that a vast proportion of US loans have mainly fixed rate loans.
This also means that when the US federal reserve bank drops rates it does not have anywhere near the effect our Reserve bank does when they drop rates.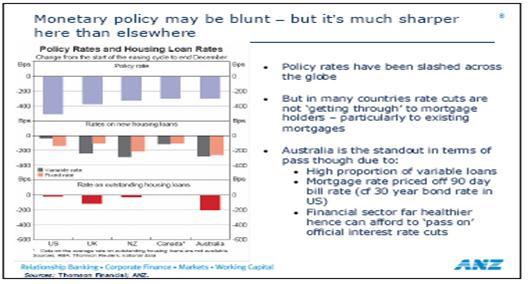 Overall, our market is quite strong and in my opinion only going to get stronger. Especially in the lower end under about $600k- $700k. Whilst our unemployment will rise, plenty of people will be out to increase their asset holdings and much of this will be in residential property. All the above data and graphs are part of the presentation I attended at the RACV club last week. The above graphs were put together by Paul Braddick, head of Financial Systems Economics at the ANZ Bank. His presentation was excellent, with extremely well weighted arguments to put Melbourne Residential Property as one of the better investments in the foreseeable future.
If you are considering purchasing property in the next 12 months, give us a call or come in for a no obligation chat. We actually buy properties throughout Melbourne on a regular basis. We are known by most of the agents across Melbourne and we purchase properties at all different levels of the market. At JPP we don't just write about property we actually buy it.
Ian James
Market Comment: 23 February 2009
The market is as hot as this time last year. There were only 16 less sales this year than the third weekend of February last year. It is only the method that varies. There were 117 more private sales last week than the corresponding week last year, according to REIV figures.
Although everyone is talking about the 77% clearance rate, this was on only 436 Auctions and therefore is not as accurate as a clearance rate on over 1000 like last year. The value of the clearance rate is losing its significance. The value of total sales numbers is much better.
Of the four properties we have purchased over the weekend, only one was purchased at auction. What we couldn't purchase before auction all went strongly over expectations. These ranged from a $400k+ "renovators delight" to a stylish $1m+ family home in the Eastern suburbs. And whilst I would say the $1.5M and above range is quiet, there are still quite a few quiet sales and good property will always sell well.
Properties below $1m have launched themselves into a sellers market again. Investors looking for revenue neutral property in excellent capital growth suburbs, those who are up-trading from the $500k - $1M range, those who have cash for a deposit and are renting and first home buyers are all pushing the demand for property well in excess of the supply.
Companies like Mirvac, Stockland, Australand and Lend Lease are inundated with enquiry from first home buyers, so much so they do not have the stock to sell to them. This in turn puts pressure on the established market where there are even less properties. Investors who can now get about 4.5% yield and are only paying just over that for finance are also making the demand increase.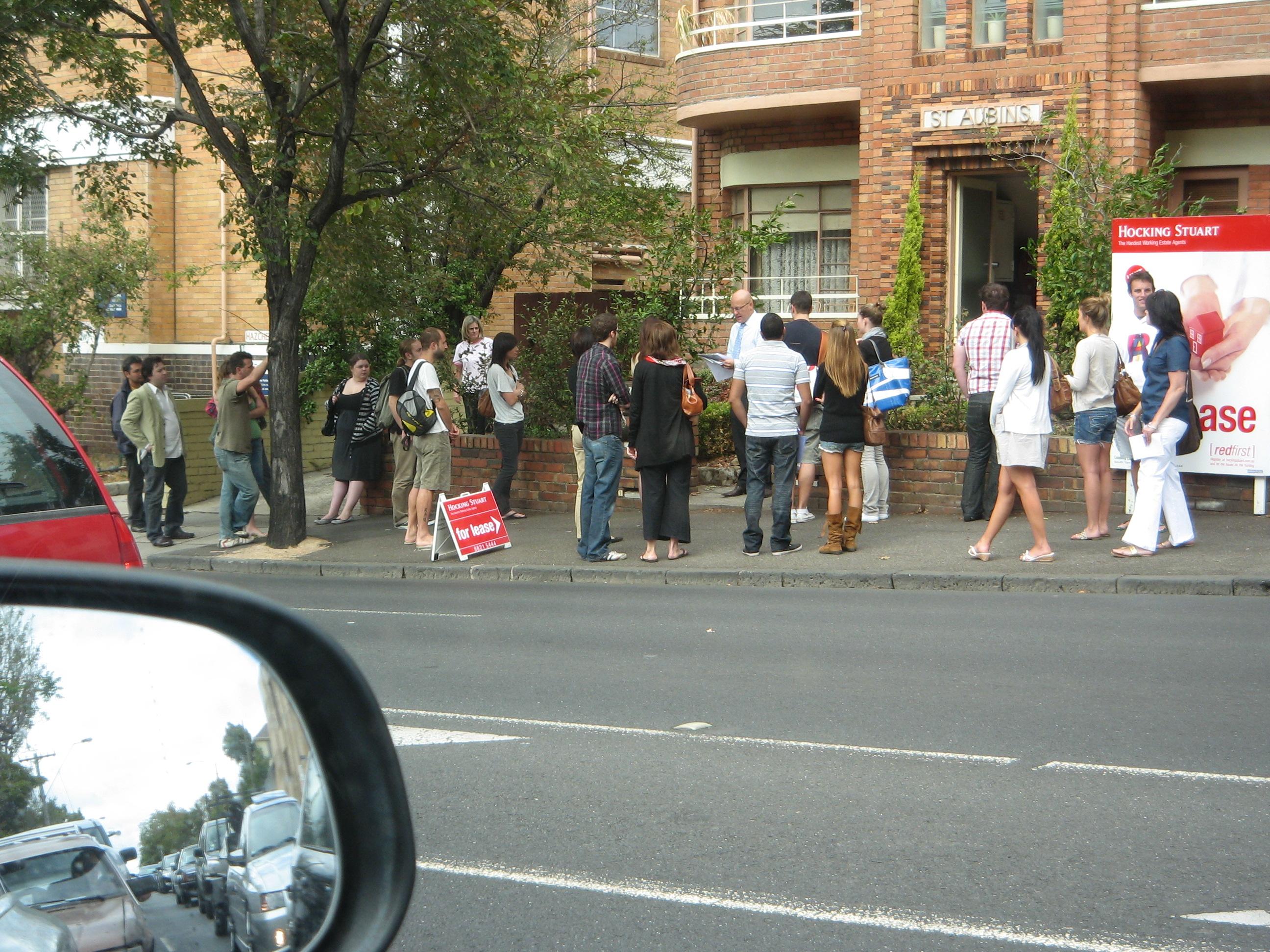 More and more people are finding it difficult to rent. I was passing this property on Saturday. This is not for sale, this is an open for inspection to lease!!!!!!!
Rents are becoming as expensive as repaying a loan at 5% and this is also generating more interest in buying.
Anybody who is currently waiting around until the market falls will be waiting a very long time. Socio – economic influences can only have effect on the two core elements of price differential. These are supply and demand. Even if unemployment gets as high as 10%; people are still going to need somewhere to live. And we have more people coming into the country and into Melbourne than we have dwellings to house them.
Ian James
| | |
| --- | --- |
| | Geelong & Surfcoast Property Expo |
Come and see JPP Buyers Advocates at the Geelong and Surfcoast Property Expo!
The Geelong and Surfcoast Property Expo will be held at Deakin University's Waterfront Campus on the weekend of March 21st and 22nd.
The Expo will commence at 10a.m. daily and involve some 40 exhibitors who give professional advice on a vast range of topics and products relating to property.
During each day educational sessions will be running continually from midday with quality presenters covering topics such as : "where to buy locally", "how to protect your property investment", "how do I buy my first home", "common mistakes investors make" and more ! It is an event not to be missed if you are a first home buyer or an investor !
For details phone: 1300 001 770 or visit the website Geelong & Surfcoast Property Expo 2009
| | |
| --- | --- |
| | Frequently Asked Questions |
Throughout last year the market changed substantially. For the previous 10 or so years the market was relatively steady and on the rise. Last year and obviously moving forward, people will have to get used to new systems and sales techniques. This leads us into a whole new set of Frequently Asked Questions which we will bring to you in our newsletter each month
Q. Should I sell my investment property?
A. Unless you are in financial difficulty any investment property should be for long term. This will produce the best gains for you. This could enable you to borrow against each property & increase your portfolio, for little outlay. With rental returns at an all time high & vacancy rates so low, interest rates at a long time low also, this time is probably the best time to get into & keep increasing your portfolio. Of course if your situation is different & you need to sell, then of course anytime is the time to sell. Just be sure to choose the correct selling agent to get you the best price for your property.
Q. Is the market going to drop further?
This is a question that supply & demand is in charge of. With the market being helped with the first home buyers taking advantage of the government grants, the below $500,000 range is very strong. This level also includes the investors at these stage with the interest rates at the levels they are, this is making good investment properties very close to revenue neutral. We have not noticed a drop in most areas which have good schools excellent infrastructure & close to public transport & Freeways. These areas under the $500,000 should continue to grow. What we have noticed is a distinct lack of properties. With fewer properties on the market, & more first home buyers this will continue to show good sale prices. Again it is the Supply versus Demand!!
Q. Can a buyer Advocate add value to my purchase?
A. Yes! A Good Buyer Advocate will have all the up to sales data, & knowledge of the areas in which you are purchasing, they will also have access to all the different people who will be needed to ensure you are buying right. For example they will be able to communicate with your solicitor / conveyancer with regards to the contract of sale and or Vendors statement. A good buyer advocate will have contacts with reputable building & Pest Inspectors / architects / Planners and be able to communicate with these people and get the inspections done at the times needed. Good advocates will able to put you in contact with reputable mortgage brokers which can give you a second opinion to make sure you are getting the best possible rates.. This is on top of what a buyer advocate does best. - to ensure you buy the right property for the right price & with in your terms.. Many people are willing to risk making the biggest investment in there lives with out seeking a experts opinion. Remembering the real estate agent selling the house is working for the vendor, therefore his aim should be to get the highest possible price with terms to suit the vendor, His / her client, Not the purchaser - so ask your self WHO IS WORKING WITH YOU!!!!
| | |
| --- | --- |
| | Spotlight on Melbourne Suburbs |
In our regular spotlight section we examine a selection of Melbourne suburbs, highlighting what's happening in these areas right now.
Fairfield & Alphington
Municipality: City of Darebin
Population: 5,389(Fairfield) 4,480(Alphington (2006 Census)
Postcode: 3078
Location: 7km North-East from Melbourne CBD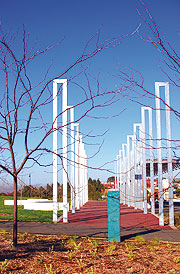 Fairfield and Alphington share the same 3078 postcode. They are riverside suburbs in Melbourne's 'inner city' about 6-7 kilometres north-east of the CBD. The Fairfield precinct refers to property located west of Grange Rd (ie city side) while Alphington is simply east of Grange Rd. Both contain their own train stations and both are shared across two Local Government Areas - the City of Darebin (north of Heidelberg Rd) and the City of Yarra (south of Heidelberg Rd).
Fairfield and Alphington are primarily residential suburbs comprising of a mixture of property styles, including period homes, 1970's brick veneers on larger blocks as well as townhouses, units and apartments. Neighbouring suburbs include Northcote, Thornbury, Ivanhoe and south of the Yarra - Kew.
A small north-eastern part of Fairfield contains light industrial and commercial activity is centred on the shopping strip on Station St. Station St is currently thriving as the last few years has seen an increase in the number of cafes/bars and specialty shops.
Streets located closer to the Yarra River south of Heidelberg Rd would be considered by most as the best streets in the suburbs, with property sales consistently exceeding the median.
Alphington has a spread of parks including the Darebin Parklands, Alphington Park and Pitcher Park and also features the Latrobe Golf Club, while Fairfield is home to Yarra Bend Park, Fairfield Park and the Yarra Bend Golf Course. Schools include Alphington Grammar, Alphington Primary, Fairfield Primary and St Anthony's Primary.
Transport, shops, parks, schools and a variety of property styles, all only 6-7 kms north-east of the CBD.
Median House Prices
Lower
Quartile
Sep 08
Median
Upper
Quartile
Dec 07
Median
Annual
Change
Fairfield
$580,000
$
$805,000
$805,000
-16.9%
Alphington
$800,000
$
$980,000
$
-
Source: REIV. December 2008
---
Edithvale
Municipality: City of Kingston
Population: 4,991 (2006 Census)
Postcode: 3196
Location: 30 km South from Melbourne


Edithvale is approximately 30kms from Melbourne and around 11km from Frankston. It is well known for its beautiful sandy beaches with some amazing beachfront homes on the foreshore. The beach is also bordered by some very colourful boat houses.
Edithvale has very good infrastructure. It is serviced by its own train station on the Frankston line, with the new Eastlink freeway to the east offering very good access to the Eastern Suburbs and the Monash Freeway. Edithvale is situated between Aspendale and Chelsea along the Nepean Highway.
There is an abundance of family homes in Edithvale along with many very affordable first homes. Edithvale offers options of nice period homes, modern estate homes and fantastic single level units. Most areas of Edithvale are situated between some great specialty shops on Station Street and vast areas of parkland and sporting grounds.
Median House Prices
Lower
Quartile
Sep 08
Median
Upper
Quartile
Dec 07
Median
Annual
Change
Edithvale
$442,500
$470,000
$480,500
$530,000
-11.8%
Source: REIV.
| | |
| --- | --- |
| | Technology Monthly |
Hi, welcome to a new monthly article about technology and gadgetry...For the first review I am going do the Playstation 3.
The PS3 is a very advanced piece of equipment with specs such as the experimental CELL processor, a blu-ray drive, built in wireless internet and Full 1080p HDMI output. Sony claims these features will give the PS3 a 10 year life span whereas most consoles only have 4-5 years before they are replaced with newer models.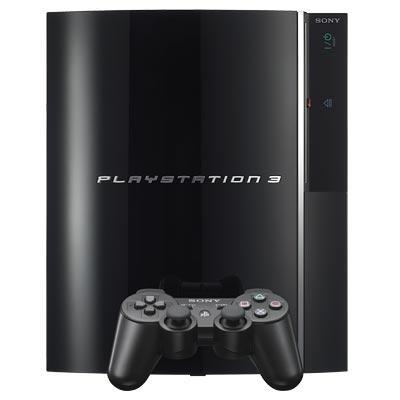 Sony has taken a big risk with this machine and it has still not paid off, with some figures claiming they are losing as much as $130USD on every console they sell. Although I must say that at up to $120AUD a game they are probably making a fair amount of that back via software sales.
The PS3 has also secured some of the best exclusives, making them a favourite among console fans, with games such as Uncharted: Drakes Fortune - a 3rd person action/adventure (some of the best graphics yet seen on the console), Resistance 1 and 2 - An alien shooter set just after WWII, Metal gear solid - a very story driven action game (although there is a 90 minute cut scene!) and Motorstorm - a desert racing game with spectacular crashes.
As manufacturing costs come down and the price continues to lower, the PS3 should start becoming the console of choice, as not only can it play games, but can be a media centre in your lounge room allowing for you to stream movies from your computer directly to your TV and watch blu-ray movies.
That's it for now....next month I will review the new Sony Laptop/Netbook, the Vaio P.
| | |
| --- | --- |
| | Recipe: Gluten Free Lasagne |
GLUTEN FREE LASAGNE:
Ingredients:
1 pack of gluten free lasagne sheets
500g pack of lean mince (or tin of pre cooked adzuki beans if vegetarian)
Diced assorted vegetables I.e.: carrots, zucchini, onions celery, sweet potato and beans
1 litre gluten free pasta sauce
Fresh herbs of choice
Salt and pepper
250g grated mozzarella cheese
4 tablespoons parmesan cheese
(Check for no additives to the cheese)
Method:
1. Cook mince (or adzuki beans) and vegetables over medium heat until brown. Add pasta sauce, salt and pepper and herbs. Simmer for approx 30 mins.
2. Alternate layers of sauce, pasta sheets and mozzarella.
3. Making the top layer of sauce.
4. Sprinkle with parmesan and bake for approx 1 hour in a moderate oven.
Enjoy!!!
Visit Gluten Free Shop for your gluten free ingredients.
This shop is located in North Rd, Ormond. Victoria.
| | |
| --- | --- |
| | Staff News |
Congratulations Courtney!!!!
On her recent success of becoming a fully licence Real Estate Agent. Courtney has juggled many months schooling whilst still achieving great deals for our clients at JPP Buyer Advocates. Her knowledge & experience is a fantastic part of the JPP Team. "Watch her Grow!"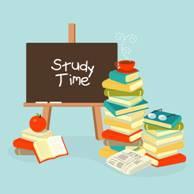 ---
Kind regards from the team at JPP.
Having trouble viewing this newsletter? The online version with pictures is available Here