Everyone will tell you the stock levels are low, everyone will tell you the "clearance rate" is
down from last week, everyone will tell you there is gloom and doom on the horizon and we are following the
United States into the depths of despair. Is it true: NO its not.
REIV figures show us that total sales this week have increased by more than 22% over last weeks figures.
Although turnover figures are still down on the same time last year, there are plenty of properties to
purchase and plenty of buyers out there trying to buy them. Of the seven properties we purchased in the
past eight days all were under competition, or bought within the first few weeks of being on the market.
There are plenty of doomsayers talking about us following the USA into an economic state we
will never recover from. This is rubbish. Australia is nothing like the US. And everyone will eventually recover
from this economic downturn. In fact history shows us that now is one of the best times to secure new assets,
as the growth coming out of a recession is usually quite strong, whilst the cost of borrowings is relatively
cheap.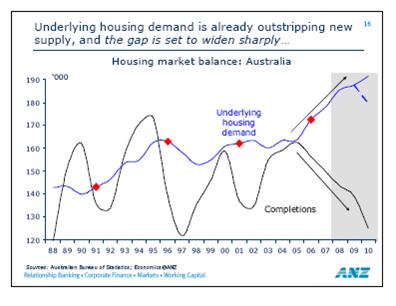 Underlying housing demand is rapidly outstripping building completions.
So much so that the gap may be insurmountable for new home buyers in the future.
Whilst there are plenty of people that require somewhere to live,
builders and developers are becoming scarce as financial institutions are
reluctant to gamble on them with finance.
Fundamentally, overseas residential property markets are vastly different to that of Australia. Our nominal
Gross Domestic Product is above and still going in a positive direction compared to both the UK and the US. Our
population growth is soaring above Britain and the US. The UK is almost static and the US has begun to slow, but
Australia, due mainly to migration, has increased steadily and is still going that way. The government will most
likely reduce overall migration in the coming years. This will be solely a political stance based on opinion polls
of voters. This will be a negative economic step in my opinion. Australia has a massive labour shortage and when we
move out of the doldrums, we will require even more people. Skilled migrants don't take the jobs of average
Australians! Skilled migrants don't detract from our economy! Australia is the best country in the world to live.
And it is because of all the incredibly diverse ethnicity of ALL our migrants, over the past 200 years or so,
and our native Australians who have been here much longer.
The US rental vacancy rates are exceptionally high and therefore deter investors from the market place.
Ours are incredibly low and therefore attract the investors who can just about get neutrally geared property
in excellent locations throughout the Melbourne suburbs.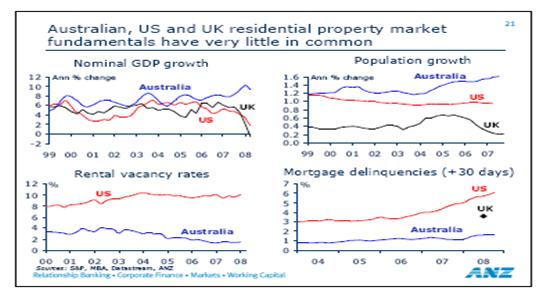 We also have a totally different system with mortgages. As you can see from the above graph,
Australia's delinquencies are far below that of the US and much of this has to do with the fact
that a vast proportion of US loans have mainly fixed rate loans.
This also means that when the US federal reserve bank drops rates it does not have anywhere near the effect our
Reserve bank does when they drop rates.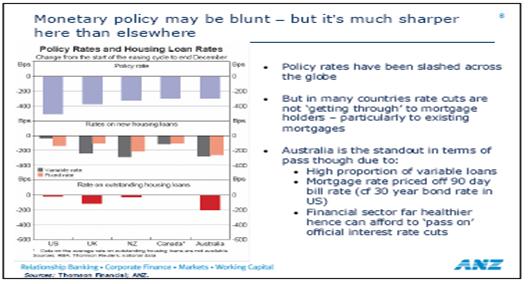 Overall, our market is quite strong and in my opinion only going to get stronger.
Especially in the lower end under about $600k- $700k. Whilst our unemployment will rise,
plenty of people will be out to increase their asset holdings and much of this will be in
residential property. All the above data and graphs are part of the presentation I attended
at the RACV club last week. The above graphs were put together by Paul Braddick, head of Financial
Systems Economics at the ANZ Bank. His presentation was excellent, with extremely well weighted
arguments to put Melbourne Residential Property as one of the better investments in the foreseeable
future.
If you are considering purchasing property in the next 12 months, give us a call or come
in for a no obligation chat. We actually buy properties throughout Melbourne on a regular basis.
We are known by most of the agents across Melbourne and we purchase properties at all different
levels of the market. At JPP we don't just write about property we actually buy it.
Ian James